Arguments about Anne Frank's happiness, morality in virtual spaces, political homophobia in Russia and if Donald Trump is actually a fascist took the spotlight for three days at the 12th annual Philosophy, History and Politics (PHP) Conference.
Undergraduate students from across Canada presented original research papers on a wide array of subjects, all relating to PHP topics. Beyond this rare chance to talk about their topics, presenters were invited to submit papers for publication in the academic journal: Dialogues: Undergraduate Research in Philosophy, History and Politics. This double-blind, peer-reviewed journal is available worldwide and funded by TRU Research and Graduate Studies.
A team of seven TRU students led the executive committee and organized all conference details. Two faculty advisors supported their efforts and, in the process, watched their own students thrive.
"These students are courageous, eager and manifestly possess tremendous potential. It is exhilarating for faculty—speaking specifically from my own point of view, though I know I am not alone in this—to witness these students emerge as young scholars, and in some instances, junior colleagues," said faculty advisor Annie St. John-Stark.
Presenting original research to an audience of peers, instructors and strangers can be daunting, but students who took advantage of the opportunity shared overwhelmingly positive experiences.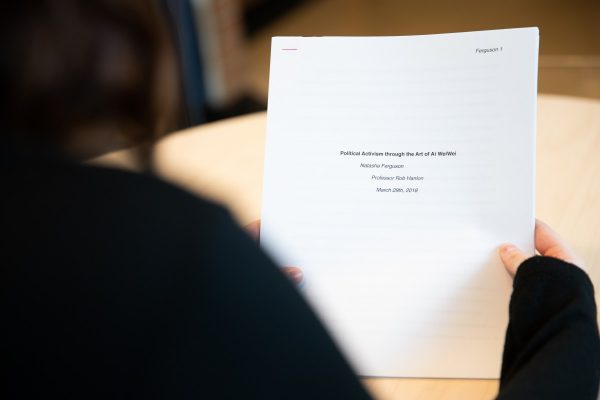 This was third-year student Natasha Ferguson's second year presenting at the conference. She wove a discussion of politics, art and activism into her paper, Political Activism through the Art of Ai WeiWei.
Ferguson has her sights on law school and appreciated plunging into political science, knowing it will be a solid background for her career path.
"Originally, I looked at political science as a way to help prepare for a career, but then I met Rob Hanlon and Terry Kading. Their passion for politics inspired mine. Presenting at two PHP conferences has made me want to dive deeper into studying politics before I pursue law. It's definitely made me more engaged in my degree," Ferguson added.
Fourth-year student Abby Dunlop is chair of the organizing committee, meaning she played a big role in planning, scheduling and directing conference meetings. She also handled logistical communications and organized with TRU and external students.
Dunlop knows how exceptionally special this conference is.
"If you look around, you can certainly find undergrad conferences to attend in Canada (or the United States), but rarely are they PHP specific, nor are they typically student organized and run. To have this kind of opportunity for undergrads here in Kamloops is phenomenal and invaluable. TRU is not as small of an institution as others may think!" Dunlop said.
Dialogues: Undergraduate Research in Philosophy, History and Politics is accessible online.
For more information, or to apply for next year's PHP conference committee, contact the team directly at tru.phpconference@gmail.com