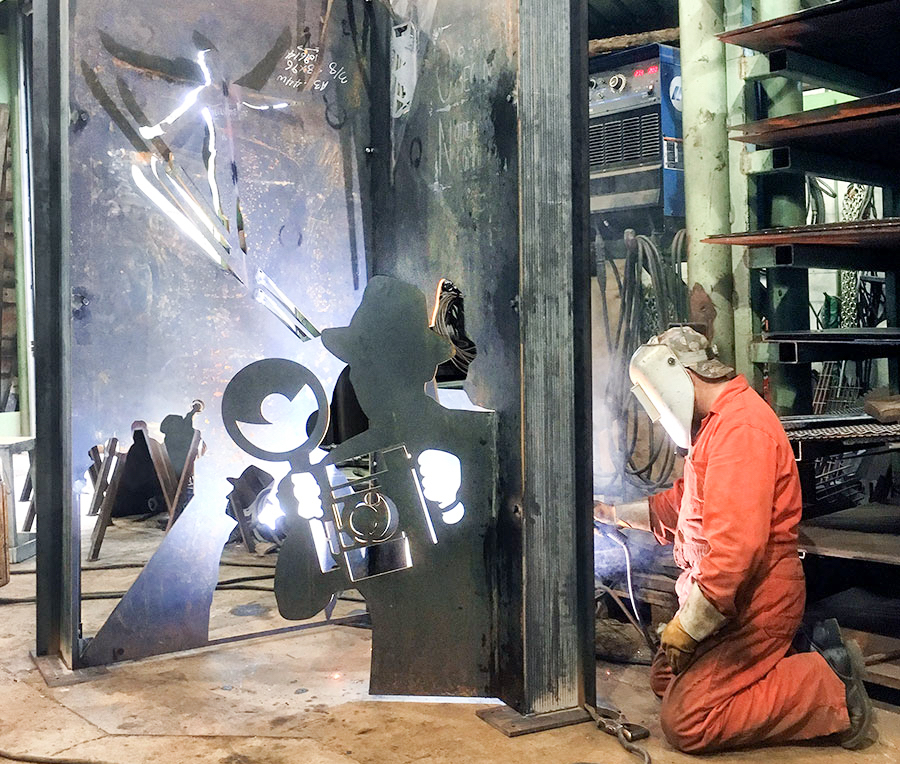 Critters and historic moments are coming to life in new and interactive ways in the mountain town of Revelstoke, BC.
For more than 20 years with Parks Canada, TRU Open Learning alumni Zuzana Riha and Rob Buchanan have used their love of art to educate visitors to Mount Revelstoke and Glacier National Parks.

"We get to tell different stories about where we live by using different mediums for our projects. Each day is a new experience and I love what I do," said Buchanan.
Coming from different sides of the country—Riha was looking for a quieter setting than Vancouver and Buchanan came through from Ontario only to have his van breakdown in Revelstoke—both made their way to the town tucked in the mountains to pursue their love of skiing and art.
Kids can ride around on animal-like ramps and obstacles at the Beaver Lodge bike park. Photo courtesy of Parks Canada
Custom picnic tables were built to display the bears that inhabit the area around Revelstoke. Photo courtesy of Rob Buchanan
Riha, a product development officer, grew up not speaking English until she went to school, as her parents were immigrants.
"Until then, art was my go-to. I later realized I was good at it and continued being a creative and curious person," she said.
Similarly, Buchanan has been around art most of his life, working for many years as a professional photographer, shooting skiers and snowboarders.
"Once I transitioned into my role with Parks Canada, I did a lot more sculpting, painting, writing and other design work," said Buchanan, an exhibit designer.
The one skill missing from their arsenal was welding.
"We love learning new techniques and different ways to create art. The welding course at TRU allowed us to open up more doors of creativity and do more projects in the area," said Riha.
After searching for the most viable option, they discovered the Introduction to Metal Inert Gas Welding course at TRU. The four-week program ran last September, involving two three-hour sessions a week.
Inside the classroom, they learned to weld and fuse elements together, in an open and artistically-driven class.
Georgia's Pants are available for photo ops yearround in the national park. Photo courtesy of Rob Buchanan
Ski jumper Nels Nelsen is a life-size trail marker plasma cut from steel. Photo courtesy of Rob Buchanan
"The course was so awesome. It was like we were using a lightsabre and a glue gun at the same time," said Buchanan. "There were so many resources available to learn with; it was a lot of fun."
Armed with knowledge and a welding torch, the two began using their new skills to build frames for several projects around the park.
Riha designed gigantic slugs and salamanders as part of the Creature Features interpretive centre in the Beaver Lodge bike park.
Buchanan oversaw the creation of Georgia's Pants, a photo opportunity for tourists where they can pose inside a steel and copper version of Georgia Engelhard's pants with Mount Tupper in the background. Engelhard is known for being one of the first women to hike in pants instead of a dress in the early 1900s.
With a never-ending list of projects, the duo are thinking of ways to involve TRU students with new designs for the park.
"Welding has given us another tool to use in our creative process. We also think there's room to collaborate with university students and get them working on some interpretive stories," said Riha.
"That would be absolutely amazing if that happens," said TRU welding instructor Michael Grainger. "To give students the experience of seeing a project come from nothing is the best feeling they can have as a tradesperson."