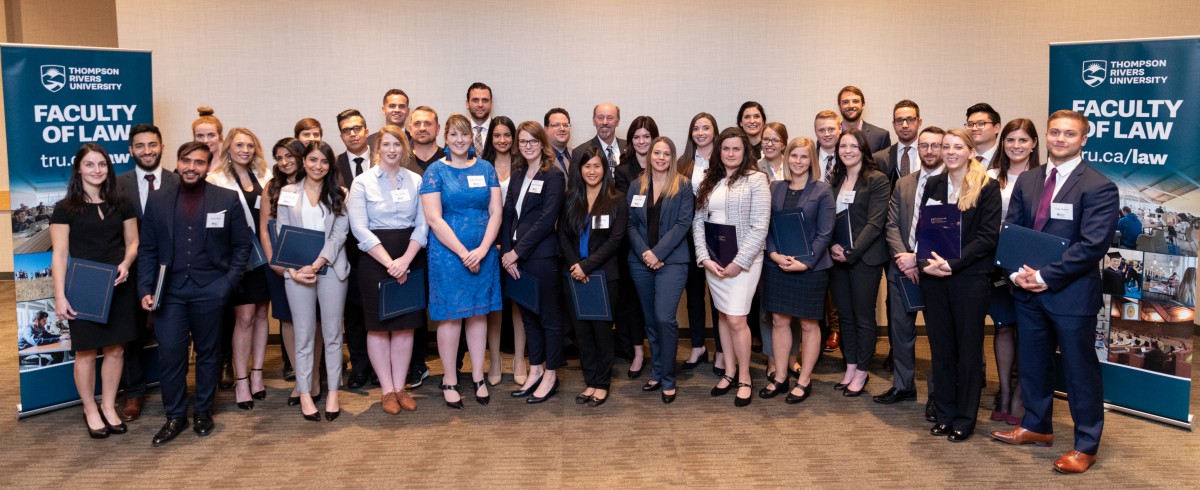 The Campus Activity Centre Mountain Room teemed with top future lawyers and their ardent supporters during TRU Law's biannual Student Awards Reception last week, recognizing the achievements of 78 outstanding students.
Over $100,000 in scholarships, bursaries and Dean's Course Prizes—including a host of newly minted awards—were presented to 42 students. Many were additionally recognized as the top students in their respective courses with non-monetary Dean's Course Prizes.
"We greatly appreciate the financial support of the legal profession, the judiciary and other generous donors that make such a vital contribution to the ability of our students to complete their Juris Doctor of Laws," says Dean Brad Morse. "This is especially challenging in the face of high tuition costs, due to the absence of any funding from the provincial government."
New to the roster of awards divvied-up among law students this year are the Alexander Holburn Beaudin + Lang LLP, Baker Newby LLP and Sherman Jen Law scholarships; the Georges Erasmus Indigenous, TRU Indigenous Law Alumni and Richard Blair bursaries; the MacLean Law Prize in Family Law, McCarthy Tetrault Prize in Property Law and three Blake Cassels & Graydon LLP Prizes in Contract Law, Corporate Governance and Torts.
Scholarships and Monetary Dean's Course Prizes:
Alexander Holburn Beaudin + Lang LLP Scholarship: Heather Maki

Baker Newby LLP Scholarship: Michael Geib

Blake Cassels and Graydon LLP Prize in Contract Law: Morgan Watchorn

Blake Cassels and Graydon LLP Prize in Corporate Governance: Hailey Laycraft

Blake Cassels and Graydon LLP Prize in Torts: Brent Parker and James Hanson

Fulton and Co Law Entrance Award: Jasmine Somal

Guild Yule LLP Advocacy Prize: Elizabeth Cunningham and Parvej Sidhu

Guild Yule LLP Outstanding First Year Moot Court Prize: Heather Maki

Law Foundation Entrance Awards: Caitlin Kessler, Chloe Slessor, Cody Lucas-Dumas, Jessica Schwarz, Michael Grvich and Sarah Ewart

Maclean Law Prize in Family Law: Allesia D'Aversa

McCarthy Tetrault LLP Prize in Property Law: Rishwant Dhillon

Norma Quinn Memorial Prize in Real Estate Law: Olivier Verenca

Norton Rose Fulbright Canada LLP Prize in Contract Law: Taha Patel

Norton Rose Fulbright Canada LLP Prize in Torts: Carson Davies

Norton Rose Fulbright Canada LLP Prize in Property Law: Emily Thorpe

Roper Greyell LLP Course Prize in Employment Law—in honour of Cliff Neufeld: Karenjit Aujla

Sherman Jen Law Scholarship: Alain Verrier

The Canadian Bar Association, BC Branch (CBABC) Award: Jasmit Parmar

Thorsteinssons LLP Tax Lawyers Course Prize in Corporate Tax: John Ebbels

TRU Law Entrance Scholarships: Cody Kessler and Albert Zhang

Wills and Estates Prize: Ariana Savin 
Additional Dean's Course Prizes (non-monetary):
Advanced Advocacy: Michael Geib

Advanced Legal Research: Komal Nandha

Advanced Public Law: Catharine McMillan

Animal Law: Andrea Meyers

Business Association: Albert Zhang

Canadian Journal of Comparative & Contemporary Law: Natalie Paul

Civil Procedure: Cody Kessler

Community Lawyering: Bettina White

Comparative & International Indigenous Rights: Chase Blair

Conflict of Laws: Andrew Butler

Constitutional Law: Jeneya Clark, Logan Rogers and Heather Maki

Contracts: Morgan Watchorn and Taahaa Patel

Corporate Governance: Hailey Laycraft

Corporate Tax: John Ebbels

Court of Appeal Moots: Elizabeth Cunningham

Crime: Law and Procedure: Shaun Langlois

Crime: Law and Procedure: Stephanie Sihota

Criminal Process: Joseph Killoran

Digital Media Law: Firdous Safi

Employment Law: Karenjit Aujla

Entertainment Law: Elizabeth Cunningham and Arden Mathieson

Environmental Law: Brodie Webber

Ethical Lawyering: Cody Kessler and Charlene Scheffelmair

Evidence: James Mason and Lindsay Peretz

Family Law: Alessia D'Aversa

Fundamental Legal Skills: Tiana Reid

Health Law: Alisha O'Neill

Human Rights Law: Jayde Niefer

Immigration & Refugee Law: Ali Al-Samak

Insurance Law: Brandon Harrison

International Intellectual Property Law & Policy: Aaron Sutherland

Jessup Moot: Christie Kobialko

Legal Perspectives: Noah Leimseider and Julia Tikhonova

McIntyre Cup Moot: Jayde Niefer and Casandra Tam

Municipal Law: Simone Main

Property: Rishwant Dhillon and Julia Tikhonova

Real Estate Transactions: Oliver Verenca

Rule of Law in the 21st Century: Cameron Johnson

Secured Transactions: Brandon Harrison

Sentencing: Danielle Ching

Sports Law: Emily Smeaton

Tax Policy: Joseph Killoran

Torts: Brent Parker and James Hanson

Trusts: Danielle Ching and Stefanie Gladders

Wills & Estates: Ariana Savin and Heather Hall

Wilson Moot: Parvej Sidhu