Twenty-four years ago, Sharon Brewer swore to herself that if she ever stopped refreshing course content and dreaming up new, exciting labs, it was time to call it quits. Now, as her chemistry students examine e-cigarette fluid in an analytical chemistry lab, Brewer knows keeping content relevant and timely is key to engagement.
"I always promised myself to never teach the exact same content year after year. Every summer I try to develop new labs and change things up. If I ever stop wanting to update content to make things relevant to students, I'm done teaching. Once you get students interested, that's when the real learning happens," she said.
While she prides herself on keeping content fresh, it is often quite challenging. Zeroing in on and selecting an addition to course content can be difficult.
"Because there are so many unique and exciting options out there, making it do-able and realistic for myself with time constraints in labs can be challenging."
But what exactly does it mean to stay current with chemistry?
Brewer makes it a priority to include labs that require students to analyze things they eat, or products they come into contact with on a daily basis. For instance, students are tasked with analyzing dried mushrooms and must develop a method to separate components in an alcoholic spirit sample.
Members of the national chemistry community have taken notice of Brewer's accomplishments. Last spring, she was awarded the College Chemistry Canada (C3) Award in Chemical Education. The organization recognizes people who make substantial contributions to chemical education at the college or university level. Brewer was surprised to hear the news, but knows her supportive department recognizes the importance of staying current. That helped enormously in her winning the award.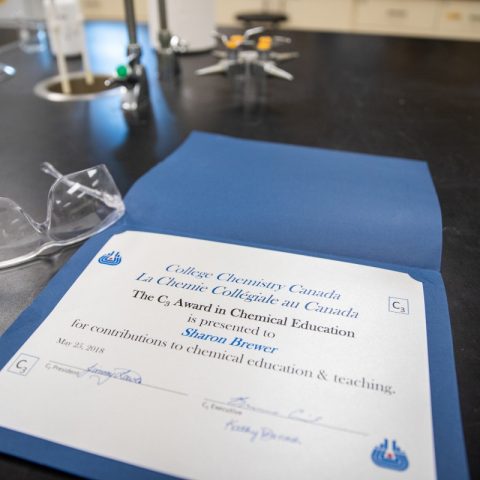 With every lab and in curriculum development, Brewer makes it a priority to encourage and inspire active problem-solving and critical thinking in the classroom.
"That's what I like about chemistry and that's what I try and encourage students to appreciate. It's simply the most fun part about teaching. Teaching is never easy for me, but when you get them interested, or excited, it's just the best thing in the world," she said.
The chemistry department's work reaches beyond the confines of TRU. They hold yearly meetings with area high school teachers and organize the TRU chemistry contest which includes a day camp that shows students an exciting side of chemistry they wouldn't normally be exposed to.
A highlight of Brewer's research has been creating a teaching resource developed with colleague Bruno Cinel called the BC Integrated Laboratory Network (BC-ILN). The BC-ILN allows smaller institutions to send samples to the TRU labs outfitted with more advanced analytical equipment and test those samples remotely.
"We have the ability to share these instruments over the Internet for teaching purposes. Now students at other smaller institutions or high schools who wouldn't normally have access, can have it. They send the samples, we put it in an autosampler and they control the analysis from where they are. It's really been a ton of fun to provide access and do research on its impact," Brewer said.
Her rewarding teaching career started with a once-in-a-lifetime chance when she was in graduate school at Carleton University. She had the opportunity to develop a third-year chemistry course and teach it–as a teacher's assistant.
"It was fun, but also terrifying! A lot of my students were older than I was, but I loved teaching. I thought it was such a great experience because I got to teach something I had developed. That absolutely cemented my career direction," Brewer said.
As for advice for the teachers of tomorrow, Brewer said it's important to be kind to yourself.
"Think about your audience. Do your best, reflect and evaluate your teaching later. Don't be too hard on yourself, because we all have to start somewhere," she said.