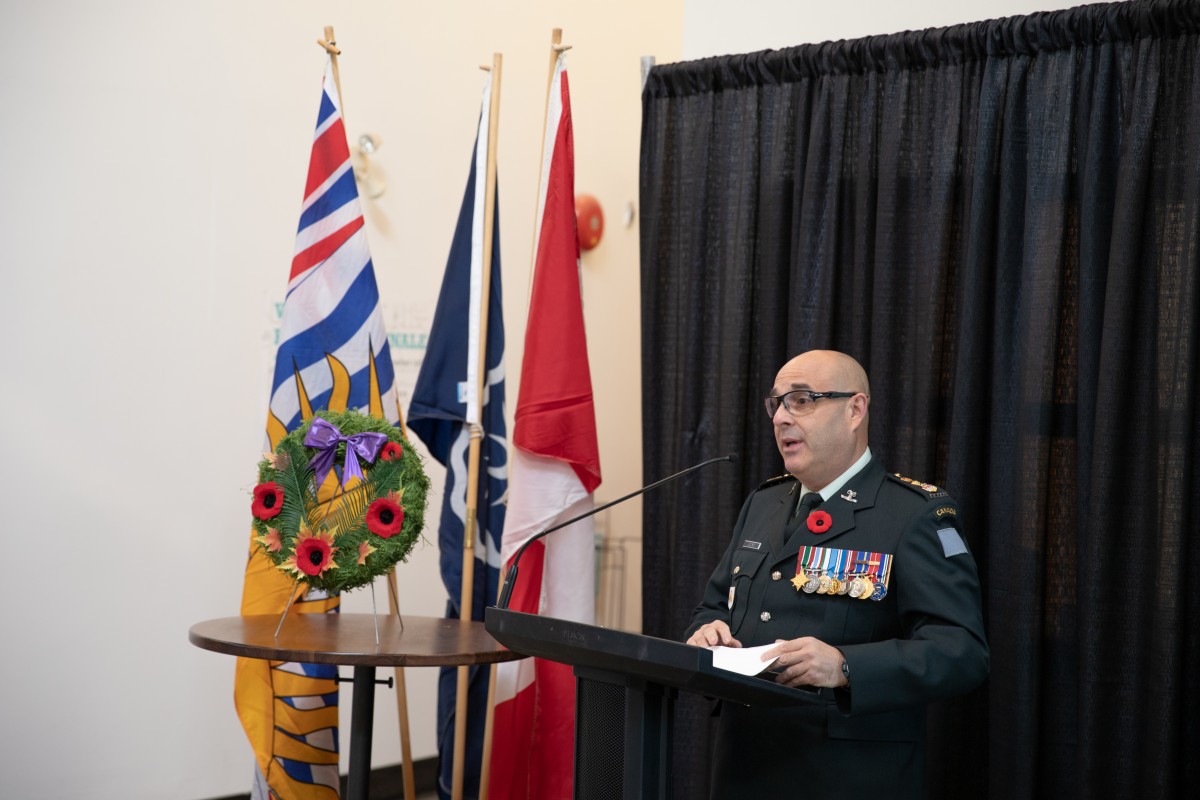 One century almost to the day when the gun fire of the First World War ended, TRU held its annual Remembrance Day ceremony on Student Street in Old Main.
With Nov. 11 falling on the weekend this year, the university chose Thursday to honour and pay respects to the men and women who have served and continue to serve to protect our country's freedom.  
"To prepare for our future, we must understand the past," said Lt.-Col. Amadeo Vecchio of the Rocky Mountain Rangers. "We owe a debt of gratitude for those ultimate sacrifices that were made."
In a ceremony that drew more than 60 students, faculty, staff and community members, Chaplain Rev. Jane Gingrich led a service focused on remembering Canadians who served overseas. Even though there is no war on our home front, families everywhere have been affected by war in some shape or form, she said.
TRU Vice-President Administration and Finance Matt Milovick's grandfather fought in the Great War, while his father-in-law faced battle in the Second World War.
"They desired a better life for our families, a democratic society free of tyranny and we are all here because of their service and sacrifice," he said.
Vecchio, a TRU alumnus, shared his thoughts about Remembrance Day as someone who has spent 37 years with the Canadian Forces.
"We are fortunate to live in a peaceful country. We take things for granted; we walk wherever we want to, we wear whatever we want to and say whatever we want to say. There are some people in certain parts of this world that aren't so lucky," he said.
Although TRU's ceremony was a few days ahead of Nov. 11, he reminded people to reflect at 11 a.m. this Sunday.
"Take a few minutes to stop and think about the men and women who have served, who have died and who fought for our freedom and the prosperity we all enjoy today," said Vecchio. "Nobody did it because they had to, they did it because they wanted to and felt it was right."
While Canada is not currently involved in any wars, there are still thousands of members of the military scattered around the globe, serving in disaster relief and peace-keeping missions in conflict zones.
"Find it in your heart Nov. 11 to say thank you to them," said Vecchio.