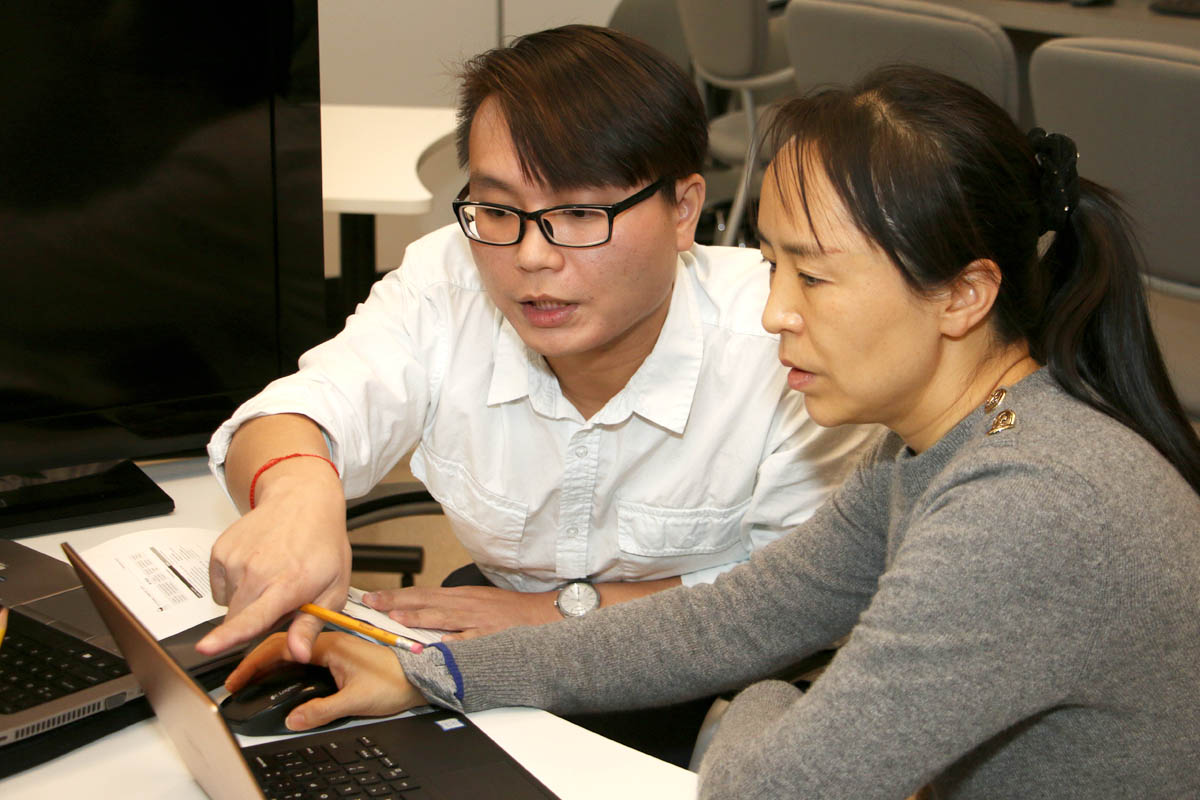 Students in the Master of Education (MEd) program or those taking a Graduate Certificate in Educational Studies now have a support room to call home.
Arts and Education room 305 was unveiled Friday afternoon as the new Graduate Programs in Education Support Centre for students seeking extra assistance.
"The Graduate Programs in Education committee wanted to offer support specific to the needs of students in the Masters of Education and Graduate Certificate in Educational Studies programs and to tailor that support to those programs and students," said Joe Dobson, English as a Second Language faculty member who is the facilitator for the support centre.
The new space, which opened over a month ago, was designed to help students in the education program with writing assignments and other projects.
"Domestic students struggle with writing just as much as international students. It's critical for students in any program, not just the masters, to get help with proper citation, thesis statements and getting another set of eyes on their work," said Dobson.
The Writing Centre in Old Main has been open for more than a decade and assists students from a variety of programs with assignments
"The Writing Centre has done a great job catering to the needs of undergrads in other programs. This particular centre is a blessing for grads in our MEd program because it is in the same building as many of their classes. So if they need help on a project, they can come up here before or after class," said Manjeet Gupta, who used to volunteer at the Writing Centre.
 Covered with a coat of new paint, the new support centre puts students in the MEd program in contact with peers who have already taken those courses.
"We are all in school and we have taken many of the courses that the students are coming to us for help with. We know the expectations of the course and the instructors teaching the course, so we are able to help them out," said teaching assistant Martin Schulte-Albert. 
Schulte-Albert is joined by Giang Nguyen Hoang Le (Kevin) as teaching assistants and Gupta, who has taught English for 15 years, is a research assistant.
Helping international students is a major focal point for the new centre. 
"If I can get help from an experienced student to see what to pay attention to when I'm writing, that would be fantastic," said Shaoai Zhang, an international student from China who has already used the support centre. "They help me reconsider some of the questions being asked and help me put my thoughts into sentences. They give me a chance to come up with something new to say and allow me to go into deeper thought." 
The centre offers 16 computers for student use and is open Monday to Thursday, from 2 to 5 p.m. Support is available through an appointment and the staff can be reached via email at gsesupport@tru.ca.