Students from all walks of life were recognized and celebrated for their journey coming to at Thompson Rivers University during the fall convocation ceremony.
Smaller than spring convocation, Friday's celebration still saw several hundred students happily accepting their certificates, diplomas and degrees.
Bleachers at the Tournament Capital Centre fieldhouse were filled to the brim with enthusiastic parents, siblings and friends of the honorary students at annual ceremony.
Elder Estella Patrick-Moller of the Nak'azdli Band of the Carrier Nation started the morning event with a blessing, followed by some words from interim President and Vice-Chancellor Dr. Christine Bovis-Cnossen.
"You've been inspired by people, ideas, possibilities and even the challenges you've faced along the way. The new knowledge, experience and understanding you've gained in your time here will serve you well in the future, wherever your path may take you," said Bovis-Cnossen.
"We're proud that you chose TRU as your university. We're proud that you have committed to your education and training, and we're proud of what you have achieved."
For some students, TRU was the easy choice, as they could live at home while achieving their academic dreams.
"It was a pretty exciting feeling (to be here today)," said Tyler Carson, a Kamloops student who graduated with a Masters of Business Administration degree. His family was in the bleachers soaking up the moment when he crossed the stage to accept his parchment.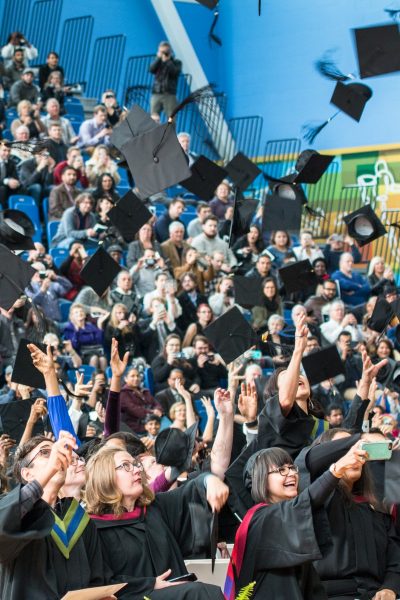 "Overall, it was pretty difficult at times, but it helped build up my work ethic and I'm glad I survived," said Carson, who is looking forward to starting a career in project management.
Other graduates missed having their family at convocation in person, but were proud of their accomplishment nonetheless.
Dsouza, 24, came to TRU from India two years ago and can now add an International Business Post-Baccalaureate diploma to his resume.
"Being an international student, coming from a different country on the other side of the world, living alone, taking care of my studies, working a little on the side and just figuring everything out was a lot to handle at times, but it feels great to be done now," said Dsouza. "My family couldn't be here, but they are looking forward to watching the ceremony online. They are all very proud of me."
Dsouza plans to work in Kamloops or a bigger market such as Vancouver, in marketing or sales.
Caitlyn Johnson's newest family member wasn't in attendance because she is only four months old.
With two months left in her Masters of Education degree, Johnson gave birth to her first child, a baby daughter.
"I didn't take any time off when she was born. I just kept moving on, even though it was difficult at times, but I got it done and it feels good to make it through that," said Johnson.
She discovered tricks to mothering and studying at the same time, such as finding a way to balance her infant on her stomach during nap time while completing assignments on a laptop.
Aly Nash-McLeod's entourage was one of the most boisterous in the audience, making enthusiastic noise as she walked across stage to accept her Bachelor of Social Work degree.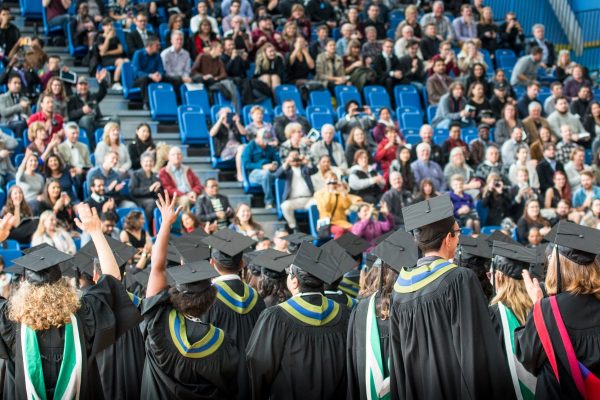 "I was a little nervous beforehand, but I feel great now," said Nash-McLeod. "It was pretty cool to be here with everyone. I didn't think much of it, but at the end when we stood, looked and thanked our family, it hit me and it was a pretty cool moment."
After the final tossed mortarboard hit the ground, the students dispersed to seek out their family and friends from the bleachers. Selfies, group shots and portraits were snapped, while fresh graduates reminisced about all they achieved and looked to celebrate the journey that lies ahead.