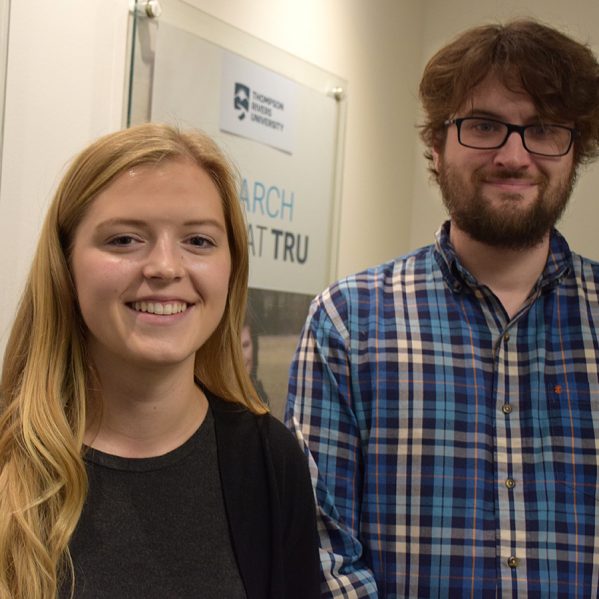 Sometimes all it takes for a good idea to become reality is for a few brave people to step forward and say: "What's stopping me?"
That's exactly how the new, student-led peer-reviewed journal, Dialogues: Undergraduate Research in Philosophy, History and Politics came to be.
Abby Dunlop, Shawna-Rae McLean, Tim Burris and Matt Arkinstall, the students responsible for creation of the journal, will be given Recognition of Excellence certificates during today's Thompson Rivers University Board of Governors meeting.
The journal is a product of the student-organized Philosophy, History, Politics (PHP) Undergraduate Conference, which takes place in January each year and has become Canada's largest undergraduate conference in social sciences. Now entering its 12thyear, the conference attracts undergraduate students from across the country and the United States.
"Each of these student editors displayed exceptional ability in seeing the bridge between their own undergraduate experiences here at TRU and the incredible potential within undergraduate research, writing, and engagement," said Dr. Annie St. John-Stark, faculty advisor for the journal. "I am so proud of them, and pleased that they are being recognized."
"It's just a testament to the hard work, motivation and intellectual curiosity of these students. This is a reflection of how strong TRU is in producing undergraduate researchers, and it's an experience that they wouldn't get at any other university," said Dr. Rob Hanlon, who also advised the students.
 Dunlop, as a PHP conference coordinator, recognized the value of creating a journal, as it would amplify the impact of the conference, and further showcase the exceptional work of the student presenters.
"We wanted extend the reach of the conference and leave something behind. The conference has been growing so steadily that it seemed like the right time to take this step," Dunlop said.
"I didn't have a good reason not to do this," she said, explaining why she put her hand up and agreed to champion the project as its Editor in Chief.
Dunlop and her team approached University Librarian Kathy Gaynor and Open Education Librarian Brenda Smith, who showed them how to create a journal through Digital Commons.
"We couldn't have done this without support from the library, and they were so excited to work with us," said Dunlop, who worked alongside Arkinstall to design the journal.
Student presenters were contacted in June, and invited to submit their papers, which were then sent out to student editors for review. Selected papers were then sent to faculty editors. Dunlop expects the first issue will be available online by mid-November, just in time for the call for papers for the 2019 PHP Conference.
Funds to develop Dialogues were provided by the Office of Research and Graduate Studies.