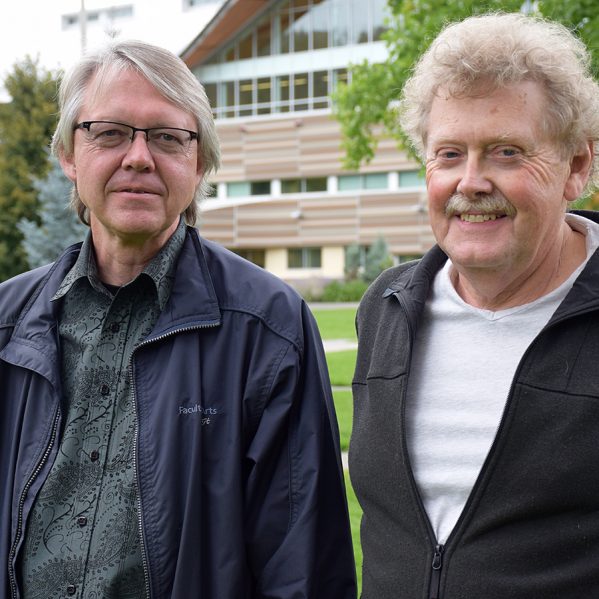 Nearly a decade ago when Terry Kading and Christopher Walmsley began to first notice the big city issues that were knocking on their small city front doors, they did what any social science researchers would do.
They began asking questions, and they began to look for answers. What they found was that in all the research being done on small cities — those with a population between 10,000 and 100,000 — very little was being written about the social issues facing those communities.
Join us during Research Day for the official launch of Small Cities, Big Issues
Homelessness, the impacts of deinstitutionalization, addiction, the need for parolee integration, the sex trade, homophobia, systemic racism and discrimination, Indigenous and non-Indigenous relations, poverty — all of these issues are prevalent in large urban centres, but small cities like Kamloops are not immune.
Small Cities, Big Issues: Reconceiving Community in a Neoliberal Era, edited by Kading and Walmsley and published this summer by Athabasca University Press, explores the serious social issues facing small cities as a result of economic restructuring practiced by both federal and provincial governments.
"Terry and I were both noticing social issues arriving on our doorsteps in Kamloops," said Walmsley, professor emeritus at TRU who taught social work for more than 25 years before retiring three years ago.
"We had a little rental suite in our house and I remember putting an ad in the paper and we had more than 75 people interested. It was overwhelming to know how many people needed affordable accommodation," Walmsley said, recalling one incident that inspired the book.
Several TRU faculty members contributed chapters to the book, including Wendy Hulko, Diane Purvey, Jennifer Murphy, Lorry-Ann Austin, and Monica Sanchez-Flores, bringing their expertise into the small-city context.
"Whether it's homelessness, or the sex trade, or the drug trade, we realized that one of the differences between a small city and a large metropolis is that it's in your face. You have to move into different sectors in the city to do your shopping, your banking, or to take your kids to swimming lessons. In a big city, your activities are much more segmented — it's not in your face in the same way."
The book explores how qualities peculiar to the small city influence the development of social issues and alter or limit the possible solutions. Walmsley hopes that the book appeals to community activists, politicians, city planners and academics within the social sciences.
"Canadians still live with this image — this glorification of the small town, or small city — it's a lovely place where people help their neighbours, it's safe, it's a good place to raise a family, there is low crime, and there are no real transportation issues," but neoliberalism has brought with it a new reality, Walmsley said.
"The reality we see is in the downloading of responsibilities to the local government. Kamloops, Kelowna, Prince George, Nanaimo — these cities don't have a history of responding to social issues, and they don't have the budgets."
> Small Cities, Big Issues is available for free download.
More information
Dr. Chris Walmsley
cwalmsley@tru.ca
Dr. Terry Kading
tkading@tru.ca
250-371-5523