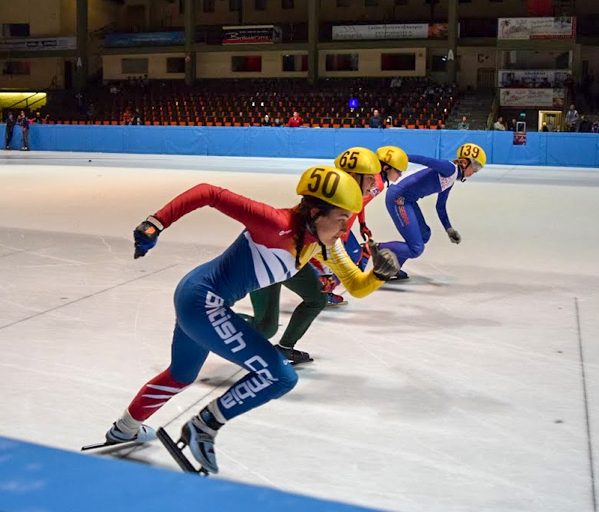 Sometimes you have to go far from your comfort zone to find where you belong.
Sylvie Lloyd, TRU Study Abroad student and competitive speed skater, knows this from experience. She wanted to find somewhere she felt like she belonged, and it turned out she just needed to leave the continent to do it.
Lloyd is a third-year sociology major and has been heavily influenced by the speed-skating community, as her mother is a coach in the sport. She grew up in Kamloops and felt very comfortable and somewhat "stuck" in her hometown, and wanted an opportunity to train somewhere new.
The usual path her skating friends took of going to Calgary to do further training didn't seem like the right one for Lloyd. Despite wanting to continue her studies at TRU she wanted to find somewhere new to train and study that felt like her own.
"I was talking about it with my mom one day, and she remembered that TRU had a Study Abroad program. The rest was history from there, really.  I went to the next available info session and got going on the application process and never looked back," says Lloyd.
A new city and country meant an opportunity to travel and to meet new people, and to broaden her perspective past the place she grew up in.
Lloyd chose to study at Tilburg University in Tilburg, Netherlands, where the skating facilities and courses she needed to continue both her training and education were available. Tilburg also offered plenty of opportunity for travel and adventure in a beautiful European setting; full of old world charm and unique architecture. The icy winters provided opportunities for Lloyd and her friends from the Tilburg Skating Club to have some fun practicing their sport in a new environment.
"One of the coolest experiences I had was during the winter. There were a couple of cold days where everything froze, and I went out to a remote little place with a couple of friends and we made a skating track on the frozen pond.  It was really beautiful out there and we had the place to ourselves. We froze our toes but it was worth it!"
For many students, studying in a foreign country would be a lot of stress and new experiences to juggle, let alone training and competing in high-level speed skating. To combat any feelings of being overwhelmed Lloyd chose to compartmentalize her life a bit and focused on building a routine from the get-go.
"I don't see all this as juggling: being in a foreign country, completing my studies, and competing in speed skating, I just think of it as my life right now. I found a routine right away and rolled with it."
As for any advice for students considering Study Abroad for themselves, Lloyd can't recommend taking the opportunity to study abroad enough.
"Don't overthink it and talk yourself out of it. Put your anxieties and apprehensions aside and just go for it."
Lloyd says that her experience with Study Abroad hasn't pointed her in one direction in terms of her future career plans, instead it has shown her that there is a world of possibilities out there.
"The world is big, the possibilities are endless, and I'm still figuring out where I fit into all of that," she says. "I've seen and done so many new things and opened my eyes to the fact that there is a whole world out there that I've barely even seen."
After being in The Netherlands since the beginning of the year, it will be another adjustment for Lloyd to come back to Kamloops, and she is coming back with plans to find more adventures in the future.
"It's going to be so hard coming home now, but I'm so grateful I've had this experience.  When I get back I will only have one more year of school left, after that who knows where I'll end up?"
To learn more about opportunities to Study Abroad, visit tru.ca/studyabroad, or attend an information session.