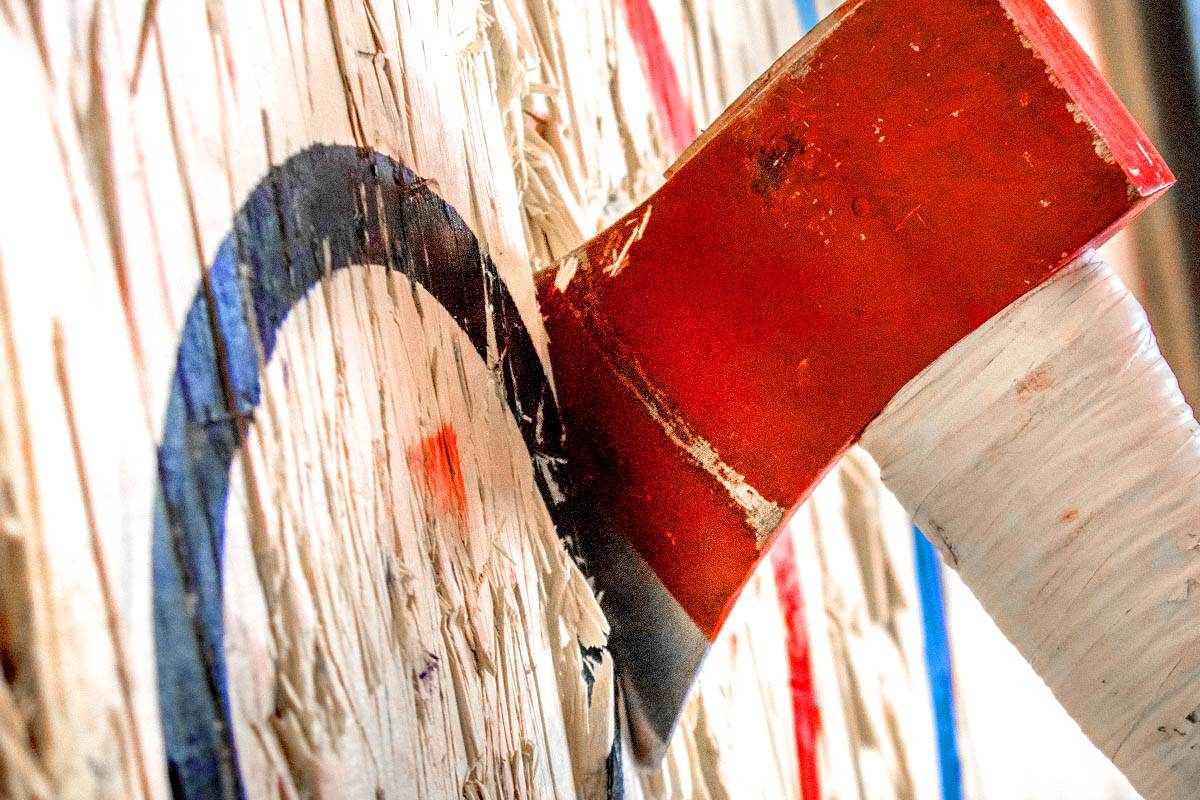 Life is full of dreams and aspirations and different opportunities to make them happen. It's just a matter of being brave enough—some may say foolhardy—to act on them and make them come true.
Meet adventure guiding grads James Anderson and Brett Easton, the gregarious and business-savvy owners of Forged Axe Throwing (FAT), an unorthodox company in Whistler that's providing you with the opportunity to tap into your inner lumberjack. In a few short minutes you're learning how to properly throw axes at bullseyes that are located on wooden walls. In the same controlled and safe environment, you're learning games, trick shots and having a load of fun doing so.
The Newsroom caught up with Anderson, who graciously shared some insights into how the two moved their idea from one dreamt up on the banks of BC's Chilko River during a week-long rafting trip to where it's now a runaway success with people of all ages. FAT offers different price points, group rates and the option to rent a mobile throwing cage. Anderson is originally from Victoria and now lives in Whistler, with Easton originally from Calgary and now in Squamish.
What advice do you have for budding entrepreneurs who have an idea, but it may be unconventional?
"Do it! Nobody will make your dreams happen for you. If you have an idea you need to work on it and get it out there. If you keep applying pressure you can make it happen."
With your business being a bit unorthodox, what were some of the challenges you faced when it came to persuading people to invest in the business and even agreeing to allow you to set up shop? I'm thinking everyone from the banks, investors and even the Resort Municipality of Whistler.
"Great question! Yes this was a huge challenge for us. We actually started our business with no outside investment. Both Brett and I own other businesses that we started after attending TRU (Light Right and Best Coast Lights). We finished our high season in the lighting game and then rolled all those profits into our first tourism business, Forged. We first had to find an insurance company that would work with us, and with the help of our TRU professor on the waiver, we were good to go. The Resort Municipality of Whistler was happy to work with us once they saw all our insurance was covered and all our plans were above board."
What are your short-term and long-term plans for the business? Say three years, five and longer? Maybe you have plans to open other locations or sell franchises?
"FAT is growing like nuts. In the next year we will have another expansion of our current space finished, which will hold two more (throwing) lanes. In three years, we'll have another location in a city near you. In five years… Well, I'm not sure yet, but I know it's going to be huge. We're very aggressive with our plans and can't wait to bring our dreams to life."
You've created a few partnerships and friendships with a variety of Whistler businesses and have no problem recommending them to your customers. Why should budding entrepreneurs not overlook the importance of developing partnerships and friendships?
"It's not what you know, it's who. We're not the smartest guys out there but we take pride that we're able to surround ourselves with really smart people. There's so many advantages of building bridges between your business and another, whether that's sales, marketing, public relations, or simply creating good will. Life is a social network and you need social capital to get anything done."
What is something invaluable that each of you has learned at some point in the process of getting the idea out of your head to where it's a growing and successful business today?
"We're learning something new everyday. Being a young entrepreneur is extremely fun as we're frequently faced with new challenges that we need to figure out how to navigate. Whether it is a municipal politics issue, a zoning issue, an insurance issue, or any other huge number of challenges, our only option is to figure out what's going on and how we can best deal with it. My biggest takeaway so far is that if we keep applying pressure, we can get anything done."
Why did you choose TRU and what did you think you'd be doing after graduation from TRU?
"We are both extremely passionate about the outdoors and showing others a great time and TRU was the obvious choice. With the most respected guide-training program in North America, we knew that's where we wanted to be. And Kamloops is in the centre of everything adventure—Sun Peaks is awesome, Wells Grey offers amazing paddling and the mountain biking is epic in Kamloops."
Does each of you bring a particular expertise to the operation?
"Yes, Brett's an incredible operations guy with tons of experience in construction, which has helped us build the business' physical space and maintain our strong brand recognition through our experience. I've worked at a tourism marketing firm for four years and bring a wealth of knowledge about working with destination marketing organizations, marketing and sales."
You're serious about what you do while still retaining your humour. What does having a good balance of humour do for the business and do for yourselves? (To see what we mean, check out their response in the FAQ section to the question, "Can I leave my kids there while I go to the brewery?")
"We try not to take ourselves too seriously. We know that we're going to make a million mistakes and sometimes all you can do is laugh. We think our customers appreciate our laid-back attitude towards life and it comes across in our experience as well. We can be very serious in a board room while still cracking jokes all day and night to keep ourselves sane. Brett and I are still best friends as well as business partners. Our friendship is based on a solid foundation of making fun of each other and sharing laughs."