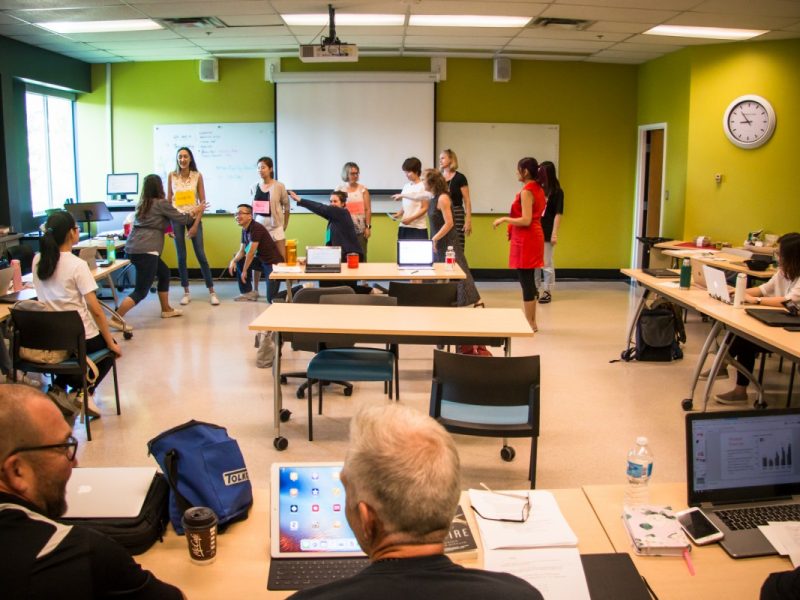 Dr. Kim Calder Stegemann had long been interested in the brain. A trained teacher and education scholar working with individuals with learning and behavioural issues, she yearned to know more about what was behind these manifestations.
She found her training was lacking, however, as educators are rarely exposed to neuroscience courses. This was a gap that Stegemann believed needed to be bridged, and students of her Master of Education course Mind, Brain, Education: An Introduction to Educational Neuroscience feel similarly about their experience today.
"In the field of education, it is crucial to understand that no student is the same. This knowledge about the brain is needed in the field of education to bring us closer to other disciplines," says Gursimeran Sangha, one of Stegemann's students. "It is currently difficult to collaborate with other professionals, but learning about the brain allows us to work closer with neuroscientists, counselors and psychiatrists to solve problems in an interdisciplinary manner."
Already holding a PhD in Educational Psychology from the University of British Columbia, Stegemann was teaching TRU Bachelor of Education and Master of Education (MEd) courses when she saw the increased availability and affordability of Electroencephalography (EEG) equipment as an opportunity to enter the field on her own terms.
She started working toward her Neurofeedback Certification through the BCIA Biofeedback Certification International Alliance, the international accrediting body.
Mind, Brain, Education: An Introduction to Educational Neuroscience started in 2016 to introduce MEd students to the subject of neuroscience.
"I took this course primarily to learn more about where and how math disabilities occur in the brain," says Samta Dhanjal-Suhag, a math instructor at TRU with a research interest in math disabilities. "I also have a general interest in neurology and loved the idea of learning about neuroscience within the context of education, as it directly relates to my career."
The TRU MEd has core courses, electives and three exit options. The suite of electives enables students to have access to cutting edge graduate studies. Visiting Scholars often host special topics courses and they provide great opportunities for students to learn niche subject matter.
Learn more about TRU's Master of Education
Stegemann first taught the course in 2016 and has continued to build it to reflect the latest research and international experience. In 2017 she taught the course at Germany's University of Cologne, and just this past July students at TRU's Kamloops campus were able to again access to this popular course.
Continued high interest in the course is a sign that the study of neuroscience has the potential to be relevant to students from a wide range of disciplines and careers.
"The more we know about how the brain processes information and makes connections, the better we can equip ourselves and students with the necessary tools to teach and learn," said Dhanjal-Suhag. "For example, I have students practice math drills or common graphs, depending on the course level, because I know repetition is one of the ways we commit information to memory."
The course has filled each time it's been offered to date, with this summer's intake increased by 20 per cent, and the compressed delivery format makes it possible to complete the course in just 10 days. Stegemann has seen students interested in pursuing educational leadership, administration and counselling careers taking the course. She feels all educators would benefit from this knowledge and saw more of an eclectic mix of MEd students in her classroom this past summer.
"As a high school teacher, having a better understanding of the adolescent brain allows me to be more patient with my students," said Paulette Gendron, one of Stegemann's summer students. "It also allows me to understand my students and cater to their individual learning needs. When we break a bone, we get an X-Ray to determine the best treatment. Similarly, we should look at the brain to know how best to guide and aide students' learning."
Stegemann has been recognized with Professor Emerita status at TRU which enables her to stay connected with the university community, still conducting academic research and continuing to teach. She sees a future possibility of neuroscience studies delivered through TRU Open Learning—where the MEd program already offers about 20 courses online—in addition to the full roster of courses on campus.
She's keen to mentor and facilitate educators' understanding of neuroscience.
"Educators generally do not receive training in this field," said Stegemann, who pursued this specialization on her own.
She suggests an introductory course in neuroscience to expose educators interested in teaching the course, to the subject matter.
This unique subject matter also introduces new opportunities for collaboration between disciplines and faculties. Stegemann has invited diverse TRU instructors to speak to her classes: including a Law faculty member discussing the implications of neuromarketing, nursing faculty illuminating the neural impacts of pharmaceutical drugs and psychology faculty speaking to how sleep impacts the brain.
"My real mission in life is educating people on this growing field of educational neuroscience," said Stegemann. "Technological and commercial neuroscience are currently just exploding, and educators need to be aware of this in order to make informed choices."
Stegemann is currently working towards her QEEG Certification Board Diplomate status and her private practice—BrainWave Centre for Education and Therapy—combines psychotherapy, neuropathy and counselling for a holistic approach. And as if she wasn't busy enough, she pens regular columns in two community magazines to educate the public and raise awareness for these ideas.
"Knowing what is happening in the brain is essential to being an excellent educator," said Sangha. "If teachers were given the opportunity to learn about the brain and its relationship to education, I believe the classroom would be much more welcoming to individual differences and students would feel more supported."