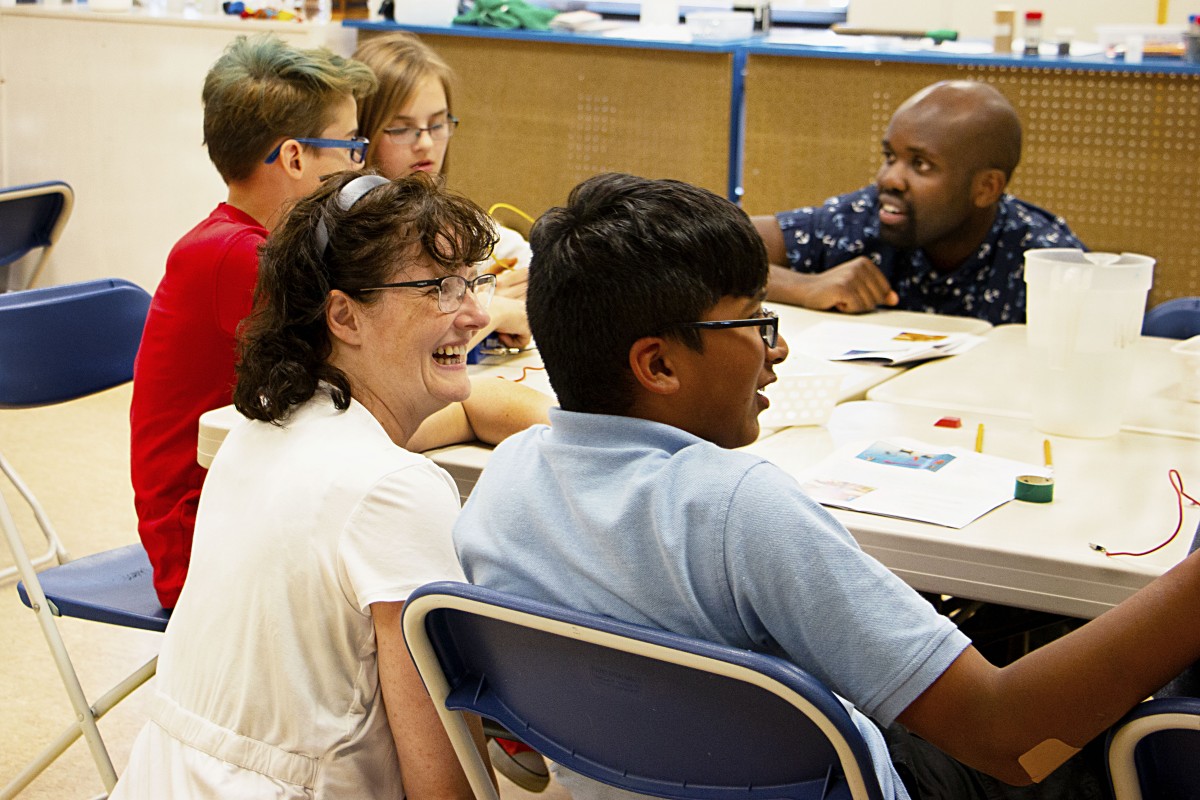 The classroom in the Big Little Science Centre was electric with energy. Grade 8 boys and girls gathered around tables and explored wires, batteries, magnets and other gadgets that encourage experimentation. These young teens were hand-picked for a week-long science camp because of their avid curiosity and they were definitely keen.
Crouched at each table beside the junior scientists were Thompson Rivers University students who aspire to teach. Wearing tags bearing titles of Mr. or Ms. and their last names, these teacher candidates are the first in a new, one-year teaching degree program launched in July.
Chris Service (or Mr. Service to the kids) was an engineer who discovered he didn't like sitting at a computer all day. He was thrilled to share his love of science with young, hungry minds.
"I've always been a very curious person. That's something I want to give to the new generation."
Service is among 24 teacher candidates in the Bachelor of Education STEM program that takes graduates in science, engineering and math, and in 12 months turns them into teachers who go into high school classrooms with a depth of knowledge and a passion for their subject.
Carol Rees, associate professor at the school of education and bachelor of education STEM co-ordinator said what makes this program unique is that it's geared toward engaging high-school students in science and math by relating it to technology and engineering.
"What makes us excited about the engagement with engineering is you can create such fun things for the kids to do," she said.
While STEM programs can open the door to vast career options, students are taught from an early age that those subjects are difficult and even intimidating.
"We've taught it, in a way, as if it's too hard," said Rees. Training teachers who are not just knowledgeable but committed to their subjects can spread that enthusiasm to kids in the classroom.
"To be an excellent teacher, you need to be really invested."
The week-long camp could not have been held at a better place. The Big Little Science Centre was founded by Gordon Gore, a long-retired physics teacher who still volunteers at the centre and who wrote school textbooks used by generations.
Ted Howe spent 12 years as a physics teacher and used Gore's textbooks in class. He is now an associate professor and chair of TRU's School of Education. "A lot of his labs stood the test of time," he said. "Gordon Gore's reach goes way beyond the classroom."
And on this day, Gordon Gore was at the centre, talking to the teacher candidates, taking photos and watching the love of science being passed on.
Brocklehurst middle school students Owen Adenstedt and Rose Heck were among the kids chosen to attend the camp. They both said a good STEM teacher is one who explains information at the level of the students and provides lots of hands-on, fun experiences.
Owen, an aspiring mechanical engineer, and Rose, who wants to study chemistry, nodded vigorously when asked if those experiences should include a chance to blow things up. They didn't get to do that, but they did learn how to make different colours of fire.
Teacher candidate Kim Lavigne appreciated Gore's presence at the camp. And his humour.
"We (the teacher candidates) were doing a battery lab and pretending to be kids. We kept adding batteries to try to get a motor going. Gordon Gore came over and said 'Oh you guys are getting quite a charge out of that.'"
The mother of teenage sons got her Bachelor of Science degree years ago, worked, moved, stayed at home to raise her family and is now a teacher assistant in Clearwater.
"I've wanted to be a teacher for a long time," she said. "I love the light bulb moments."
She is living in Kamloops during the week and going home on weekends. It's only for a year, and then she'll be ready for her dream job.
One of her classmates, Hallan Mtatiro, has a science degree with a major in biology. He wants to get kids excited about learning.
"I love the idea of inspiring somebody," he said. Students who take STEM subjects are likely to be easier to engage because they choose to be there, he added.
The program is already generating interest in teacher candidates for next year. Like the first cohort, they come from a broad range of backgrounds, including natural resource management, engineering and chemistry. Those backgrounds will serve them well in the classroom as teachers, said Rees.
"There's this saying in education right now, low floor, high ceiling. We want to make this kind of learning available to all students," she said. "We want to broaden the horizons for some but keep that upper-level rigor for those who want it."
Teacher candidate Paige DeWolff has a degree in zoology and was working as an education co-ordinator at the Greater Vancouver Zoo. Her view of teaching is not just about giving students content, but teaching them how to learn.
"You have to have passion for the subject," she said. "As science teachers, we still have that kid at heart. We're interested in learning, and touching and doing science."
Learn more about the Bachelor of Education STEM program.