Anastasia Silina started out as a nervous first-year student who was determined to speak English constantly to improve her skills. Now, she's rehearsing her valedictorian speech and representing the Faculty of Adventure, Culinary Arts and Tourism at the June 7 convocation ceremony.
A passion for travel brought Silina from her hometown of Khabarovsk, Russia, to TRU, where she completed a Bachelor of Tourism Management.
See below for Silina's valedictorian address
Silina said tourism piqued her interest because it's not a typical field of study back in Russia. She considered other Canadian schools and programs, but ultimately she liked the fact that TRU had a dedicated tourism program, and the decision was made. The campus layout, filled with greenery and trees, caught her eye as well.
Learn more about tourism at TRU
The transition to living alone and in a new country was difficult at first, but she quickly forged friendships with roommates and started branching out socially. Living in on-campus housing was beneficial to Silina because of the proximity to classes and all other amenities.
"I was homesick and missing my parents and friends," she said. "It was a challenge to speak English all the time. I'm so glad that I had Canadian and English-speaking friends because that meant I had many opportunities to practise speaking English, and gradually I became more comfortable living in a new country."
Once she overcame the language barrier and became more comfortable conversing only in English, she discovered how interested she was in the social aspects of the tourism industry. She took part in a qualitative undergraduate research project that involved examining millennials' perceptions of tourism advertising campaigns when virtual reality is used.
"It's just so much fun. What I liked most was studying the social side of tourism—for instance, the relationship between locals and visitors. We also studied psychology and what motivates people to travel to certain locations," she said.
The small class sizes and close-knit aspect of the program were beneficial and definitely played a part in her successes.
"I don't know if I would have achieved the same results at another institution," she said. "I've had some of the same teachers for three or more courses, and we built better relationships as the years went on."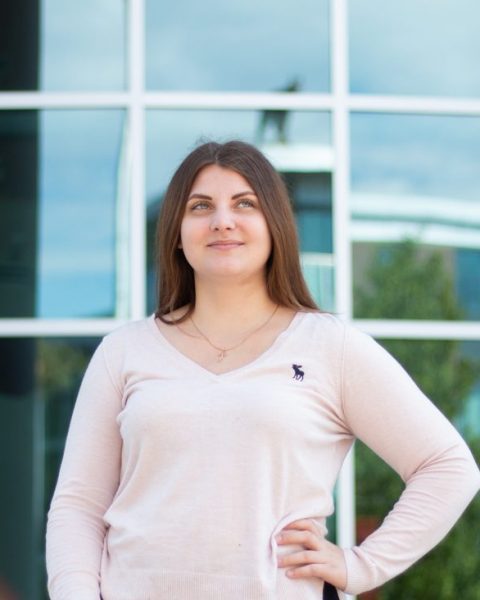 Silina was surprised and excited when she learned of her valedictorian status. The shock turned into nerves when she discovered she'd have to deliver a speech at convocation, as she hasn't done much public speaking. She's using practice to combat nerves and is spending a lot of time running through her speech.
As parting advice to other international students, Silina strongly recommended taking advantage of welcoming events like student orientation week.
"When I first came here, it was a difficult transition. But what really helped me was student orientation week. All the workshops and events were very helpful. I could see the other students and how lost they were, and I knew I wasn't the only one," she said.
Looking ahead, she's relieved to take a short break from school and pleased to be learning more about event planning through her job at Hotel 540. Eventually, Silina wants to pursue a master of tourism degree, but will probably stay away from the kayaks.
Watch Silina's valedictorian address