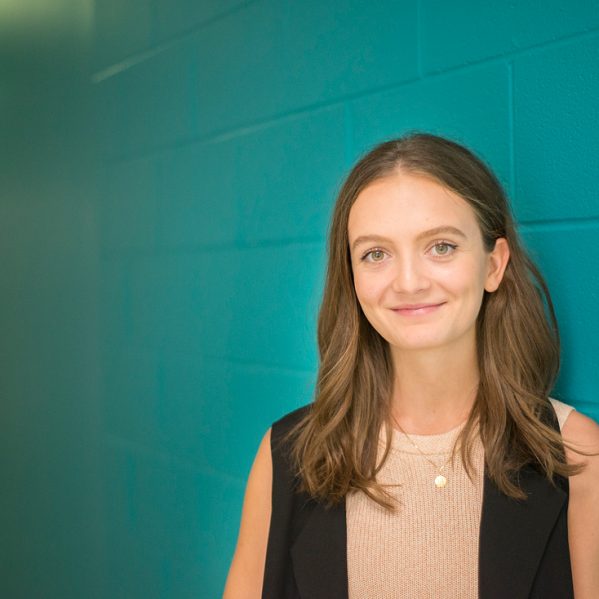 Supplemental Learning (SL) leader Kennedy Aberdeen is majoring in accounting, but it's her theatre minor that has blossomed into a passion. "I originally took theatre as an elective and just fell in love with it. In fact, I decided on my minor before my major.  It's a good balance with business—you develop these soft skills with theater that you don't get in business studies."
Though theatre training is not a requirement of business, spending time onstage helps with public speaking, articulation and improvisation. It also fosters confidence, communication and memorization. "Theatre has developed my skill set on a number of levels. Actors receive regular feedback and apply those notes to improve the work. You are collaborating with teams or practicing alone. It exercises all kinds of mental muscles regarding empathy, creativity, flexibility and timing," Kennedy remarked.
"Through performance, you develop a better sense of your body, mind and spirit—as well as a sense of self-awareness and expression."
Theatre Coordinator Robin Nichol said, "Kennedy is a very talented gal, and she's bringing it like nobody's business. It's a thrill to have a diverse selection of majors participating in the program; it underlines the fact that theatre is about listening, responding, reacting and relationship building, which is applicable both on and off the stage."
Armed with the ability to adapt, students can apply that education on so many levels to their other courses, but Kennedy feels that it especially helps when navigating the social realms of networking. Of course, the SL leader has benefited from her theatre training when supporting students during study sessions. "I've learned a lot about studying through the practices of others. SL has shown me that there are so many avenues to explore information."
Kennedy first discovered SL during a financial accounting course and took in a session as part of exam review. Primarily a self-described "lone wolf" when it comes to her study practices, she discovered the benefits of learning with others.  Even further, teaching the material offers a whole new layer of learning. "I was closed off to the idea of collaborative study methods.  When reviewing, I believed I needed to be alone – focusing solely on the task. I now appreciate the importance of exchanging different perspectives regarding the same subject."
Last year, Kennedy completed a five-month Study Abroad term at Chapman University in Orange County, California. "Yes, I could have gone somewhere with a more international flavor," she laughed. "But I felt that California would best showcase the union of show and business working in conjunction."
While there, Kennedy took International Business, Marketing and Theatre Tech and participated in Chatwin's Italian and Law Clubs. She also had some Hollywood-esque encounters: caught filming of the James Cordon show, high fived Liev Schreiber and Kelly Osborne, and toured Dream Works Animation Studios to get the inside scoop on the film Trolls.
Upon her return, she met with Brad Morris, Dean of Law, about starting a pre-law society, which took off in summer of 2017 and was made official last September. The club not only promotes the law school, but also allows students to engage with the program through theatrical components with students participating in mock trials.
As a student leader, Kennedy strives to create a safe space for students. "Students can be in such a vulnerable position. Uncertain, exhausted, frustrated—maybe they are upset about a bad mark. I encourage reflection. We can learn from mistakes. I want the sessions to be laidback, friendly, accessible—and above all equal—abandoning any authoritative power dynamic in a classroom."
Kennedy co-designed and facilitated a public speaking workshop with two other students called "Speak Up." Once again, she utilized her theatre training, by teaching others how to best prepare for speeches. She also participated in Director's Fest, the annual showcase of one-act plays directed by senior directing students. Furthermore, Kennedy was recently cast in the upcoming production of She Kills Monsters, an exploration of grief and geek culture by playwright Qui Nguyen.
Set to graduate in 2020, Kennedy continues to thrive from the multitude of opportunities Study Abroad and SL have provided for her to put her education into action. "I've learned how to act and react accordingly. Always have a plan but be prepared to roll with the punches."
Click the link for more information on Supplemental Learning.
Click the link for more information on Theatre Arts.