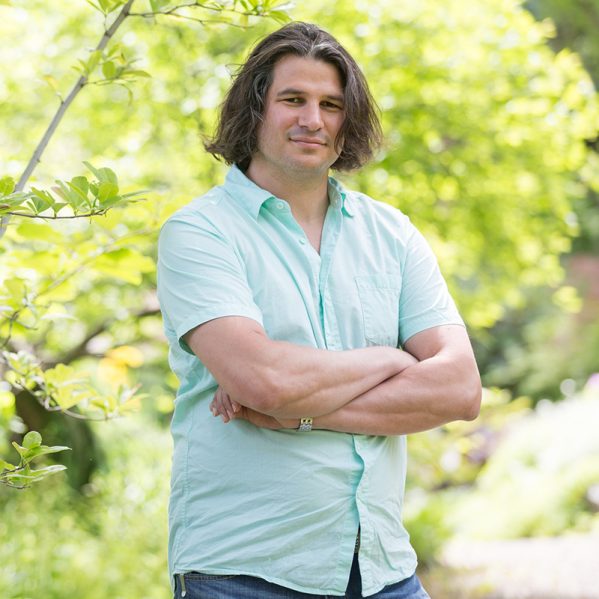 Dr. David Hill will be keeping a close eye on BC's fragile rangelands, thanks to a $200,000 boost to his research program from the Canada Foundation for Innovation's (CFI) John R. Evans Leaders Fund.
This funding is part of a $42 million investment announced today by the Government of Canada for the cutting-edge tools researchers require to keep Canada at the forefront of innovation.
The project, "Precision Management of Rangeland Systems for a Sustainable Future," will be under the direction of Dr. Hill, Associate Professor in the Department of Geography and Environmental Studies. He is joined on the project by collaborators Dr. John Church, BC Regional Innovation Chair in Cattle Industry Sustainability, and Dr. Lauchlan Fraser, Professor of Natural Resource Science, and expert in ecosystem reclamation, range management and biodiversity.
> Read: Putting the best research tools in the hands of Canada's scientists, Canada Foundation for Innovation, April 11, 2018
The funds will go toward the purchase of a suite of remote sensors integrated with an Unpiloted Aerial Vehicle (UAV) and equipment necessary to undertake field studies that can improve ranching management. Dr. Hill and members of his GeoX Lab have been performing research with UAVs for several years. However, the state-of-the-art sensor payload, consisting of a Light Distance and Ranging (LiDAR) device and a hyperspectral imager, is what makes the sensing system supported by this award uniquely capable of addressing challenging questions in rangeland management.
According to Hill, holistic rangeland management attempts to balance the objectives of increased food production, rangeland biodiversity, and carbon storage, in order to create a more sustainable and secure food supply. Until recently, labour costs and inefficiencies in sampling methods have made it challenging to monitor range ecosystems at the pasture-scale necessary to enable holistic rangeland management. The technology funded by this grant enables Dr. Hill and his lab to explore how this technology can best be leveraged to monitor rangeland health and direct ranching decisions to improve the overall performance of the rangeland system.
"Our goal is to create methods to accurately assess rangeland health from the air. Five years ago, this idea would have been considered crazy.  Yet, in the 1960's satellites revolutionized how we do land management. I think UAVs have the potential to revolutionize it once again," Hill said.
"This is a great example of the local and regional questions that need the attention and expertise that Dr. Hill and his colleagues bring. Without the close working partnerships between the university and the community, we wouldn't be able to identify these questions, and be able to provide answers that reach well beyond our borders," said Dr. Will Garrett-Petts, Associate Vice-President of Research and Graduate Studies.
The equipment is currently being designed and produced by a Boston-based company, and it should arrive in at TRU this summer. Researchers will test the equipment within the Guichon Grasslands near Merritt, BC, and are expected to begin collecting data in earnest in April 2019.
Quick facts:
The John R. Evans Leaders Fund helps a select number of exceptional researchers at institutions across the country to conduct leading-edge research by giving them the tools and equipment they need to be or become leaders in their field.
Total funding is $42,337,780: includes capital funding for infrastructure of $32,567,523, with an additional $9,770,257 awarded under the CFI's Infrastructure Operating Fund, which helps institutions with the incremental operating and maintenance costs associated with the acquisition of new infrastructure.
Budget 2018 is making a record-setting investment of nearly $4 billion in new support for science, so that Canadians can make the world-changing discoveries we can't even yet imagine.
This investment includes $1.7 billion for the granting councils and the next generations of researchers and scholars.
Budget 2018 promises $763 million for the Canada Foundation for Innovation (CFI) that will put cutting-edge tools in the hands of our scientists, scholars and students and ensure they have state-of-the-art labs and facilities to make their greatest discoveries.