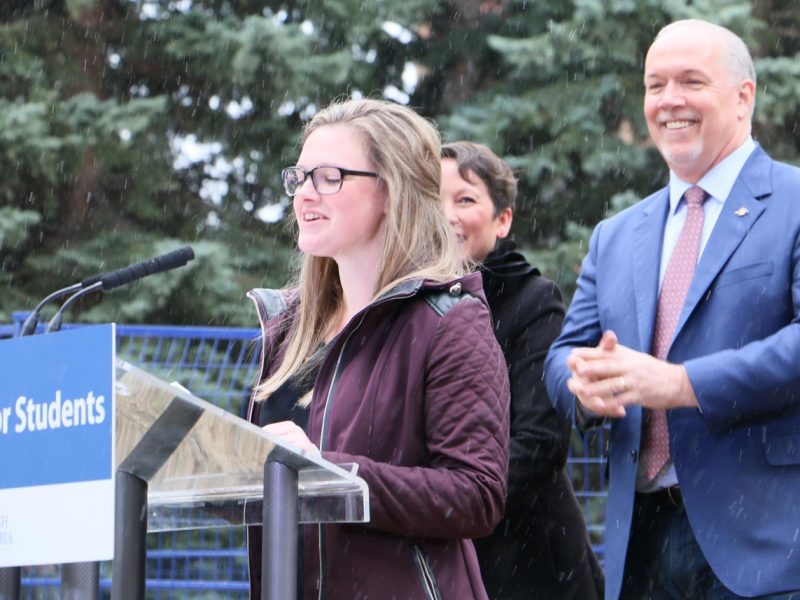 Third-year Bachelor of Science in Nursing student Gabby Fisher had the honour of representing nursing and health care assistant students at a ground-breaking ceremony this morning to celebrate TRU's new Nursing and Population Health (NPH) building.
Before she shared the student body's excitement regarding the state-of-the-art facility, which begins construction in May, she revealed why she wants to be a nurse—starting with spending time in hospitals as a child, cared for by "amazing" nurses.
"I want to be a nurse because during this time I realized that a nurse is someone who is brilliant—nurses have so much knowledge and they get to make their patients smile at the hardest times, and a nurse gets to show compassion and empathy every day."
Fisher has been a member of the Nursing Undergraduate Society for three years and currently serves as president. She was excited to join BC Premier John Horgan, Minister of Advanced Education, Skills and Training Melanie Mark, TRU President and Vice-Chancellor Alan Shaver and Dean of Nursing Dr. Donna Murnaghan to turn the sod for the new building and say a few words on behalf of students.
Read: Premier breaks ground on new nursing building
"As nursing students, we have been involved in putting forth ideas and requests for the new building. We identified core things students want and we communicated that to our dean, who has heard our wishes and done her best to uphold them," she said.
One of those features is the expansion of the number of patient simulation labs, equipped with the latest technology—including high-fidelity simulation mannequins—and space similar to that of real health-care settings.
Read: It's a girl—Nursing school welcomes baby
"This is important for us and future students because the profession of nursing is hands-on all the time with patients—it allows us to have practical lab experiences before working with real people," explained Fisher. "More labs with high-quality resources will allow us to spend more time gaining the knowledge, skills and confidence in ourselves and in our motor skills. These labs will also allow more space to learn, greater access to resources, scheduled time for practicing and will have designated storage to keep the equipment secure and well maintained."
The NPH building will also offer spaces where students can collaborate, meet with instructors, study or take a break when needed.
"This is huge! Currently we find there is a struggle to find somewhere that we can meet in groups to debrief about our day or work on group projects, and this building will create these spaces," Fisher said.
"It is often the small things that help us get through the day," she added, pointing to design features like natural light, microwaves and water-bottle stations. "Most importantly, nursing students are finally going to have a space to call their own."
Nursing clubs will also have a space to meet and organize community initiatives.
"As a nursing student, it's gratifying to see this investment, which gives us a state-of-the art facility where we can learn and practice together," she said. "It shows the value placed on nursing and health care, allowing us to truly understand that our profession is needed and respected."
Fisher would like to see more such facilities across Canada, so more nursing and health-care students have access to the kind of learning opportunities TRU's new Nursing and Population Health building will provide.