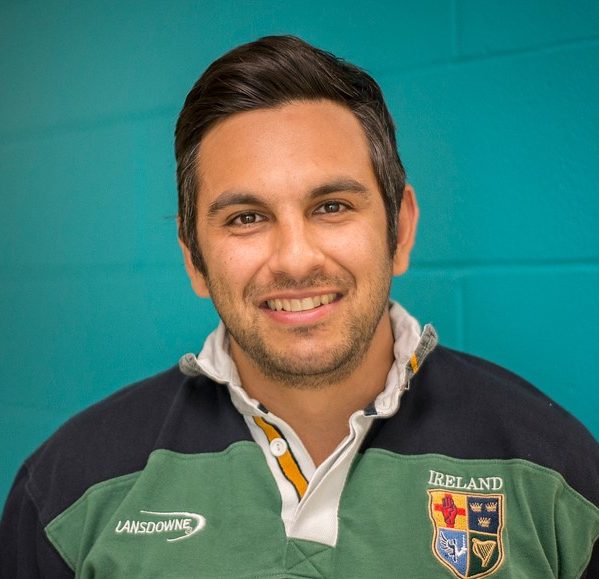 Born and raised in Kamloops, Supplemental Learning (SL) leader David Gore spent his first post-secondary year on a hockey scholarship at Minot State University in North Dakota. After recognizing that the courses weren't motivating him, David returned to Kamloops to attend TRU.  He originally aspired to become a doctor, but as he approached the end of his undergrad, the chemical biology major discovered that his direction was starting to shift.
In fact, on route to his Medical College Admission Test (MCAT) exam in Calgary, the vehicle broke down in Golden. He and a friend hitchhiked—and picked up a fellow named Jose who got them to the exam with only minutes to spare. "Obviously, with those circumstances, I did not excel at that test," David laughed.
Not passing the MCAT provided the impetus to confront the fact that David's heart wasn't in medicine anymore, "It just wasn't meant to be."
At the time, David was working in a lab at Gibraltar Mine in Williams Lake—but felt as though the role did not have a lot of room for advancement.  After having what he described as a "midlife crisis at 27," he reassessed his pathway after lengthy conversations with his parents and partner, which propelled him towards the law program. From there, he left his job, got married and honeymooned in Europe for a month before settling into the TRU law program. "Everything fell into place rather quickly, which I took as a sign of everything being meant to be."
David got a temporary, part-time administrative position at Mary MacGregor Law Corporation. "What had originally started as a two day a week role developed into more and more nuanced opportunities.  I was grateful to learn about daily operations at the front desk; everything else was just icing on the cake. It's essential to understand all the components of the business."
To David, collaboration is key to success, as is flexibility, as well as a thirst for knowledge. "The education continues: the law is always changing, cases will always create new and interesting challenges."
Throughout David's education, he has "cherry-picked skills from mentors and experiences. So much value can be gleaned from each interaction. Be present, learn by observation and apply those lessons to your process."
An avid athlete, he has played hockey for a number of years; he played junior league with the Kamloops Storm, played for TRU's varsity team, and still plays senior league in Williams Lake. David considers the sport to be an essential component of his self-care practices. "It's a combination physical exertion and mental clarity. When I'm on the ice, I'm only thinking about the game. Nothing else in that moment matters."
At times David grappled with the coulda, woulda, shoulda's of time spent playing, practicing and traveling. "I often wondered whether I could have used that time in other ways. In the end, I can't deny the benefits of team spirit that brought me to my current pathway."
David remarked, "Another element learned from athletics, is passion versus talent.  You can have raw, natural talent, but it's about the love of the game, the thrill of the experience, the urge to improve. Above all, your drive comes from not wanting to let the team down—it all comes back to the team."
As an SL leader, David strives to make the learning environment comfortable, fun and friendly.  "I want to impart my wisdom and experience, help others shift study habits."
SL Coordinator Elizabeth Templeman remarked, "David's combined skill set as an athlete, scientist and strong leader is such an inspiration. To have the same young man approaching me to apply to lead our pilot experience with SL support for law students was such a welcome surprise."
Recently, David and his wife welcomed their first child in February. In addition, he has accepted an offer to work at an international law firm DLA Piper in Vancouver.  Set to graduate in 2019, David is ready to explore the road ahead. "I'm always learning, always growing. There is still so much more to discover."
Click the link for more information on Supplemental Learning.