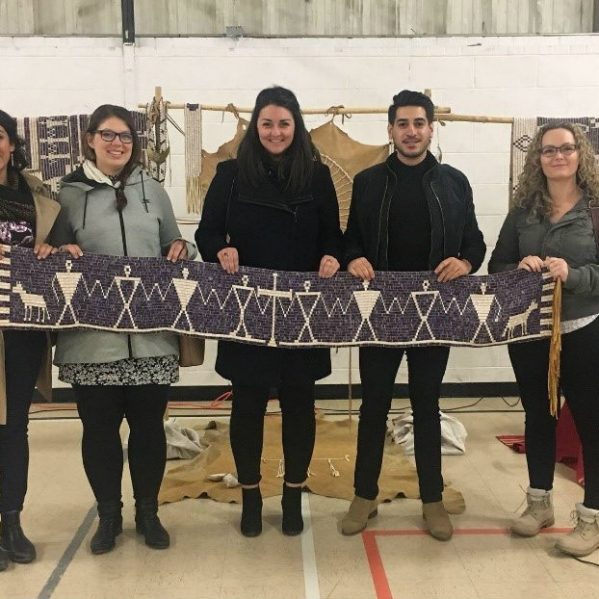 TRU Law's moot participation continues to grow. This year, the law school sent a total of five teams of mooters to various competitions across Canada.
BC Court of Appeal Moot
On February 17, TRU Law participated in the BC Court of Appeal Moot at the Vancouver Courthouse. The teams argued over a case involving the dismissal of a police officer, and worked with Professor Craig Jones, QC, an experienced litigator in his own right, to prepare for the moot.

Prior to the competition, the team spent the week in Vancouver, watching appellate hearings and practicing their oral submissions with other lawyers. Their hard work paid off as they tied for first place for their written factum. At the hearing itself, Elizabeth Cunningham (2L) was the second-highest ranked oral advocate, while Deryck Harry (3L) placed fourth. Chief Justice Bauman noted that Cunningham, in particular, made the courtroom "her own."
MacIntyre Cup
On Feb. 16-18, TRU Law sent a team to Winnipeg, Manitoba, to participate in the MacIntyre Cup, which focuses on trial advocacy skills. Jayde Niefer (2L) and Cassandra Tam (2L) were coached by Crown prosecutors Frank Caputo and Don Mann. The students learned how to conduct direct examinations and cross-examinations of witnesses, pre-trial interviews, and provide opening and closing statements. They also worked to master the art of objecting in a courtroom. Much of the moot involved working with witnesses, such as presenting exhibits, refreshing their memory and impeaching their testimony.

Niefer emphasizes the practical aspect of the mooting experience. "You can watch moots and trials and read cases in as many textbooks as you want, but you can never truly understand how to run a trial until you actually participate in one," she said.  In particular, she says she learned two important lessons. "First, your trial is never going to go how you plan, so you must be able to adapt and think quickly on your feed. Second, be confident in what you are doing and in the knowledge you have. If you know that what you are saying is correct, and you have a sound basis for your stance, don't be too quick to back down and agree with other lawyers or judges telling you that you are wrong."
Jessup Moot
For the first time, this year TRU Law sent a team to compete in the Philip C. Jessup International Law Moot Competition. This year's competition was held in Fredericton, New Brunswick, on Feb. 22-24 and included 14 teams from across the country with two of these teams pleading in French. The team was coached by Assistant Professor Ryan Gauthier, and Vancouver lawyers Laryssa Borowyk and Greg Pun, QC. Before travelling to Fredericton, the team traveled to Vancouver for two days of intense practice in front of members of the Vancouver bar, where the team was put through their paces.

Once arriving in Fredericton, the team was met by TRU Law Dean Brad Morse, who came to lend the team support in their inaugural Jessup competition. They got to work, arguing a case that involved unmanned underwater vehicles, nuclear submarines, and review of an international arbitration award. The team says it was an experience that will benefit them long term. "The skills, networking and friendships offered by this competition have helped prepare us for our future legal careers in ways courses never could," they said. The Jessup Moot is notable for its lifelong community who return to the moot as coaches and judges. "The Jessup Moot community is an amazing and welcoming group, and once you are a part of it, you are a member for life."

Kawaskimhon Moot
On March 2-4, five students participated in the Kawaskimhon National Aboriginal Moot, hosted at McGill University in Montreal. Unlike other moots, the Kawaskimhon is in a multi-party negotiation format rather than litigation. This year's negotiation centred around the conflict between the People of Kanesatà:ke, the Municipality of Oka, and the Province of Quebec—which erupted in the real-life "Oka Crisis" in 1990. TRU's teams were tasked with representing one of six parties to a negotiation for the purposes of negotiating a process for the protection, care, and control of Indigenous cultural heritage artefacts in areas belonging to the Province.

Both teams were extremely successful in steering the negotiation towards consensus on several items that benefited their parties' interests. The teams were able to determine their success based on how many aspects of their submitted policy proposals were achieved, which equalled roughly 90% of each team's proposed policy.

The Kawaskimhon Moot provided the teams with an opportunity to delve into some of the intricacies of Aboriginal and Indigenous law, a topic that can be very complicated and intersects many areas of law. The experience also allowed each team member to gain valuable experience in negotiation while honing their own negotiation style. Negotiation is a necessary and inescapable aspect of the legal profession and the 2018 Kawaskimhon team found this experience invaluable to their skill development as budding lawyers.  The team was coached by Associate Professor Janna Promislow and TRU Law alumni and local practitioner Chrystie Stewart.
Wilson Moot
A group of TRU Law students who recently participated in the Wilson Moot took top prize for their written argument. Read the full story here.