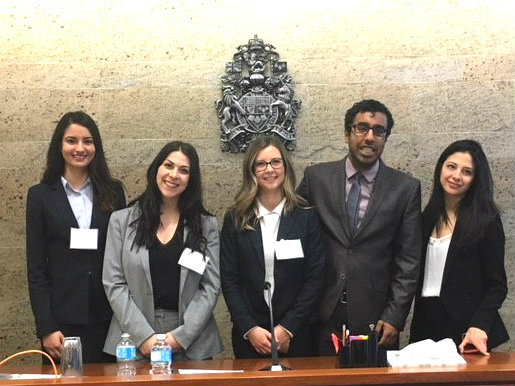 A group of TRU Law students who recently participated in the Wilson Moot took top prize for their written argument.
On February 24 and 25, students Parvej Sidhu, Alessia D'Aversa, Stephanie Benedict, Arpan Parhar, and Esra Yacout traveled to Toronto to participate in the moot, which focuses on constitutional law and issues concerning women and minorities.
"The team performed excellently. And—this is the first time that TRU Law has placed at a national moot," said TRU Law Assistant Professor Ryan Gauthier, who chairs the faculty's moots committee.
The group was accompanied by their moot coach Lauren Wihak, an appellate litigator at McDougall Gauley, LLP in Regina, Saskatchewan. Wihak has coached the team for the last five years.
D'Aversa described the moot as challenging yet rewarding.
"It was one of the hardest things I have done during my post-secondary education, but it was thought-provoking, enhanced my skills both in writing and in oral advocacy, and most importantly, has better prepared me for a legal career," she said.
The students received the Wilson Moot problem on November 13, and then had to submit a written factum by January 25. This year's problem explored legal issues concerning equality rights and constitutional remedies. After submitting the written factum, the team prepared for oral argument.
The experience, recalls D'Aversa, was a little nerve-wracking but worth it.
"Yes, there are some judges who are trying to throw you off, but more often than not, they are genuinely trying to understand your position," she said.
The team says one of their highlights was meeting Canadian constitutional law scholar Peter Hogg (at the opening day reception), and Chief Justice Wagner, the newly-appointed Chief Justice of the Supreme Court of Canada (who judged the final round), describing them as legal luminaries who were "kind, friendly, and awe-inspiring".
For students considering the Wilson Moot, D'Aversa has some wise words.
"Even if constitutional law is not your forte, and even if you do not want to be a litigator, you develop skills that can't be learned from sitting at a desk and reading a text book. If there is any reason to be on the Wilson Moot, it is to work with Lauren Wihak, who is brilliant. She became more than just a coach in the short time we worked with her. The experience is one you will not forget."