Posted on: March 1, 2018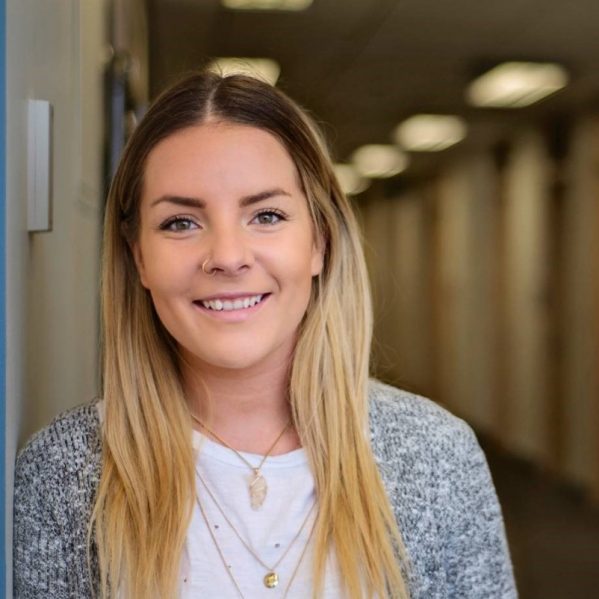 Fourth-year student Chantal Cadorette feels as lost as a set of car keys tucked deep into a couch cushion.  Now in her final semester, the Events & Convention Management Diploma graduate and BBA Marketing student has been offered a challenge by the Faculty of Student Development. For the months that remain, Chantal will be exploring and reflecting on her student experiences, while relishing in all that campus has to offer. Follow her journey through her struggles, successes, revelations and the balancing act that is university education.
Terry O'Reilly, an inspirational speaker and CBC radio-show host, gave a thought-provoking talk in the TRU Grand Hall on breaking boundaries and finding your creativity. The room overflowed with students, faculty and community members. Everyone was anxiously awaiting the inspirational humour that O'Reilly is known for, and he did not disappoint.
Speaking of how we are consistently being held within the confines of categories and rules, he explained how much creativity loves constraint, stating, "only then are we forced to find a better way." I took this entire speech like a shot to the heart. To put it straight, I've lived my whole life breaking the rules, so getting creative about problem-solving and cherry picking is just what works for me.
He shared eight prominent stories, each with one overlying message. Of those, I considered three when assessing my personal behavioral approaches and learning methods.  During these stories, my mind flooded with ideas and metaphors of utilizing these to our advantage. As students, we are continually pulling ideas from others: how to study productively, how to take thorough notes, where to find the best latte on campus. We are so convinced that university is about learning from others, but what can learn from ourselves?
He spoke of how Van Halen, once one of music's biggest rock bands, had a precise detail in their concert rider: no brown M&M's in the dressing room. Attached was a significant consequence – forfeit of the show and full compensation. While this seemed tedious beyond belief, Van Halen wanted to ensure that utmost care and precision went into these shows, especially considering the extent of equipment and production.
Consider the wisdom of "11 good study habits for students". Chances are we don't follow its instructions collectively. Instead, selecting the ones that sound good and achievable makes things more realistic for us. These are your very own brown M&M's. They are those minuscule tasks we put into the contracts of our education. Without the thrill of achieving these, we convince ourselves worlds will implode, along with our university careers.
Terry also spoke about how a race car driver was faced with an opponent with a faster engine, and had to find a competitive advantage. The saving grace wasn't to build a speedier engine himself, but instead, to construct an engine which required fewer pit stops. This meant less downtime and more drive time.
As for building your engine to incorporate fewer pit stops, there is one solution for this – self-care. Without proper attention paid to daily attributes of functioning, we accomplish nothing efficiently. The point is never to move faster to achieve higher productivity in a day; it is merely about taking fewer breaks without burning out. Nights spent cram-studying until the wee hours of the morning for a 9 AM exam will only cause your eyes to burn and your mind to wander far from kinetic molecular theory. Getting rest, proper nutrients and your forms of self-care will never fail in creating a more productive, happier you.
The third story regarded raising chickens in an African community. Newly hatched chicks that roamed the grounds were too slow and underdeveloped to outwit and outrun the hawks that preyed on them from above.  The farmers approached the problem from the hawk's perspective. More specifically, they focused on what the hawks found unappetizing: the colour purple. With no harm to the chicks, they were slathered in paint until they were healthy and fast enough at ten weeks to defend themselves. From this, they were able to roam freely without hawks even giving them a second glance.
Finding your purple paint may seem like the hardest gap to bridge but is as simple as considering a unique perspective. As students, we are the weakened chick seeking refuge from our academic responsibilities, which forever stalk us like a hungry hawk. What we must remember is that this doesn't mean we have to be prey. Keeping our heads down and staying focused prepares and arms us, allowing us to create resiliencies before commitments become overwhelming.
My advice to you is this: find your brown M&M's, fortify your engine, and paint yourself purple. Set non-negotiable rules for issues that may seem minuscule and attach a more substantial personal or academic consequence to stay focused. Build your engine based on how you work to reduce the number of pit stops. Paint yourself purple to avoid being the prey of your university career. Remember, through self-reflection, you can learn so much about yourself. While we may not always know the perfect recipe for success creating your cookbook can be the fun part.
Please click the link for more details on other upcoming events.