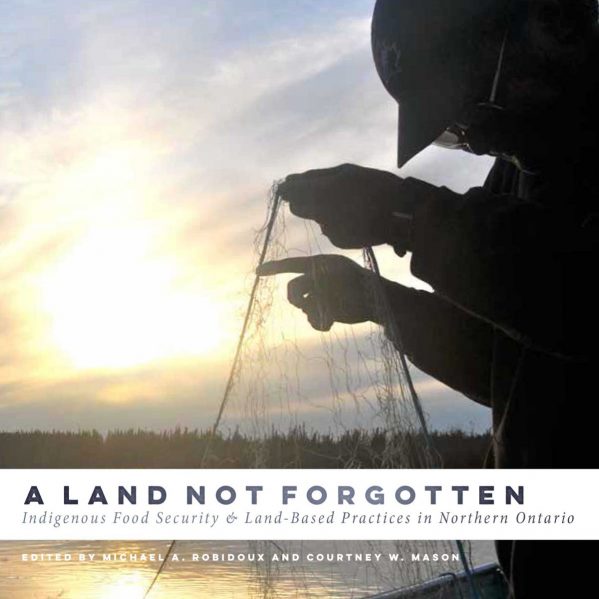 Food security in Canada's north is generally described as tragic, often focusing on a lack of access to clean water, soaring prices of food shipped from the south, and the resulting ill health of those who call these remote communities home.
But there is hope, too, says Dr. Courtney Mason, co-editor of A Land Not Forgotten: Indigenous Food Security & Land-Based Practices in Northern Ontario.
"Indigenous communities should play a key role in the transformation of global food systems because of their extended history of land-based survival. Indigenous people have, for thousands of years, encountered fluctuating climates, varying access to resources, and have developed complex food systems in response," said Mason, Canada Research Chair in Rural Livelihoods and Sustainable Communities.
Mason's research involved extensive fieldwork with numerous Indigenous communities in the Nishnawbe Aski region of Northwestern Ontario. Most of the communities are fly-in, with no permanent road access, and range in population from 40 to 1500. They are isolated geographically, politically and culturally.
"We asked the communities what they needed — we weren't there to tell them what they already knew. These communities are seeking partners and particularly partners who appreciate that community members are the experts on the ground and at grassroots levels."
 There are significant health disparities in these communities, but the residents aren't waiting for the governments to intervene. "They're finding solutions to localized problems and relying on knowledge of the land and their cultural values to guide this process." Despite diverse disciplinary perspectives, the Mason's research suggests that Indigenous food security means building resiliency in both ecosystems and communities. "It is our hope that the book recognizes both the larger barriers that do persist, but also profiles the ways communities are demonstrating this resiliency and enacting change at regional levels."
Published in April 2017, the book has been recognized as an exemplary work in community-based research and scholarship.
Through a Social Sciences and Humanities Research Council Insight Development Grant, Dr. Mason is currently examining how Indigenous communities in Western Canada and Aotearoa/New Zealand are reasserting their cultural, subsistence and land rights in the management of parks and protected areas."
[yourchannel video="0FMUeOjDCPs"]