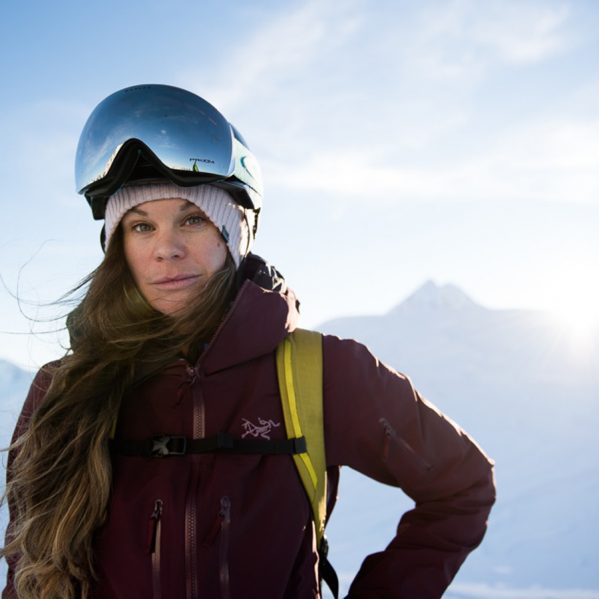 From Olympic ski racer to backcountry guru. How Christina Lustenberger's time at TRU prepared her for the guiding life, in the big mountains.
If you're an avid skier, passionate weekend warrior, or choose to live the frozen months of your life vicariously through the Winter Olympics, you've probably stumbled across Christina "Lusti" Lustenberger's persona by now.
Whether the name sounds familiar from her celebrated ski racing career or through awe-inspiring Arc'teryx video productions, it only begins to scratch the surface of her ambitious career. Lusti is also an accomplished backcountry ski mountaineer and guide, who learned the ropes at Thompson Rivers University in the Canadian Mountain and Ski Guide Program.
Post-secondary education wasn't top-of-mind for her after graduating high school. She was busy refining her trade on the Canadian Alpine Ski Team—travelling to races all winter and training during the summer months—and with no free time to speak of, put further study on the back-burner. After six years on the Alpine Team she'd bagged top-10 World Cup results and represented her nation at the 2006 Winter Olympics, but she already had her sights set on something deeper.
Plagued by recurring knee injuries as so many high-level ski racers are, Lusti retired from the race scene and the Alpine Team at age 25. Far from retreating from the sport, however, she shifted her energy to another ski discipline that, as it turns out, had been indoctrinated in her nearly since birth. Her parents met at a Canadian Mountain Holidays heli-skiing lodge, and many family friends were legendary ski guides.
The mountains were calling, and ski mountaineering held the answer. It was time to learn the mountain craft. With nearly a quarter-century of technical ski training under her belt it's safe to say she'd mastered the descent, but being raised in a diligent backcountry culture she knew there was more to learn about this new arena.
She wanted to learn how to travel safely in the mountains and be self-sufficient on expeditions. She had her sights set on some lofty backcountry goals—today she holds some impressive solo first descents—and learning the guiding trade seemed like a great way to acquire the skills she needed, to safely access the more remote areas she wanted to travel and ski.
Lusti was interested in the guiding life even as she was hitting her groove in the race world, and was familiar with the Canadian Mountain and Ski Guide Program from a ski racing friend who was already enrolled. She says the TRU program offered a great, structured way to reach her goals, while learning from distinguished industry professionals.
"I wanted to learn from the best and I wanted a timeline. I was interested in some specific courses offered at TRU, so it didn't take much consideration to decide on the Canadian Mountain and Ski Guide Program."
The program's field courses had her and classmates out in the mountains for weeks at a time. They were learning skills in the environment which they'd later be tested, during Association of Canadian Mountain Guides (ACMG) exams and a lifetime of backcountry expeditions.
"One thing I found great about the TRU program was that our courses were pretty close to what you'd imagine an ACMG accreditation exam would entail. Come ACMG exam time, it really shows that TRU students are well prepared and highly trained to industry standards."
Lusti is confident her time at TRU expedited her career in the big mountains by providing structured training, and the abundant field experience required for ACMG applicants. She was able to complete her Wilderness First Aid and Canadian Avalanche Association (CAA) Avalanche Operations Level 1 courses at TRU, and the program left her well-situated to move forward in the industry.
While studying at TRU she still found time for weekend ski pilgrimages back to her home in the big mountain town of Revelstoke, and was also able to secure a few guiding practicums that helped her find employment after graduation.
Shortly after graduating from TRU she completed her CAA Avalanche Operations Level 2 course, and applied to the ACMG Assistant Ski Guide Program. The stars were already beginning to align and, as she began to work with Arc'teryx as a sponsored athlete, the two pursuits began to blend together and complement one another.
She completed the ACMG Assistant Ski Guide Program and began working for Canadian Mountain Holidays, as well as for various backcountry touring lodges. All this while balancing obligations with her sponsors, and still finding time to ski for fun with friends. They say the only constant is change, and it wasn't long before she was able to strike the qualifier from her title as a full ACMG Ski Guide.
Two years ago Lusti decided to hang up her heli-skiing hat to focus exclusively on ski touring work, guiding powder hounds in the Coastal Range north of Pemberton for Whitecap Alpine. Follow her journey on social media to infuse your feed with jagged peaks and sunset-backed face shots, and watch for this TRU alum annihilating the steeps of her hometown Revelstoke Mountain Resort or on your next ski touring trip to Rogers Pass.