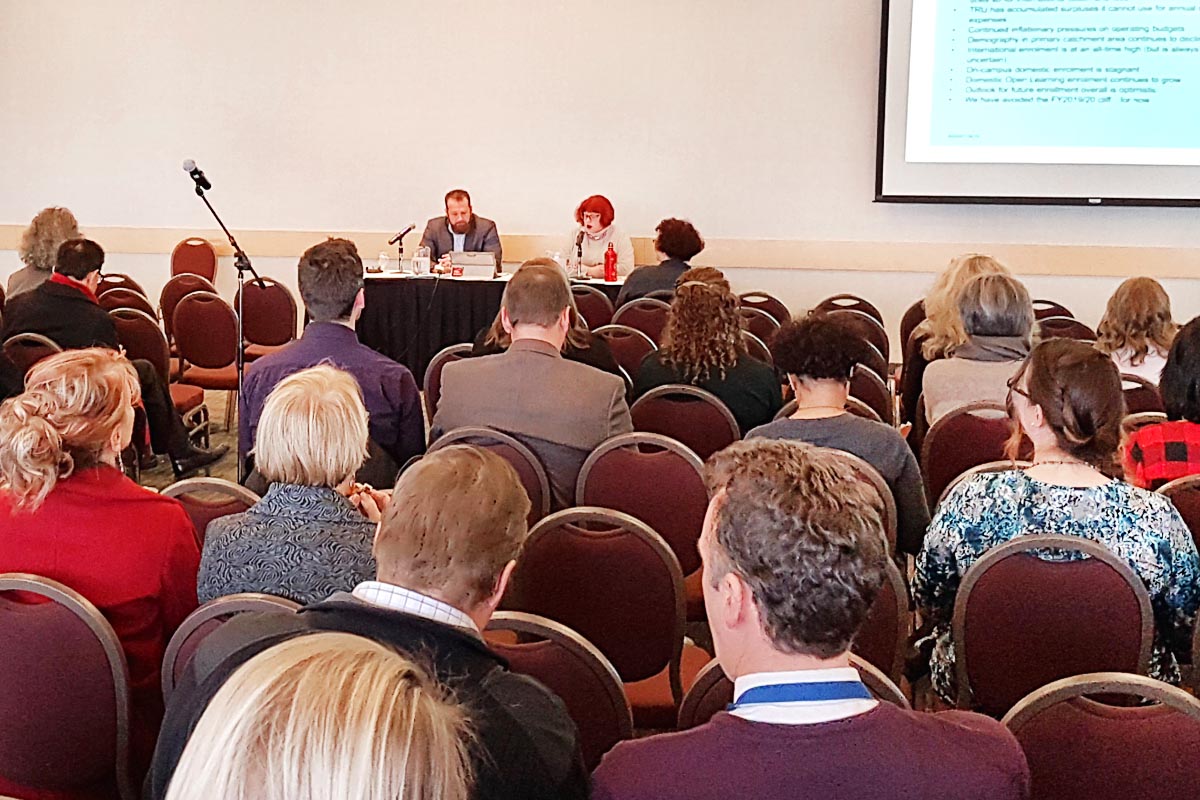 TRU hosted its second annual budget town hall meeting this week to share with attendees the fiscal health of the university.
Matt Milovick, Vice-President Administration and Finance, noted the outlook was more positive than earlier predicted, referencing both a projected budgetary surplus for the current 2017/18 fiscal year, and projected surpluses for the next three.
He was, however, quick to point out that the primary driver of the surplus—unprecedented growth in international student enrolment—can change, and is not a guarantee for the future. Surplus funds are also restricted in their use; limited to capital investments such as equipment purchases or towards new buildings, and not against ongoing day-to-day operating costs.
Milovick and others at the meeting, including co-host Christine Bovis-Cnossen, Provost and Vice-President Academic, and TRU President Alan Shaver, all spoke to the importance of continuing to raise the issue of funding inequity at a provincial level. A slide presented during the PowerPoint presentation depicted TRU's ranking, near the bottom of other universities, for per FTE (full-time equivalent) student funding.
Notes from the meeting and the Question and Answer Session
"I want to give a shout out to TRUSU. There has been good feedback from the Ministry for TRUSU's presentation to the (provincial) select standing committee," noted Shaver, on the funding issue.
The meeting attracted more than 120 people to the Campus Activity Centre's Mountain Room, while another 54 joined via livestream.
There were few questions from the floor following the presentation, but attendees actively participated in the meeting, using technology and text polling to answer a few budget mind-benders in real time.
When asked, 51 per cent of polling participants were correct in answering that most of TRU's operating revenue came from the provincial government. Currently, 45 per cent of operating revenues are from provincial grants, with tuition a close second at 44 per cent. Given rising enrolment— particularly in international student numbers and Open Learning—Milovick said for the first time in TRU's history, student tuition will account for the largest portion of the university's operating budget revenues in fiscal 2018/19.
On enrolment, Bovis-Cnossen noted TRU is hitting some significant milestones, including 100,000 course enrolments anticipated for 2018/19.
"I don't think it's something five years ago anyone would have predicted," said Bovis-Cnossen. "It's quite an impact for us as an institution, but a milestone as well."
The budget town hall meeting was part of TRU's Open Governance Initiative to support transparency and open access among TRU's staff, faculty, students and administration.
Have follow up questions and comments?
Further questions and comments regarding the budget are welcome at mmilovick@tru.ca.