Posted on: December 7, 2017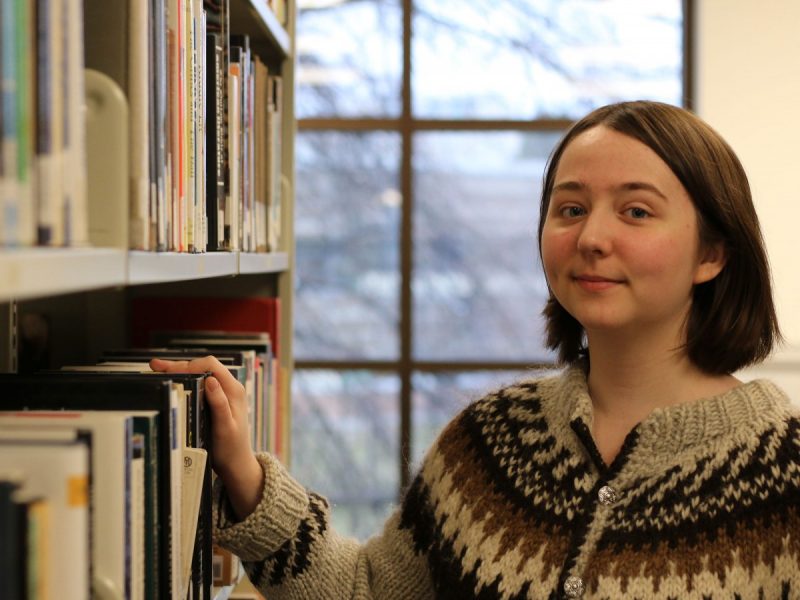 Bronwen Evans won her first year of tuition—fully paid tuition credit—with the entry she submitted in TRU's inaugural Creative Non-fiction Contest last year on Dec 15, 2016.
There's now one week left for writers to plan, write, edit, polish, proof and submit their entries for TRU's 2017 Creative Non-fiction Contest.
We caught up with Evans to ask about her process and how she's liking her first semester at TRU, where she's working toward her dual degree in computing science and business.
What's your one tip for hopeful winners?
Read creative non-fiction essays. The genre has a unique style, and it's important to get a feel for it before trying to write it yourself.

Okay, what's your second tip?
Write and edit separately. When you're drafting your work, you shouldn't be worried about anything other than getting words on the page. Give yourself something to work with instead of staring down a blinking cursor waiting for inspiration to strike.
How long did it take you to write your essay last year?
It took me two weeks to write my essay, but a lot of that time was spent reading and familiarizing myself with a genre I had never worked with before. Once I started writing, it took me about a week to finish the essay. I was lucky that I was homeschooling, so I had a lot of time to work on the essay. For those two weeks, I put everything else aside to immerse myself in the genre and write the essay. I would have liked to have had more time to polish my essay, but I only found out about the contest two weeks before it closed.
What was the best thing you did to set yourself up for success and the worst thing that didn't help the process?
The worst was writing a rough draft, start to finish, before realizing I had absolutely no idea what creative non-fiction was. Hardly any of this draft was salvageable. I realized that I needed to learn about the genre first, without worrying too much about what I was going to be writing.
The best was spending a few days reading about creative non-fiction to understand what the genre is about. This felt like a further waste of time at first, but it was truly worth it in the end and was the most important factor toward my success.
Learn more about this year's contest rules, the judging process and submit through the electronic form.
If you were writing about a time you took a risk—that's this year's theme—what would you write about?
I think the biggest risk I have taken in my life was to homeschool from Grade 5 onward. At the time, I was old enough to have some input into my parents' decision, and even though it was scary and seemed like a strange idea, it definitely shaped my values, perceptions and goals. If I had stayed in school, I would be a different person today.
Homeschooling shaped my perception of learning and it gave me the freedom to set my own goals based on what I was passionate about and to work toward achieving them at my own pace. Until I started at TRU this year, I wasn't sure if I had done the right thing. In hindsight though, I am so glad I took the risk because homeschooling made me the person I am today.
And finally, how are you liking TRU this semester?
I'm loving TRU! My professors have been amazing and I'm excited to be learning about things I care about. Staying in Kamloops was absolutely the right decision for me and I can't imagine being anywhere else.