For many of us, the path to finishing our degrees has been a long and winding road. TRU Alumnus Patrick Blennerhassett knows this better than most. He began his studies at TRU in 2000, and after an academic hiatus, graduated with a Bachelor of General Studies in January 2017. He has since gone on to become a British Columbia Best Selling author and journalist based out of Vancouver, with his work taking him across the world.
We caught up with Patrick to find out more about his journey, what to expect from him in the future, and his advice to current TRU students and aspiring writers.
Your undergraduate degree was a long process, what made you decide to come back to TRU after your hiatus?
I left school in 2002 after completing two years to do a number of things, I traveled, worked abroad and worked in B.C. as both a newspaper reporter and a public affairs officer for the provincial government. I think I needed to see the world outside the classroom and get some life experience. When I came back to my studies in 2014, I did TRU's PLAR program which was great to obtain credits, and then rounded out my degree with a few classes through Simon Fraser University's communications program as well. I also attended Langara's journalism program, and got hired out of school before I could graduate. The long and winding road towards my bachelor had a happy ending, with me taking online courses through TRU Open Learning, and have to say the university has been great in helping an odd student like myself complete what was technically a 17-year journey!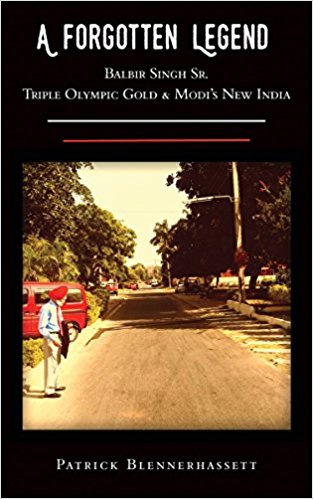 Tell us about your most recent book
My most recent fiction book is called The Fatalists, it's a post-apocalyptic thriller that is also a bit of an allegory about our dependency on technology. I also published a non-fiction book in 2016 called The Forgotten Legend: Balbir Singh Sr., Triple Olympic Gold & Modi's New India, which was a BC bestseller and was featured in outlets such as Reader's Digest, Maclean's and on CBC twice. I traveled to India on a journalist's visa for research, and it was most definitely one of the craziest trips I've ever done.
What was your inspiration to write that book?
For both of them and the two fiction books I put out before that, it's always the same reason for me. I love to write, it makes my soul happy, and I'm sure they'll be pulling the laptop out of my hands when I'm old and decrepit in a nursing home. I'll be trying to tell the nurses I just need a few more minutes to finish off a piece before bedtime.
Are you working on anything at the moment?
I have actually applied to take University of British Columbia's Master's of Journalism program, starting in the Fall of 2018. Fingers crossed I get in, but obviously finishing my degree was instrumental in meeting the requirements for that program, part of a much longer-term goal. Also finishing off a trilogy, my agent is in the process of pitching it south of the border.
How many hours a day do you write?
Too many to count. I work as a full-time freelancer, and I'm finishing off a trilogy of fiction books. So if I'm not writing, I'm either sleeping, eating, drinking coffee, playing hockey, running, biking, at the gym or hanging out with friends and family.
Did your education at TRU help you prepare for your career?
Totally. Finishing my degree is hopefully going to allow me to take my journalism career to the next level at UBC, so I'm very grateful and honoured to refer to myself as someone who has an undergraduate degree from a university. I wasn't the best student in high school, so to think that I might one day have a post-graduate degree, let alone a bachelor's degree is pretty cool.
What is your favourite thing about your career?
Writing is so much fun, and so challenging. Every day I'm interviewing people who are way smarter than I am, and then I get to craft a piece about it. As a writer your job is to pay attention to the world around you, educate yourself about your surroundings and society–and then craft a story about it, or a book. I can't think of a cooler profession.
What advice would you give current TRU Students, especially those looking to become writers?
You have to love what you do. Especially in today's world where chasing the money can feel like a hamster wheel. I don't plan on retiring, and I'd write for free, so the fact that people pay me to do it now is pretty special and I count my lucky stars every day.
Patrick's novels can be found online and at major book retailers. He is a regular contributing journalist to Business in Vancouver.