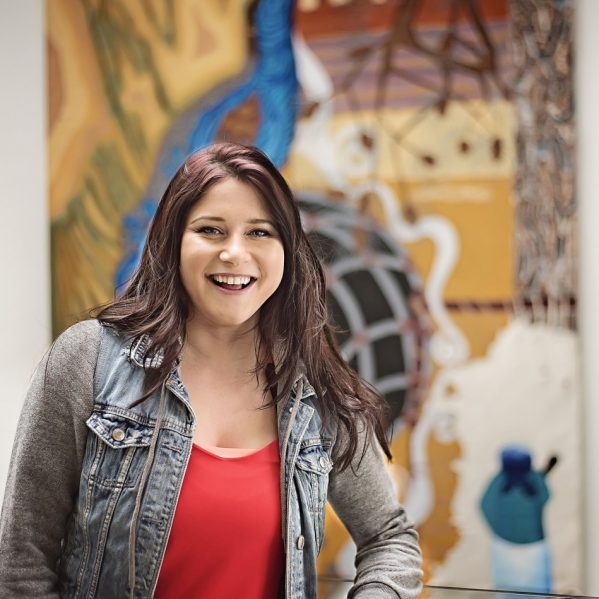 Raised on a ranch in McLure and educated in Barriere, BC, Alysha Piva has a tremendous affection for the mountainous region. In fact, though she was awarded a Loran Scholarship worth $100,000 to attend University of Alberta, she only studied at U of A for one semester. Wanting to remain closer to home, Alyssa chose TRU to complete her degree. "TRU suited me better. It's a very manageable environment. There's academic and emotional support, and the proximity to mountain ranges was ideal."
Now bolstered by a four-year TRU President's Scholarship, Alysha is inspired to pursue the career pathway of her mother, a family support worker.  The former Supplemental Learning (SL) leader narrowed her focus on Developmental Psychology, and through peer-tutoring sessions, guided students towards academic achievement.  "I prefer to focus on strengths, as opposed to deficit-based criticisms," Alysha remarked.
The Human Services and Social Work major is especially interested in Child Welfare, particularly for those residing in rural settings. According to Alysha, "rural dwellers, with finite service, communication, and transportation options, often face a unique set of challenges, as well as a heightened sense of isolation."
Alysha recently co-piloted the educational anti-violence initiative Respectful Relationships, a program developed through the Anti-Violence Advocates Society in Barriere, BC. Respectful Relationships focuses on youth between the ages of 12 and 16 that are living in the North Thompson Valley.  The work can be challenging, but as Alysha noted, "It's essential for violence prevention to be taught in the school system. Working through resistance is part of the process."
As a facilitator, Alysha takes a whole school approach to gender-based violence. "Within the context of the academic environment, students engage in group work, role-plays, discussions, scenario work and empathy-based reflection components. The content explores a range of topics: personal boundaries, effective communication, violence, emotional regulation, conflict resolution, assertive communication and all other aspects of interpersonal relationships."
Alysha believes that it's essential to have the students guiding the conversation. "In a recent session, the participants wanted to discuss intimate relationships, and we followed their lead," Alysha recalled.
Following the "Let's Get Consensual" workshop hosted by TRU's Sexualized Violence Prevention and Response Manager Amber Huva, a spark of inspiration was further ignited. "I was eager to chat with Alysha. Anti-violence work can be very isolating, and it's important to collaborate and connect with others in this field," Amber said.
"Alysha's passion was apparent right away; she's completely invested in the work. This initiative was borne by some other powerful, passionate community members, and that's key to the cause. I believe that the strongest work is deeply rooted in the community and is tailored to that community," Amber continued.
Alysha noted that there are a variety of factors that might influence participant's attitudes towards seeking support. "The main obstacles preventing students from seeking assistance is the fear of 'not knowing' and lack of cultural competency. We need to further our communicative reach to provide access to potentially marginalized students."
"Students often come to me after group sessions to further discuss matters privately." Alysha noted, "It's one thing to be offered contacts and resources, but from my conversations with participants, that information is most effective when accompanied by an introduction or personal connection with a facilitator."
As she approaches a career known for a high burnout rate, Alysha is conscious about scheduling and prioritizing self-care opportunities. "Hiking is my activity of choice; it's a great way to unwind and refocus. Everything else is affected when I don't take care of myself."
In addition to her experience as an SL leader, Writing Centre tutor and Respectful Relationships facilitator, Alysha has also worked with TRU World, assisting international exchange students, and Family Tree Resource Centre, supporting mothers in recovery. "Volunteerism and practicum work has prepared me for a professional role in the social work arena," Alysha remarked.