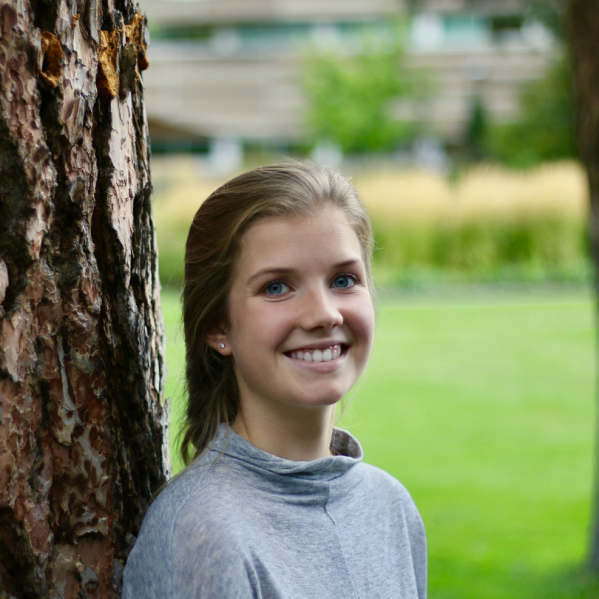 They're community builders, athletes, volunteers, and scholars. In this series titled TRU Trailblazers, we're profiling some of our 2017 major scholarship winners. Read on to meet TRU's most accomplished first year students and learn their best study tips, volunteer suggestions and leadership advice.
TRU Trailblazer: Nicole Bison
Alvin & Lydia Grunert Entrance Scholarship
Meet Nicole Bison: South Kamloops Secondary graduate, soccer mentor, and dedicated student.
Nicole is the only recipient of the 2017 Alvin & Lydia Grunert Entrance Scholarship, a $30,000 award recognizing documented exemplary leadership and community service combined with high academic performance.
Nicole's impressive scholastic achievement is the cherry on top of her robust volunteer resumé, which is bursting with community service and leadership positions.
A longtime competitive soccer player, Nicole decided to turn her love for the sport into a leadership opportunity. Using her strong relationship with Kamloops Youth Soccer Association, Nicole and three of her friends formed a mentorship program to help transition young female house soccer players into the rep league.
"I wanted to help younger players talk about the extra responsibility and competition that comes with rep league, and show them how to persevere through the discomfort," she said.
Nicole's other volunteer initiatives include providing treasury, event and fundraising service for her school's Global Awareness Society; taking care of goats at the BC Wildlife Park family farm; organizing a Coats for Kids drive; volunteering with Big Little Science Center; and teaching English and helping build a school on a service trip to Nicaragua.
When it comes to being a good leader, Nicole knows the importance of inspiring people to collaborate with her.
"Make people feel like they are really valued," she said. "Lead from behind. Don't put yourself on a pedestal – focus instead on inspiring action in others."
While she is studying in the Bachelor of Science program, Nicole's goal is to major in Biology and maintain her high grades so that she can attend either law or medical school. She credits TRU's smaller class sizes as her number-one reason for choosing to study here. "I get good grades, but they don't come easily. I have to work really hard and spend lots of time studying, so having easy access to my professors is really important to me."
Nicole isn't always caught up on her binging sessions of The Office – but you can bet she's seen every episode of Khan Academy. Her best study tip? Seek out additional resources in order to fully understand the course material. "I always read the textbook and use resources like Khan Academy to gain a complete understanding," she said. "When you have that complete understanding, it will stick and you won't forget it."
Nicole's advice to current high school students applying for scholarships is to get involved and be genuine. "Take advantage of every opportunity available to you. Join clubs, play in higher level sports…do things that you actually enjoy doing," she said. "Don't do things just to make your resumé better. When you're writing essays about yourself it shows, and people will see that you aren't genuine."