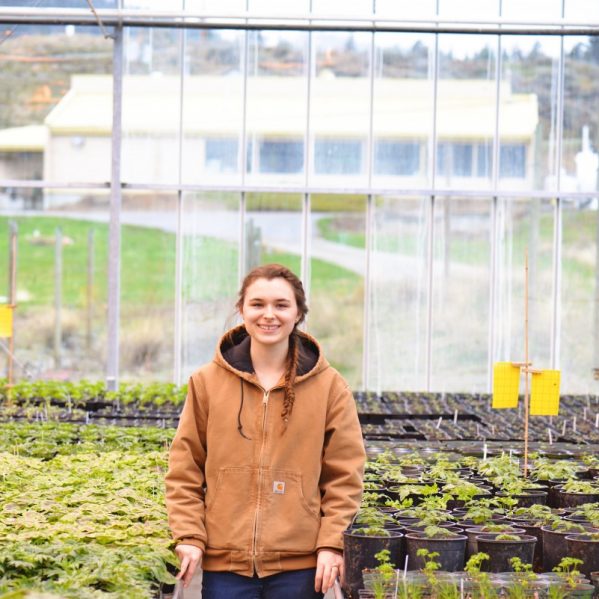 Following graduation last December with a Natural Resource Science degree, recent graduate and former co-op student Amelia Galuska transitioned from the classroom to the workforce with a little help from Career Education Department.
Amelia spent one term in the forestry industry in Vernon and two terms at the Summerland Research and Development Centre with Agriculture and Agri-Food Canada. After completing the co-op terms over the length of her education, Amelia secured a full-time term position at the Minor Use Pesticide Program in Summerland.
With the industry gaining momentum in select areas across the country, Agri-Food Canada takes on testing products for producers growing minor use crops, such as peaches, cherries and grapes. As for pesticide usage, part of the work lies in the Risk Reduction Program: trying to create more environmentally conscious, and reduce the reliance on pesticides.
Amelia loves the work and thrives on the mix of "field and laboratory work and time spent with such knowledgeable people in a great facility."
Moreover, the work falls directly in line with her degree, and happened so quickly after graduation—Amelia remarked that it feels as though her education has continued on a higher level. "The experience grounds you deeper within your knowledge base. Applying that information in the professional realm rounds it out really well."
Armstrong born and raised, Amelia came to Kamloops in 2013. Through student presentations in her first year NRS courses, she discovered co-op. Astounded by all of the opportunities that awaited her, Amelia noted, "You have so many different and interesting choices. Each job taught me how to transfer my skill set in a number of ways."
She remarked, "Flexibility is a key point of interest with potential employers. I didn't want to limit myself, I wanted to have a career path that was relatively fluid."
As she considers her future, Amelia noted that mentorship is an aspiration to move forward with, "It would be a privilege to support future students—to help make someone feel comfortable. Places and spaces can be made friendlier because of that one person."
Now thriving in the professional world, Amelia said, "I can't thank Marion Oke enough, she helped shape my priorities and make my decisions. It's nice having someone on your side at TRU".
Marion remarked, "Amelia is one of those students you know is going to go far. She is passionate about learning, engaged in her education, open to new ideas and experiences and willing to take on any challenges. I'm happy to co-op was part of her education at TRU."
Refer to the website for more information about Career Education.