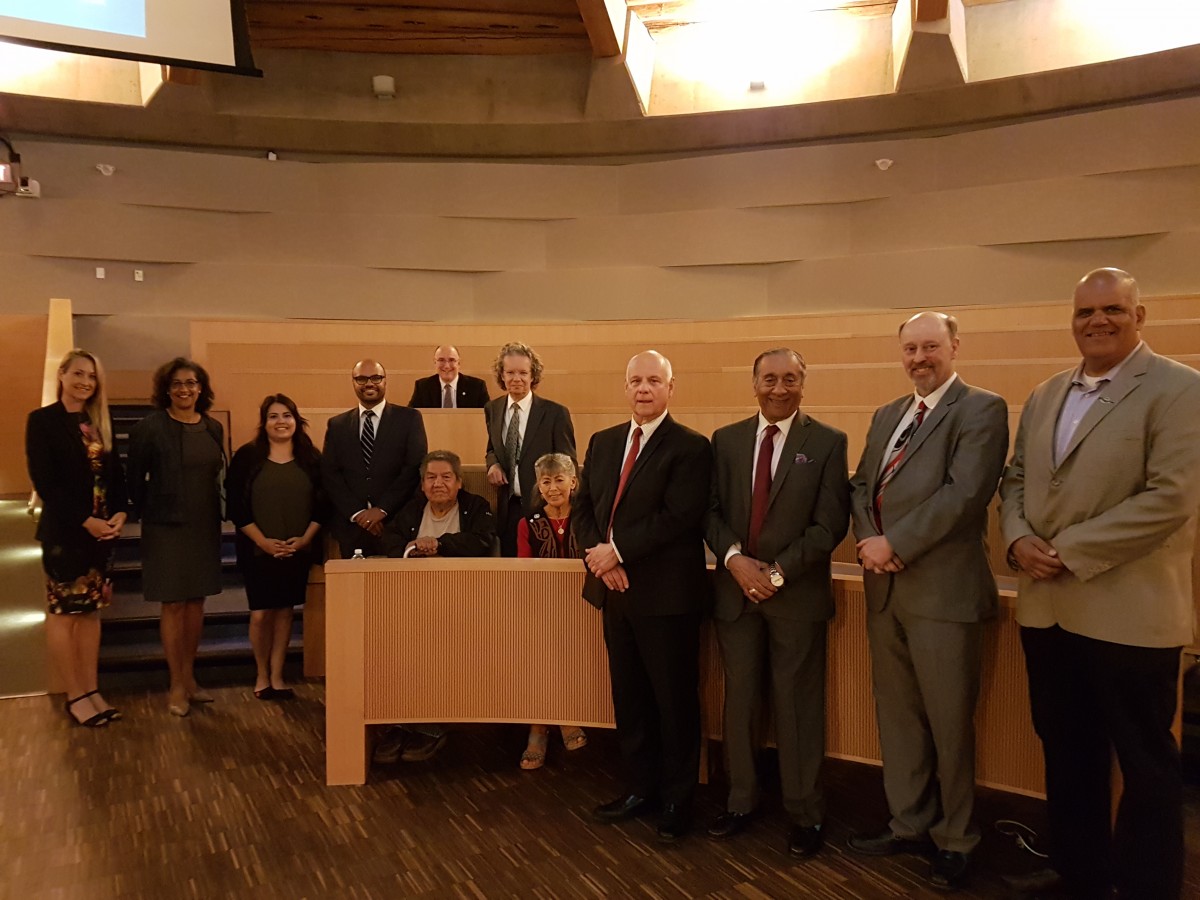 Civility, collegiality and empathy—these were three prominent themes at this week's opening assembly for the incoming TRU Law class, as a panel of distinguished speakers officially welcomed the group.
The 110 students, looking sharp in their suits, received many words of encouragement and advice. They were also given a lighthearted reminder that life does not imitate entertainment when it comes to the legal profession.
"What you've seen on (TV legal drama) Suits is not the way we expect you to behave," joked the Honourable Thomas Crabtree, Chief Judge of British Columbia and the keynote speaker.
The class of 2020, the seventh class of TRU Law, listened eagerly as Judge Crabtree shared his personal excitement of being able to continue to practice law and engage with and help people over his decades-long career, hopeful the students ultimately develop a similar passion.
He also delivered a strong message to the students regarding current political-legal sentiments in Canada with respect to Indigenous people and their relationship with the law, noting for example the over-representation of Indigenous people among criminal and social cases.
He challenged students to read about and understand the Truth and Reconciliation Commission (TRC) as a way to participate in addressing the disparities.
"I challenge you to visit the TRC website, listen to some of the stories, gain a sense of appreciation and awareness. We will learn and understand what it means to the law and to a better path forward," Crabtree stated.
He also encouraged students to take part in the law school's annual tour of the former Kamloops Indian Residential School (KIRS), and to observe First Nations Court (Kamloops hosts one of four First Nations Courts in the province).
Judge Crabtree closed his comments with a look to the future of the legal system and enhancing access to justice.
"The profession is poised for real systemic change. We need to be looking at how we can move forward in a way that is not too expensive or complex and that is quicker," he said.
Below are some notable quotes from the roster of speakers.
"As you approach this profession, keep in mind you are a member of a calling with great expectations."
-The Honourable Thomas Crabtree, Chief Judge of British Columbia

"This is a huge responsibility. Embrace it, and please hold in your heart compassion for your clients as you go forward and practice diverse areas of law."
–TRU President and Vice-Chancellor Alan Shaver

"Congratulations on making the cut. That is no easy task. This is an excellent law school. We're trying new things here. We're creative. But law school is only the foundation. It all depends on your own capabilities and what you are prepared to do."
-The Honourable Wally Oppal, QC, TRU Chancellor and Senior Counsel at Boughton Law

"Don't strive at the expense of others. Pursue your learning experience together."
–TRU Law Dean Brad Morse

"We're a friendly community and we're really proud of that. I encourage you to get involved in the larger community."
-Acting Mayor of Kamloops Arjun Singh

"You have the privilege of studying on Secwepemc territory. Let it guide you, ground you, inform you and help keep things in perspective."
-Keteri Koster, President, TRU Indigenous Law Students Association (ILSA)

"You have chosen an admirable career. Do not wish the next three years away. It will not just be your grades that will get you by, it's your connections. Every interaction is an opportunity to create a lasting impression."
-Alicia Glaicar, President, Kamloops Bar Association; Associate at Kamloops firm Mair Jensen Blair

"You have an opportunity to make a tremendous impact on human life. Congratulations."
–Michelle Stanford, Bencher, Kamloops District, Law Society of BC; lawyer at Kamloops firm Stanford + Co.

"I encourage you to look at our mentorship program. It's a great opportunity to chat with someone practicing law and to learn about the realities of being a lawyer."
-Bill Veenstra, President, Canadian Bar Association, BC Branch

"We help to ensure access to justice is protected and advanced by funding projects that benefit the public. We are proud supporters of the TRU Community Legal Clinic."
-Wayne Robertson, QC, Executive Director, Law Foundation of British Columbia

"I encourage you to study hard and participate in activities. Reach out to the second and third year students—we are here to support you and welcome you to the TRU Law family."
-Ike Birk, President, TRU Society of Law Students
Student Lane Perry, from Smithers, BC, says he wasn't sure what to expect on his first day of law school, and just took it all in.
"I enjoyed all of the speakers. I'm feeling guided and inspired and looking forward to the journey ahead."
Good luck to the TRU Law class of 2020.