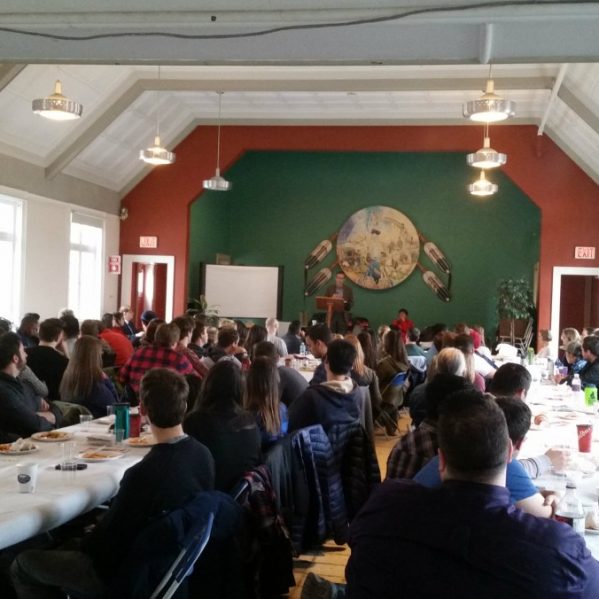 A class of 100 first-year TRU Law students were joined by TRU President Alan Shaver for a visit to the former Kamloops Indian Residential School (KIRS) on Friday.
The visit to Chief Louis Centre, located on the reserve lands of the Tk'emlúps te Secwépemc, is an annual field trip for first-year law students. It is part of TRU Law's response to the federal Truth & Reconciliation Commission (TRC) of Canada's calls to action to teach students about the history and legacy of residential schools in this country.
"This field trip is another way TRU is responding to the TRC's calls to action. I am grateful to the Tk'emlúps te Secwépemc for directly contributing to the education of TRU's law students on reconciliation," said President Shaver, who participated in some of the day's activities.
Associate Professor Janna Promislow, one of three law professors who coordinated the visit, said that it is about building awareness of residential schools as well as understanding the role of lawyers in the reconciliation process.
"This is an opportunity for students to learn first-hand about the intergenerational and collective impact of residential schools in Canada. Such learning is foundational for the anti-racism and cross-cultural skills required by lawyers, and the work of reconciliation more generally," said Promislow.
The group spent the day on site, hearing from residential school survivors and family members, and from local Provincial Court Judge Len Marchand for a judge's perspective on the TRC's report and recommendations.
The students also toured a former school dorm, the chapel and the neighbouring Secwepemc Heritage Museum. Residential school survivors accompanied each group and facilitated discussion during the tours.
Here are some of the students' reflections about the day:
It was very empowering hearing from the survivors about their experiences. All of the speakers impacted me in a different way and the highlight for me was the need for empathetic lawyering.
—Simranjit Prince Arora

One of the speakers said, "How can we reconcile if we do not even know each other?" We have to first acknowledge that it happened and get to know each other in order to move forward in a way that makes reconciliation possible. As a future lawyer, these ideas are key.
—Maya Osiname

The entire panel captivated the students and articulated their experiences in a way that was so powerful. As future lawyers, we need to challenge the Canadian understandings of Indigenous peoples, and to understand and challenge how our legal system continues to create injustice for Indigenous communities.
—Charlotte Munroe
Prior to the field trip, Tk'emlups Councillor Viola Davis led a three-hour classroom session with the law students. The session opened up dialogue about the strengths and limitations of the TRC process and prepared students for the trip and for its intended learning outcomes.
A second three-hour classroom session will create a space for students to reflect and debrief about their experiences and learning.
For more information:
Janna Promislow
Associate Professor, TRU Law
jpromislow@tru.ca
250-852-7692
Read: Kamloops This Week article, January 29, 2017 – Connecting Kamloops law students with residential school history.
Listen: Associate Professor Janna Promislow talks TRC and reconciliation on the Jim Harrison show, Jan. 31: