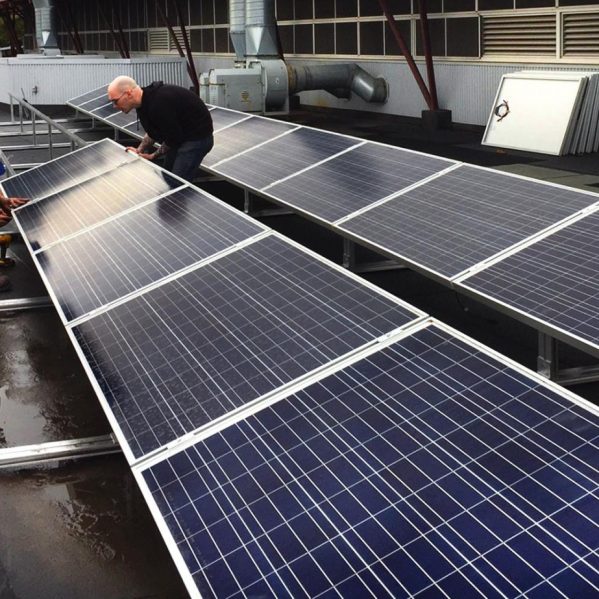 A passion for renewable energy—especially solar—has created some real-world experiences that electrical instructor Amie Schellenberg can bring to the classroom.
"As a trainer, it is important for me to immerse myself in a variety of solar installations and in a variety of regions," said Schellenberg, whose month of May proved to be a busy one.
Her company Lodgepole Electric did the power hookup for solar panels on the roof of the Haida Heritage Centre at Ḵay Llnagaay, which is located in Skidegate, BC in the Haida Gwaii islands. In the middle of the month, she attended the Global Learning Forum in Vancouver, where the theme was transitioning to 100 per cent renewable energy. The three-day conference attracted hundreds of green-energy experts from around the world along with businesses, Aboriginal groups, universities, non-profits, policy makers and members of government.
"There is an exciting movement towards 100 per cent renewable energy in municipalities across the world and I want to ensure that I'm keeping up to the wave and securing TRU as a trainer of choice."
Among other projects in recent months, she and students earlier this year put up some panels on the roof of the Trades and Technology building, and in the fall as volunteers, Schellenberg and student Tawny Fortier helped install 300 panels on the Lower Nicola Indian Band's gymnasium roof. With both the Lower Nicola and Haida Heritage Centre projects, Aboriginal company W Dusk Energy Group was put up the panels.
"It is so exciting to see our country's First Nations take the lead with renewable energy advancements and I see them being the main drivers of the industry," said Schellenberg, adding that more learning opportunities could come through the recent agreement signed between the Tk'emlúps te Secwépemc and TRU. The two have agreed to advance partnerships and cooperation.
As her experiences and contacts grow, so too is Schellenberg growing into an expert at TRU.
"I'm not sure that I am ready to be labeled the green expert, but I am definitely backing the green movement and getting trained in sustainability, especially solar," she said. "There is an over abundance of great solar access in our region and it is win-win if we can train our students to install, as well as provide projects that further advance solar generation in and around Kamloops."