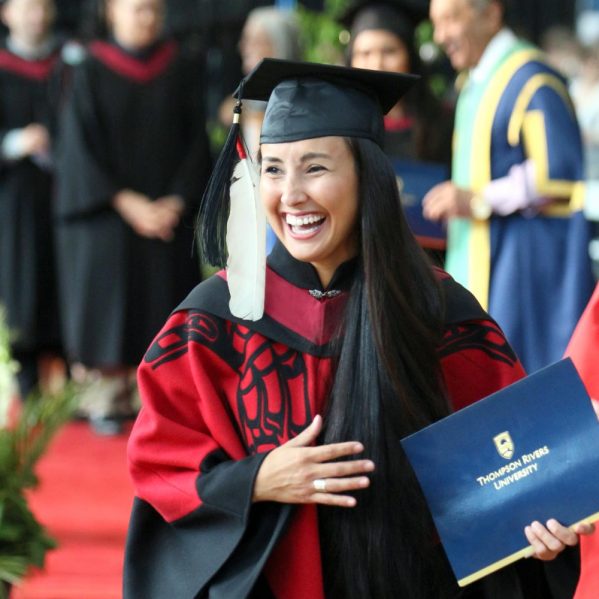 Convocation is one of our favourite times of year for the simple reason that it's all about you.
Graduates, this is your time to take a few bows, raise your arms in celebration and revel in the energy graduation day brings. It's also a time to reflect on the sacrifices you made and the difficulties you overcame to reach this day. What seemed like endless hours of studying, too many early mornings and too many assignments now seem tiny compared to the person looking back in the mirror. Whatever credential you've earned, take pride in knowing that you are proof of what can be achieved through hard work and commitment.
Ceremonies run June 7-9 in the Tournament Capital Centre with start times of 10 a.m. and 2 p.m. each day. Full schedule here and other important info.
Be sure to take time to thank those who cheered you on from near and far, with their encouraging words, timely texts, selfies and silly videos. Their support gave you the strength to keep moving forward.
And while graduation is a time for reflection, it's also a time for looking forward to the opportunities and possibilities that the future holds. Ask yourself some tough questions: What is my role in the world? How will I make my mark? How can I use my education, my contacts, my talents and my compassion to make things better for others? How will I inspire others?
Congratulations everyone and well done. Happy graduation!
---
What follows is a by-the-numbers look at Spring Convocation 2017
1,334
grads who have applied to cross the Convocation stage.
4,000 +
spectators will be in attendance through the three days.  

6
ceremonies over three days

1
hashtag #TRUgrad
2
ways to watch. In person and Livestream.
6
valedictorians and they are Dylan Ziegler (Faculty of Science) Tatiana Fedotova  (School of Business and Economics), Angel Phair (Faculty of Education and Social Work and Faculty of Adventure, Culinary and Tourism) Taryn Christian (School of Nursing), Mackenzie Cassels (Faculty of Arts) and Eli Zbar (Faculty of Law).
• Read a CFJC TV 7 article and news feature on Dylan Ziegler
16
Medal recipients.
4
honorary degrees to be conferred, one each to David Sakaki, Roger Strasser, Rudy Butignol and Justice Murray Sinclair.
3
retired faculty to be presented with Professor Educator/Emeriti designations. Susan Ross will receive an Educator Emerita, Susan Duncan a Professor Emerita and Surinder Dhanjal a Professor Emeritus.
6
times over the three days to experience:
Aboriginal drumming group Sage Hills leading the procession and recession for the platform party and grads
Aboriginal elders offering a blessing
the Canadian anthem being sung
a closing prayer.
40+
TRU employees assisting with each ceremony, both in front or behind the scenes.
---
President and Vice-Chancellor's Welcome
Welcome graduates. Today, with family, friends, faculty and staff, we celebrate your academic and professional milestones. Congratulations to each of you for successfully reaching your goals.
At TRU you have embraced many opportunities for learning, service and leadership here in our community or halfway around the globe. Ideas, people, challenges and possibilities have inspired you. The support and encouragement of family, friends, faculty and staff have kept you on the path to success. You found your TRU.
Now you embark on new paths of study, travel or work that will take you places literally and figuratively you may have never imagined. I encourage you to be a global citizen, to carry TRU's inclusionary and diverse spirit and vision with you. To imagine, create, innovate, inspire and lead. As TRU alumni, you will forever remain a member of our university family, representing Thompson Rivers University everywhere you go.
Following the ceremony, I invite you to celebrate with your friends, family, faculty and staff at the reception.
Congratulations graduates and best wishes for continued success.
Alan Shaver
President and Vice-Chancellor
Thompson Rivers University
---
Chancellor's Welcome
Congratulations, graduating class of 2017.
Welcome guests, families and friends.
Inclusive, innovative learning is a hallmark of Thompson Rivers University, a model which has resulted in the diversity of certificates, diplomas, and degrees you will receive today. Through your learning here, in and outside the classroom, you are well prepared for your future pursuits in the workplace, in further scholarship, and in society.
Apply your new-found expertise and ideas as you reflect upon Canada's 150 years of confederation. As members of our society, be mindful of the values instilled in you here. Uphold diversity and free thought, a spirit of innovation, and a commitment to lifelong learning.
Our community and country share your pride in your accomplishment, and the hope that the knowledge and skills you have gained here will help you build a better world.
You have worked hard for this achievement. Savour it as you celebrate with your family and friends.
I wish you all the best for the future, and encourage you to stay in touch with your alma mater, Thompson Rivers University.
Once again, congratulations.
Wally Oppal
Chancellor
Thompson Rivers University
---