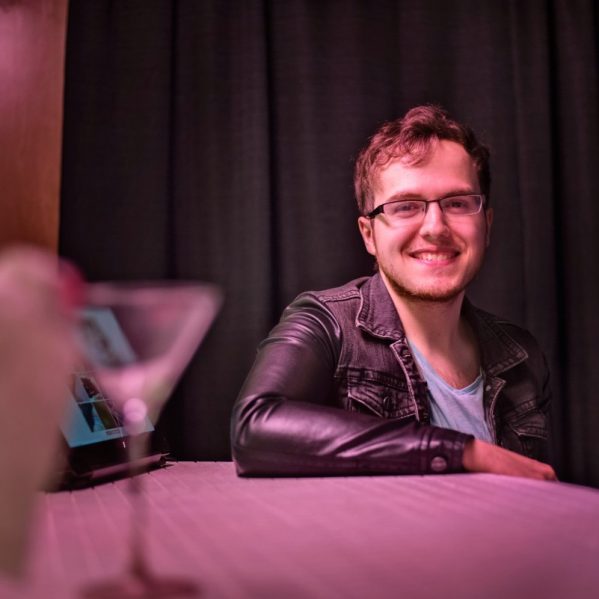 As head of the selection committee for the Neil Russell Student Leadership Award, Susie Safford, Senior Lecturer, University and Employment Preparation said that recipient Paolino "Lino" Caputo stood out to the committee for a multitude of reasons:  "His diversity of engagement was truly inspiring; Lino has many irons in the fire. More than one nominator remarked that he took his classroom learning and applied it in a real world context. That was impressive to us."
"Furthermore, his ability to lead and to mentor was incredibly noteworthy. He doesn't do it as an impetus to self-aggrandize; he genuinely wants to perpetuate positive change, and his fellow students recognize the sincerity," Susie continued.
The award is presented in recognition of Dr. Neil Russell, former VP Student Affairs and VP Academic, for his dedication to student achievement and leadership. "These students give me hope for the future," Neil said. "It's exciting to see how they've grown in their volunteer work and leadership roles."
Lino said that the honour is incredibly humbling, but ultimately he wanted to focus on his call to action for on-campus LGBTQ2 safe spaces.  "When I started university, I was just this wee little baby from McBride, finding where I fit in the equation. Pride groups were not available in my hometown. Within my first week, I approached the TRUSU Pride Club to seek out a queer community I could belong to."
In Lino's first year, he was part of the task force responsible for bringing over 150 students to TRUSU's Annual General Meeting to cast a unanimous vote in favour of an LGBT Representative for the TRUSU Board. Lino became president of the Pride Club the following year.
Throughout his second year, he successfully balanced five courses, part-time employment, three student clubs, Pride presidential responsibilities and the Social Media Coordinator position for Mosaic Fashion Show, which he also co-founded.  "I've been overwhelmed by opportunities," Lino laughs, "sometimes to my detriment."
Lino has been re-elected as club president every year since. He's established an executive board and has focused on supportive outreach initiatives, particularly to transgender students.
The club has experienced the largest regular attendance in its history.
As a UREAP recipient, the BFA student created the project Queer Play: Facilitating Explorations of Gender and Sexuality in Role Playing Games.  Lino commented, "My education became entangled with my activism, shifting far into queer theory as I participated in the implementation of social change."
As far as facilitating social change, Lino feels that labeling and gender-based language needs to be a part of the shift.    "There are two distinct sides when it comes to identifying terminology. Through labeling, we find collective meaning, but then it also divides us, setting us up for compartmentalization and ostracization," Lino said.
"The radical in me wants to lose those labels, but I acknowledge that in discovering that terminology, you can find your community."
Beyond the TRUSU Pride Parade, which Lino praises for its diversity and inclusivity, he believes those efforts should carry over throughout the entire year. Creating a safe space for the LGBTQ2 community would offer a dynamic, positive arena for students to ask questions and make connections. "The university experience is a quest for self-discovery. We need infrastructure to encourage and foster a social, casual queer space," Lino insisted.
Without a community, those struggling to find their place in the world in regards to sexuality and gender identity can grapple with depression, anxiety, social isolation and suicidal tendencies as well as be in danger of discrimination and violence.
Ultimately, to Lino, it all comes back to creating a permanent space and placing the impetus on the creation of educational initiatives, mentorship components, and a supportive network.  Lino's hope is to help facilitate the establishment of an on-campus centre for queer students to find the same community he once sought out for himself.
Looking for educational opportunities that go beyond the classroom?