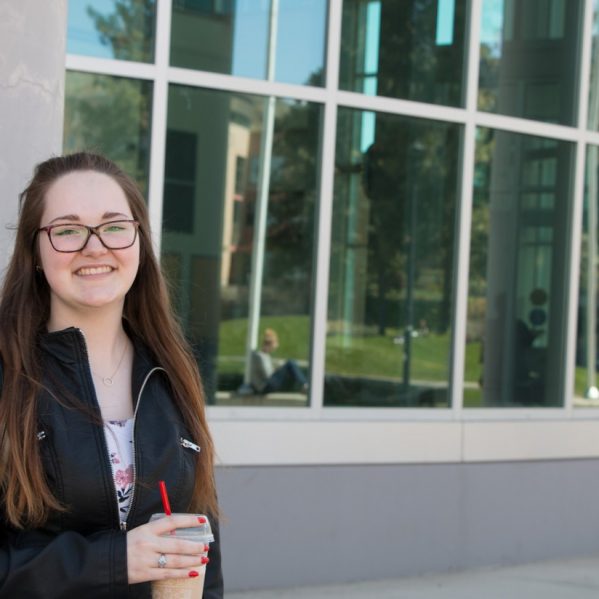 Two-hundred and eighty Grade 11 students recently visited campus to discover TRU during the Day of Arts and Science (DOAS).
On Thursday, May 4, they got a taste of university life with a day of classes and activities in the Faculty of Arts and Faculty of Science.
Twenty-four unique sessions were offered, covering a wide range of topics including visual creativity and how to solve crime scene-like investigations.
South Kamloops Secondary student Anneka Spice attended three sessions: English (Your Secret Superpower), sociology/anthropology (Do I Look Fat in This?) and a math session on fractal geometry.
Spice is interested in studying at TRU in order to stay close to home. She loves Kamloops and everything she's heard about the small classes and student-faculty connections appeal to her.
"This was an awesome experience because there were so many creative and interesting topics available and I got a sense of the independence that comes with university life," she said.
"What inspired me was the passion that I saw for and from the students, grads and faculty. I'm looking forward to the diversity of my options in university. I'm not sure what I want to study yet, but I'm excited to explore my choices at TRU."
Taylor Carlyle traveled from Penticton Secondary School for DOAS and is looking forward to moving to a larger city for university without making the jump to Vancouver or Victoria.
"Kamloops is close to home for me but it will still be out of my comfort zone and that's a good thing," said Carlyle.
"Towards the end of high school, I'm feeling like an adult in training, practicing for the rest of life. I'm excited to start my future at TRU in Kamloops, and events like these are great for getting a taste of that before high school is over."
Carlyle was surprised by the formats of the sessions, expecting big lectures with minimal interaction like many of the university scenes in movies.
"During the sessions I attended, the lecturer always made time for all of us to talk and ask questions. The informal style really helps to open a person up—even if you're shy—you are contributing to a university-level discussion before you know it."
One of the best ways for students to learn more about TRU is to visit, take time to walk around campus and talk to students and faculty.
"The Day of Arts and Science allows Grade Elevens those experiences, plus the chance to take three classes that really interest them," said Jan Duerden, Faculty of Arts member and one of the organizers behind DOAS.
"We know the event is always a success; the energy of the students and excitement about university at the end of the day is amazing."