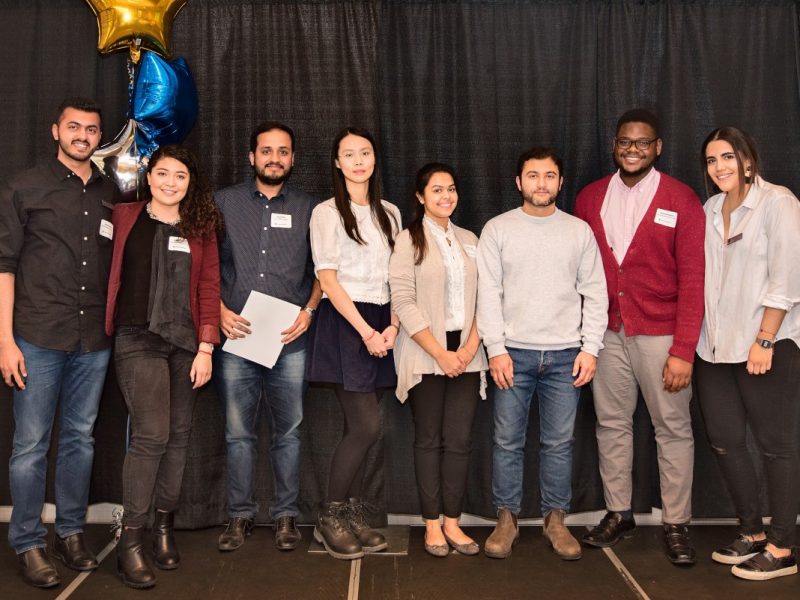 Over an afternoon of academic acknowledgments, the Peer Recognition Event on April 12 honored the volunteers, mentors, advisors and tutors from a number of campus organizations.
Peer mentorship programming offers opportunities to develop skill sets, access valuable training support, partake in professional development and contribute to campus community. University is often the place where students carve out their identities, and form a number of relationships.  Shared experiences with common-interest groups, along with the positive components of supporting one other makes for an enriching educational experience.
Sarah Johnston, co-op Learning Strategist and event host remarked, "The energy of the room was magical, and the presentations from each group reinforced the amount of talent and skill they each contribute to the TRU community."
Orientation and Transition Leaders, Aboriginal Mentors, Intercultural Council, Undergraduate Research Ambassadors, Graduate Research Mentors, PACE Leaders, Study Abroad Ambassadors, Student Recruitment Ambassadors, Supplemental Learning Leaders, Writing Centre Tutors, Social Media Ambassadors, Student Wellness Ambassador Team and TRU Residence Advisors not only received recognition, they were able to speak about their personal growth within these roles.
Supplemental Learning Leader Alex Wilson said, "It's a pleasure to help change perspectives and make difficult subjects more approachable."
Michelle Davies, a co-op student for Future Students, said, "Peer-to-peer connections means sharing insider secrets, and guiding students towards the best learning practices and resources."
Tutor Aksa Mughal noted that the Writing Centre strives to "create a sense of belonging among peer tutors," which served her academic advancements and community spirit.
Students reflected on their lives in terms of how they arrived on campus as individuals and becoming part of a big family. Another student revealed, "I used to be shy, but I was able to break out of my comfort zone."
"Peer mentorship is a crucial part of the learning environment at TRU. For both the mentor and the mentee, there is such potential for growth and development in skills and understanding," Sarah continued.
Above all, the packed room highlighted the wide variety of leadership, which Sarah noted, "There is such diversity of reach across campus; these peer mentorship teams create impactful academic, personal and social support networks for other TRU students."
Refer to the website for more information on Peer Mentor Programs and check out more photos from the event here.