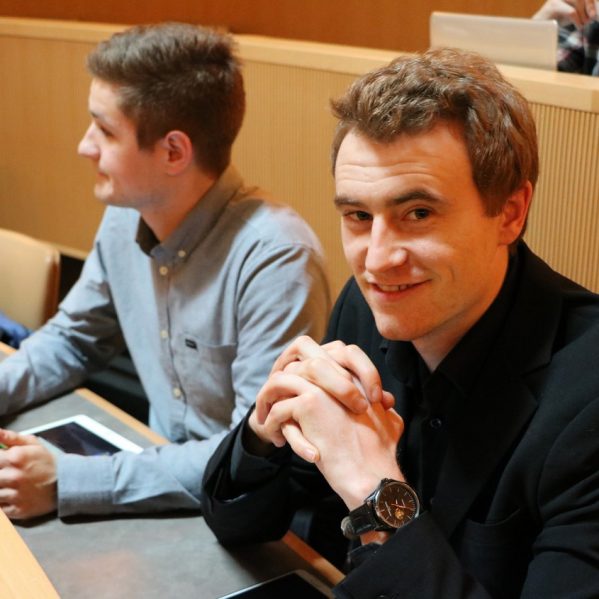 Risks, returns and frozen treats took top place and $6,000 during the annual Scotiabank Business Plan Competition.
Thomas Heine's graduation got a little sweeter when his pitch to make sustainable frozen yogurt more accessible through his new venture Yo'Glorious won first place.
Judged by local business community members and School of Business and Economics (SoBE) faculty and the dean, Heine's model of healthy, organic and local frozen yogurt with trendy super-food toppings like hemp hearts and chia seeds, sealed the deal.
He aims to provide a healthy alternative at festivals with his frozen yogurt food truck, using edible spoons and biodegradable cups to minimize the environmental impact of the to-go treat.
Heine is graduating this June with a major in marketing and a minor in entrepreneurship.
Q & A with Thomas Heine
Where are you from?
I grew up in 100 Mile House in BC.
How did you practice your business plan presentation?
I practiced by pitching to whoever would listen leading up to the competition. Anyone and everyone I could pitch to, I would. I am passionate about the idea and would talk about it a lot, explaining it is second nature now. I also went to the location of where I will pitch the night before and repeatedly worked on my pitch in the Barbra Centre until I was comfortable.
Do you have any mentors or role models?
My mom is very entrepreneurial and my father is very analytical. I receive great advice speaking with them. Along with them, I consider my friends and professors to be mentors as well. Dr Murat Erogul and Sheena Van Dyke are two faculty members in particular that have given me reliable, useful and realistic advice and support.
Where is your favourite place to study at TRU?
I wouldn't call it my favourite place, but the second floor of the library—those cubicles are the place to be when you really need to grind. Aside from that, it's the House of Learning and International Building for chill sessions. I can't fully disclose my favourite spot since I don't want to expose it—we have a group of five that study there.
What are three things an entrepreneur can't live without?
I'm in the early days of entrepreneurship but what I couldn't live without is a day planner, a pocketbook and a pencil. I like living a hectic life and am always on the go. The planner really helps keep me organized and my priorities straight. The notebook is great for on-the-fly ideas at random times, typically after a couple beverages.
What inspires you?
Reading entrepreneurial books, which I don't do as often as I should. Money and uncertainty definitely inspires me. That might sound greedy, but honestly, that's what drives me—risk and return.
What are you reading right now (excluding text books)?
Art of the Start, Do Cool Sh*t, The Goal, Four Hour Work Week and How to Win Friends and Influence People. I have so many more to read but time is always scarce.
What do you plan to do with the money?
Allocate $1,500 to the people who helped me get the plan to where it is today—$500 to three friends—Kelsey Walder, Keenan Sillence and Jake Trescot. Due to strict timelines, I needed a team to help make the pitch competitive. $500 to cover some additional costs needed to compete in both competitions. The rest is going toward starting a small-scale Yo'Glorious to test the market.