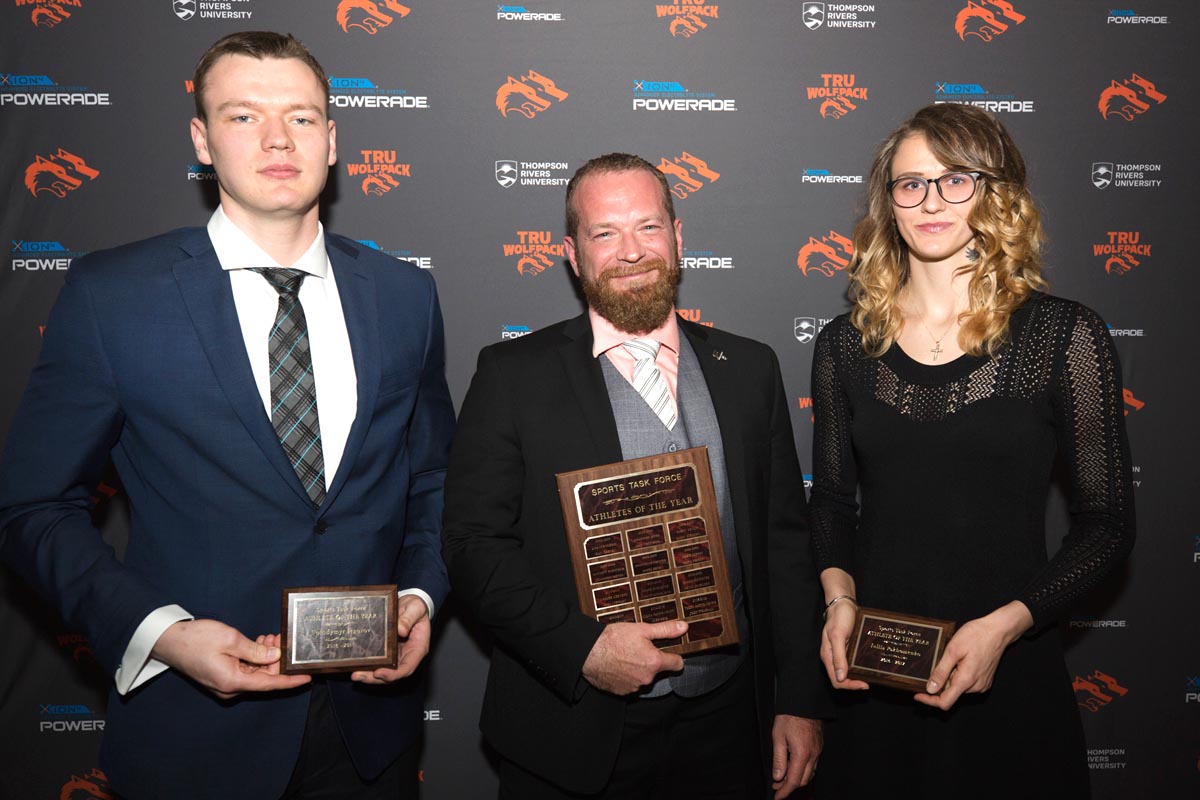 Two thirds of the WolfPack Ukrainian connection were awarded Athlete of the Year honours at this year's athletic banquet.
Volleyball player Iuliia Pakhomenko (fifth year, outside hitter, Donetsk, Ukraine) was named the Sports Task Force female athlete of the year for the third straight time alongside men's basketball player Volodymyr Iegorov (fifth year, forward, Donetsk, Ukraine) who was named the male athlete of the year.
Pakhomenko, who will go down as the most decorated female athlete in Pack history, led the country in points, points per set, kills and kills per set, and was a Canada West and USport first team all-star this season.
"Iuliia was a great player when she came in and improved every year. Looking at her numbers and the progression of the team, she became a more proficient player," said Chad Grim, women's volleyball coach.
"Her skills got better. Her ability to accept her role as the leader of the team also improved during her time here. She grew a lot as a player and a person. She has done a lot in helping turn around this program in her three years here."
Ryan Glanville from the men's soccer team took home the Doctor Roger H. Barnsley male student/athlete of the year honor. The fifth year forward was a first team Canada West all-star along with being a U Sport Academic All Canadian. Glanville excels in the classroom and on the pitch while holding down a full-time job and helping to raise two young children.
On the female side, cross country's Rachel Lobay won the Barnsley Award.
"Rachel excels at whatever she applies herself to. She is a consummate perfectionist, with a sky-high grade point average in ridiculously challenging courses," said coach Carmin Mazzotta.
The Cliff Neufeld Leadership Award goes to student athletes that combine contributions on the court, pool, pitch or diamond along with community involvement and performance in the classroom. This year's awards went to women's soccer's Katie Harding and cross country's Conlan Sprickerhoff.
To cap off a successful season, the WolfPack paid tribute to their 12 graduating players: Pakhomenko, Kolasa, Alina Sophizuk and Julia Niemczewska of women's volleyball, Christa and Alesha Miller of cross country running, Daniel Eikeland Rod of men's volleyball, Mikayla Levyand and Kelsey Hayes of cheerleadering, along with Harding, Iegorov of men's basketball and Jagdeesh Uppal of the swim team.