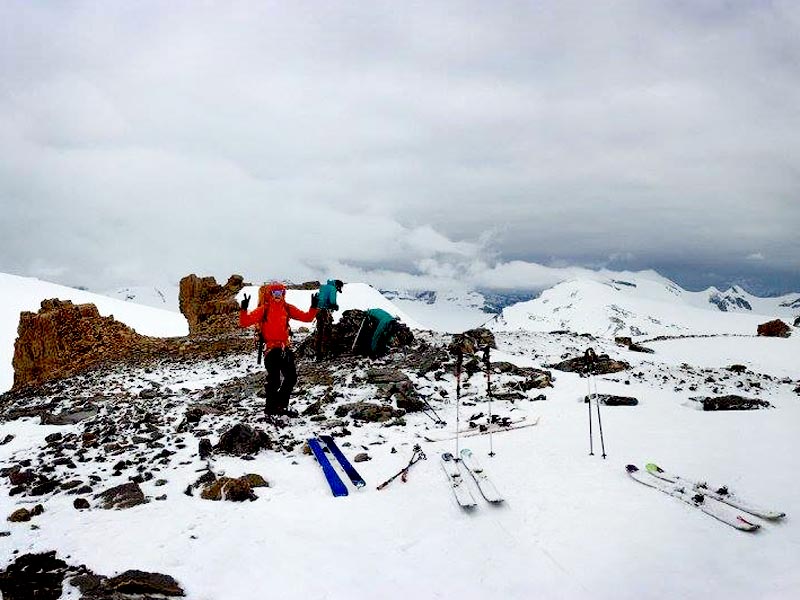 Follow the adventure here (click the arrow underneath Chris Peterson)
Five grads are doing the best thing you can do with any class assignment—They're using it as the inspiration for a trip of a lifetime. More about that later.
To celebrate having just completed the Adventure Guide Diploma program, Mark Brophy, Oscar Haley, Nic Hamilton, Carter Jewett and Chris Peterson are not only going to climb up Canada's highest peak during parts of May and June, but also ski down the way they went up.
Mt. Logan is located in the southwestern part of the Yukon and about 40 kilometres from the Alaska border. At 5,959 metres high (19,551 feet), they will be treated to spectacular views of other peaks, glaciers and if the weather is clear, the Pacific Ocean.
"For me, Mt. Logan is a dream. It's remote and covered in glaciers, which is exciting," said Brophy, who is spearheading the project and said it arose from a class assignment where everyone was asked to plan a dream expedition in detail. He chose Mt. Logan and in becoming so wrapped up in the exercise, the assignment grew to about 50 pages, which now is looking like time well spent.
"Being the tallest mountain in Canada, how could you not want to climb it?"
Calling the mission Locked and Logan: A Journey to Canada's Highest Peak, they have booked May 1 to June 20 to complete the journey. They also see the expedition as their high-five to Canada's 150th anniversary celebrations.
In an Arrhythmic Productions video featuring Jewett, she said, "I'm going to take a lot out of this trip, knowing that I can physically and mentally do it. I think a lot of the worry coming into the trip will vanish after I realize how fun it is and it's (the trip) going to prepare me for other trips to come."
Depending on time of day and conditions, temperatures will range from -20 C and -40. During the day and if sunny, the sun reflecting off the snow can make -20 feel warm enough to strip down to base layers.
They're leaving Kamloops on May 1 by vehicle to catch a flight on May 12 to the mountain's basecamp area. The ascent and descent route will be King's Trench, which is considered the easier of the options. Even so, they'll be exposed to various risks, crossing avalanche terrain among them. From the main base camp, it will take 10-11 days under favourable conditions to reach the summit, with some of that time needed to shuttle equipment to other camps and adjust to the altitude changes. Skiing down should be much quicker and under great conditions, could be a matter of hours.
"I've never done an expedition where you have to shuttle back and forth, so I don't know how fun it is," said Brophy. "But acclimatizing is a great thing to do because if you don't, it sucks."
Haley intends to document the journey through photographs, video and interviewing his teammates along the way at their best, worst and in between. He's excited to see how the event transforms everyone and how everyone puts into action what they've learned during their time at TRU.
"This is the biggest, remotest, and longest expedition I've ever been part of and I'm really excited to see how it challenges all of us," said Haley. "I think our confidence will be so much greater when we finish this. It will show that our two years at TRU has paid off and that we can operate in such a hostile environment for that long. It will be a confidence boost for sure."
Follow the trek, show some love
Follow the expedition and pose your questions on Facebook and if you'd like to offset some of their $10,000 in costs, you can do so through their Gofundme and Paypal pages.
A few companies have enthusiastically shown their support with discounts and gift cards on equipment and food, while the adventure program has agreed to loan some equipment.