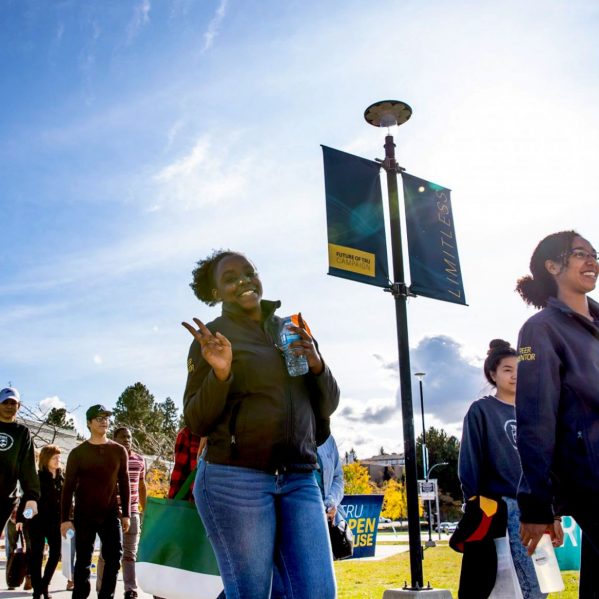 Students, faculty and staff attended an information session on Apr. 10 to learn more about how to contribute proposals for the next long-term capital plan, which will be submitted to the province starting in June 2018.
"From now to fall 2019, with the recent announcement of the first Reach development, the campus will see $85 million worth of capital construction," said Vice-President Administration and Finance Matt Milovick. "We've emptied our list."
Starting with the Old Main expansion in 2014 and concluding with the Industry Training and Technology Centre and the recently announced Nursing and Population Health building, TRU has fulfilled the last long-term capital plan. For the TRU community to participate in the capital planning process, the Capital Projects Planning Advisory Group (CPPAG) has created a workbook and presentation to show how projects go from initial ideas (green papers) to an approved proposal.
As co-chairs of the CPPAG, Milovick and Provost and Vice-President Academic Christine Bovis-Cnossen outlined the process as well as the criteria and matrix that will be used to evaluate capital project proposals. The presentation was previously given at recent Board of Governors and Senate meetings, but the info session gave the wider TRU community an opportunity to ask questions. Over 75 students, faculty and staff attended, with another 30 watching the live-streamed broadcast.
Arts faculty member Don Lawrence asked about timelines and deadlines for proposals to CPPAG, working backward from the June 2018 submission of the capital plan to the Ministry of Advance Education (AVED). Milovick clarified that while a proposal would need to be done by April 2018 to get Board of Governors approval in May 2018 in advance of the AVED submission deadline, the June 2018 submission will be only the first.
"If additional proposals come in and are approved after June 2018, we would make another submission, and prioritize based on our needs and what the government will fund," said Milovick.
Several questions from the floor asked about ideas in progress and how to coordinate with the plans of other departments or faculties. Milovick stressed that while the needs of a single department might appear too small for the criteria of a capital project of $5 million or more, if ideas and green papers are shared with faculty councils and deans, there may be others with similar needs.
"Joined together, your needs may equal a larger project," he said. He also noted that a rejected proposal can always go back to the drawing board with CPPAG's evaluation summary to be revised and re-submitted.
Faculty and staff were encouraged to go through their deans or VPs to move their green papers ahead in the planning process. Students have the option of going through TRUSU or direct to the two student representatives on the CPPAG, or through the Dean of Students.
"Green papers should be three to a maximum of 10 pages as your starting-off point," said Bovis-Cnossen. Beyond sharing at faculty council meetings, she also suggested further cross-sharing could occur by bringing forward green papers at Provost's Council meetings every one to two months.
Those starting green papers can visit the CPPAG website to read the Educational Consulting Services report for a picture of what TRU has and what needs to improve. CPPAG will expect proposals to reference this document, as well as relevant institutional plans such as the Campus Master Plan.
"We need to look to the future," said Bovis-Cnossen. "What programs will be needed in a decade's time? Think of the student learner of 20 years from now."
View the presentation video on TRU's livestream or visit the CPPAG website to download the document. Send comments or questions to Christine Bovis-Cnossen or Matt Milovick.