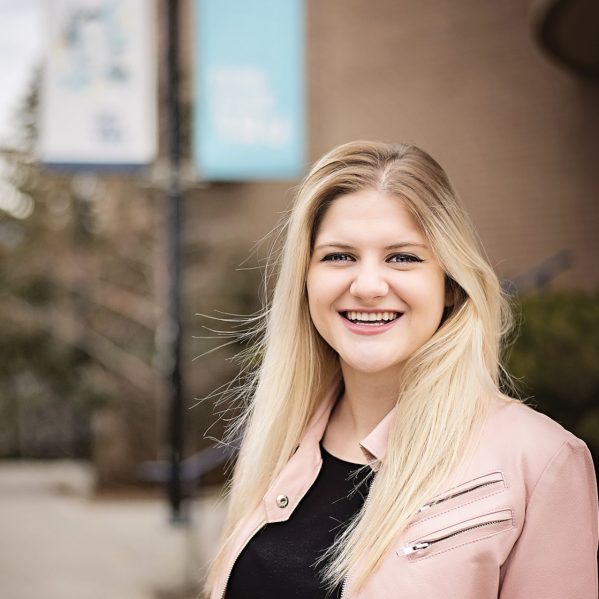 Last year, as the Laboratory Safety Assistant at Agriculture and Agri-Food Canada (AAFC) in Summerland, co-op student Emma Read implemented the Respiratory Protection Program, developed a record database, created resource materials and managed the respiratory protection program inventory. Time spent at AAFC opened the cellular, molecular and microbial biology major's eyes to a vast number of possibilities in "the big world of science."
Emma recently accepted another summer co-op term at AAFC. As one of twenty research centres across Canada, the Summerland-based facility develops technologies that promote sustainable and economic options for the production of foods and bioproducts from horticultural crops for local, national and international markets. While Emma is returning as a Laboratory Assistant, this year's focus is on the entomology field. "The project will explore how insects affect agriculture and how we can prevent environmental damage without the use of pesticides," Emma explained.
"I love co-op. I'm grateful for the opportunities that undergrads get with actual hands-on research. Not only can you develop your skill set, you're navigating your way through a professional environment."
"Within these learning experiences, you're often thrown into the workforce. The 'sink or swim' aspect was the best experience. There is freedom to make decisions, but you know that you're being supported along the way."
Emma advises students to connect with the Career Education Department. "Join co-op; that's all there is to it. Explore your field of work, meet new people and take advantage of networking opportunities."
Set to graduate next spring, this co-op position will be Emma's last. Her future focus is to receive her Masters in Microbiology. Emma reckoned, "I'm 100% more confident in myself, my abilities, and my communication skills. I'm thinking critically about the employment process; from resume building to the interview process, through the educational and experiential learning that leads to personal and professional growth."
For more information, please visit the Career Education Department.