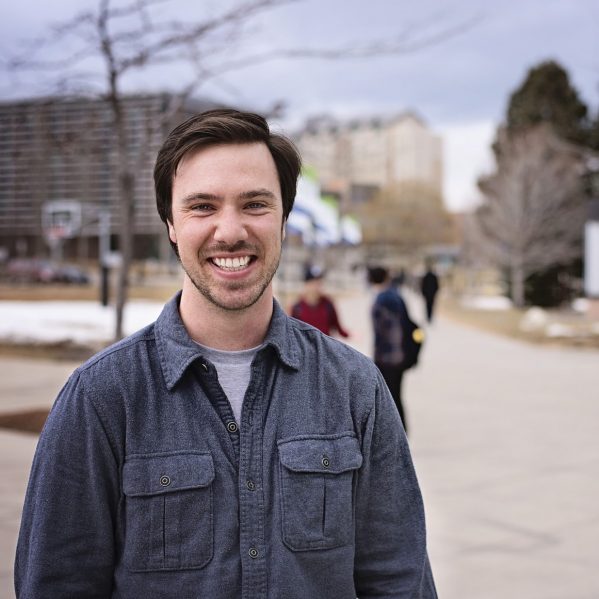 Though co-op student Jake Bradshaw is not graduating until the spring, he already has a job lined up through the Ministry of Forests, Lands and Natural Resource Operations. In fact, he was the top candidate for two different jobs. "When I mentioned that my preference was silviculture research, the Range Agrologist spoke to the Silvicultural Systems Researcher as well as the Range Officer. I was offered a contract position later that day."
Jake accepted the Williams Lake based Scientific Technical Officer position in Silviculture Systems Research. His long-term goal is to continue his education and focus on wildlife restoration ecology.  "I'll see where my professional path leads and assess my place in the job market then."
Jake first discovered TRU when he heard about the Adventure Guide Program. After looking into the program offerings at TRU, he found the Natural Resource Science Program and decided to pursue that instead; he is set to graduate with a Bachelor of Natural Resource Science (Hons.).
Jake's bright future is a direct result of the three co-op positions he held during his time at TRU. "The experience was incredibly helpful and has already provided a huge leg up in my career as I move forward."
He cites the mentorship competency as a highlight of co-op and credits Susan Forseille and Marion Oke as resources of encouragement and support.
Co-op Coordinator Marion Oke said, "It was a pleasure to work with Jake. Not only was he an excellent candidate in his own right, but his co-op experience definitely helped in his post-grad job search."
As he looks forward to the future, Jake reflects on the growth of his highly developed skill set. "Co-op is a wise investment—working and learning all summer long is an ideal situation."
Having come from Ontario, his upcoming move to Williams Lake is part of his professional development. Jake has held three co-op positions including forestry consulting in Mackenzie, BC; resource conservation with Parks Canada near Val Maris, Saskatchewan; and biocontrol and education in Kamloops. "Flexibility is essential, if you want to go forward, you have to be willing to move."
Additionally, Jake believes you have to find your own way to stand out from the crowd. "Network, connect, communicate; above all, get to know your professors."
He continued, "Don't wait for opportunities to come to you—ask for them. Take as many roles as you can; management wants to see that you are willing."
During his most recent co-op, he remarked at the shift in the reflective requirements in the course.  While the standard practice was formerly to create one cumulative piece at term's end, Marion recently implemented an on-going online forum that allowed students to reflect throughout the term.  Jake felt that the continuous reflection and connection with other co-op students suited his educational learning process.
He chuckled, "Another benefit of working with the Career Education Department was learning to write a proper resume and cover letter."
Marion continued, "I love hearing these stories.  The best part of my job is when students like Jake find meaningful post-graduation employment through co-op."
For more information about Natural Resource Science please visit www.tru.ca/science/programs/nrs
For more information about the Career Education Department and the Co-op Program please visit www.tru.ca/careereducation