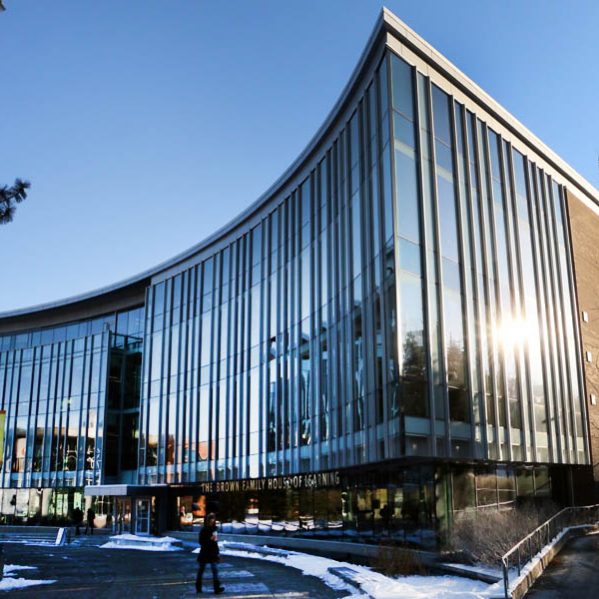 Dear Colleagues,
Further to the President's email to the TRU Community on Mar. 15, we are writing to you to outline the background and context and next steps in the consultation process in the potential re-visioning of the House of Learning. We would like to assure members of the TRU Community that the draft proposal for the re-purposing of the House of Learning is just that—a draft proposal—and no decisions have been made in this regard.
Background and Context
This March, a draft proposal was brought forward to the Capital Projects Planning and Advisory Group (CPPAG) by the Dean of the Faculty of Student Development, Chris Adam, supported by Brenda Mathenia, University Librarian and Paul Michel, Executive Director of Aboriginal Education. The draft proposal outlined a plan for consolidating student support services into the House of Learning, and creating more and differently configured spaces within it for student studying, collaboration, and learning. In doing so, the plan anticipated a consolidation of the Library back to the Main Library, contingent on renovations and expansion of existing space, and a potential relocation of Computing Science, Math, and Tourism faculty offices and research labs to spaces yet to be defined, subject to appropriate consultation with all parties. The office and service spaces for Aboriginal Education and Indigenous Scholars were never to be impacted in the first phase of the draft proposal and were intended to be expanded and improved in any potential second phase of the proposed project, subject to appropriate consultation with all parties. 
We do recognize the importance of consultation to identify the potential impacts from a proposed change in space or space usage and to work with those affected to mitigate impacts if at all possible. In keeping with the new capital projects planning process that was presented to the Board of Governors in December 2016 and to Senate in May 2016 and February 2017, additional consultation was to take place with potentially affected stakeholders (and with Senate) after the draft proposal was discussed at CPPAG. Immediately after the CPPAG meeting, the Dean of the Faculty of Science, the Interim Dean of the Faculty of Adventure, Culinary and Tourism and the AVP Research and Graduate Studies, were contacted to set up a time to discuss the potential impact and to gather feedback from those who might be directly affected.
In this particular case, we realized through feedback from the Library after the draft proposal had been presented at CPPAG that, even though the topic of Library consolidation had been discussed on several occasions at the Library Faculty Council and other Library meetings, a formal robust consultation had not yet taken place with the staff and faculty of the Library. It was always intended that this consultation would take place. Unfortunately, the draft proposal was circulated by third parties which did not allow for any contextual information about the background to the draft proposal or which stage CPPAG was in as part of the consultation process. We are committed to taking the time now to clarify the consultation process, and engage in that process, with both the Library and with other affected stakeholders to determine what is feasible and what is not vis-à-vis the draft proposal.
Next Steps
In order to engage various stakeholders in further consultation on the draft proposal, Matt and I would like to have roundtable discussions to obtain feedback on the draft proposal including the benefits and potential drawbacks to creating a space for our students such as the one proposed. To this end, we would like to invite you to meet with us to share your thoughts on the House of Learning being transformed into a Centralized Student Supports and Collegia Space, such as that found in the Student Learning Centre at Ryerson University, and the possible reconsolidation of Library services, staff, collections, and spaces into Main Library, including any additional needs anticipated by the Library should this proposal for the House of Learning move forward. We would like to do this by stakeholder group.
We would like to invite the following groups to individual roundtable discussions as per below:
Monday, March 27:
11 a.m. – 12 Library faculty and staff
1 – 2 p.m. Department of Tourism faculty and staff
3 – 4 p.m. Department of Mathematics and Statistics faculty and staff
Tuesday, March 28:
11 a.m. – 12 Department of Computing Science faculty and staff
1 – 2 p.m. Department of Aboriginal Education and Indigenous Scholars located in the HOL
2:30 – 3 p.m. Media Production staff
3 – 4 p.m. Research and Graduate Studies, including Graduate Programme Coordinators
Wednesday, March 29:
9:30 – 10:30 a.m. Student Services faculty and staff who may potentially move to HL
10:30 – 11:30 a.m. TRUSU Directors
All of the roundtable meetings will take place in the TRUSU Boardroom.
An Information Session open to all TRU internal stakeholders will be held on Monday, April 10 from 1 – 3 p.m. in the Mountain Room in the CAC.
This is just the next stage in consultation. As discussions evolve and unfold, additional roundtables and/or information sessions will be set up as necessary. If you have any questions, please do not hesitate to contact us.
Kind regards,
Christine Bovis-Cnossen, Provost & Vice-President Academic
Matt Milovick, Vice-President Administration & Finance