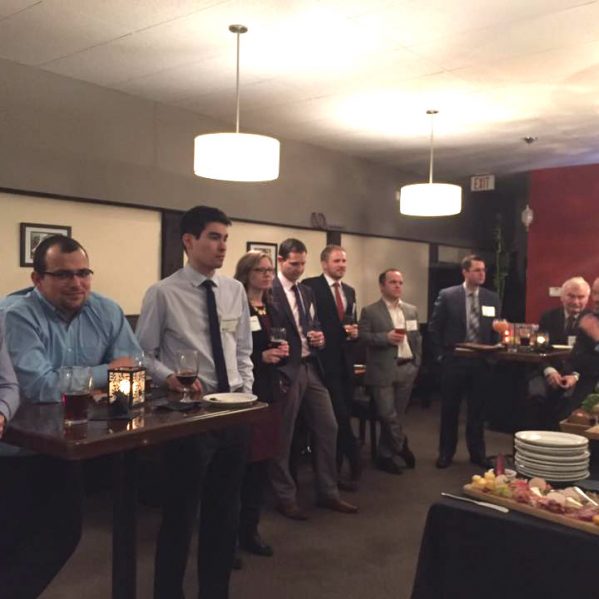 Recently, TRU Law held its first official Kamloops alumni event. About twenty people gathered in an intimate setting at Terra Restaurant in downtown Kamloops to socialize and hear about the latest developments at the law school.
The event was open to graduates of TRU Law as well as alumni of TRU undergraduate programs who attended law school elsewhere but are young practicing lawyers in the Kamloops area.
"It was an excellent opportunity to reconnect with classmates and talk with members of the faculty and administration," said Ashley Ricalton, a TRU Law alumna who co-hosted the event, welcoming her former classmates and others.
Ricalton, who is a lawyer at Webber Law in Kamloops, says a strong alumni network is an important asset for TRU's young law school.
"As graduates of a new law school, I think that we all see the importance of maintaining strong bonds with our fellow graduates and TRU Law.  As a new lawyer myself, I often rely on my former classmates as an invaluable resource and the collegiality that we shared in the classroom has certainly translated into real world practice," Ricalton said.
"We have a unique opportunity to build our alumni network from the ground up to create a meaningful resource for alumni."
A similar event was held a few days later in Kelowna, while events last fall in Vancouver and Calgary saw law alumni come together in those cities.
"We now have hundreds of graduates from our first three classes," said TRU Law Dean Brad Morse.
"We are very proud of our alumni and support the efforts to build and maintain that network, and to help keep graduates connected to their alma mater."
The spring 2017 convocation ceremony in June will mark the fourth graduating class of TRU Law.