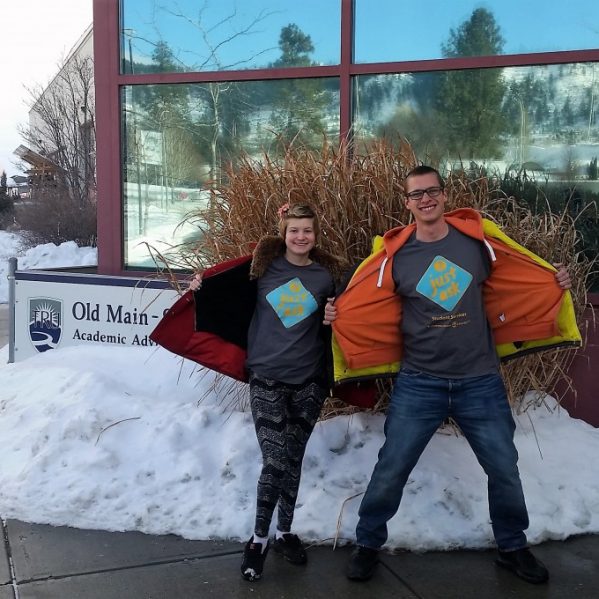 Finding the right opportunities and experiences can be frustrating for students. Whether you are a budding artist or an aspiring scientist, Thompson Rivers University has plenty to offer. The Work Study Program is just one of these many amazing opportunities. Not only does this program assist students with financial support, but it also provides work experience unlike any other.
We (Ben and Samantha) went through our first years at university unsure and unaware of the academic supports offered on campus. Through our own experiences, we have discovered the many opportunities that TRU offers. Through the Work Study program, we have begun our professional journey with the orientation department. Our job requires that we connect other students to TRU's many services. Indeed, our paths to the Work Study program differed from one another, but Ben says, "This was an opportunity I never expected to have."
"I found out about the Work Study job opportunity for TRU Orientation & Transitions after Samantha sent me a Facebook message at the end of fall 2016. She suggested that I would be a great candidate for this position. After researching online, I discovered that Work Study would be a perfect fit for me, as it would give me an opportunity to make some money while taking courses and also work on campus around my very busy schedule."
"I had first gotten connected with TRU Orientation last September when I volunteered to help introduce first-year students to the university. At that time, I never thought that this volunteering experience would have led into the opportunity that I now have, and I am truly thankful for the Work Study program and the chance to work for TRU's orientation department." –Ben, 4th year Bachelor of Arts student, Sociology Major, Philosophy Minor
"I realized the importance of work experience in my third year. How could I get the experience I needed without getting in on the job? I came across the Work Study Program through the TRU financial aid board for Bursary applications. The list of possible opportunities seemed endless and I immediately selected one with a professor I knew. After volunteering for the September orientation, I landed a Work Study position with the Orientation & Transitions department. Not only am I gaining experience for my future career, I'm also getting paid to do so." –Samantha, 4th year Bachelor of Arts student, Sociology Major, English Minor
TRU's Work Study program gives students the chance to make some money during the semester, it also gives students the opportunity to have experiences, make social connections and develop skills that could be helpful for future careers.
To find out more information about the Work Study program, check out http://www.tru.ca/awards/work-study.html
Feel free to say hello, we're on Student Street in Old Main Wednesdays from 11:00am-1:00pm.