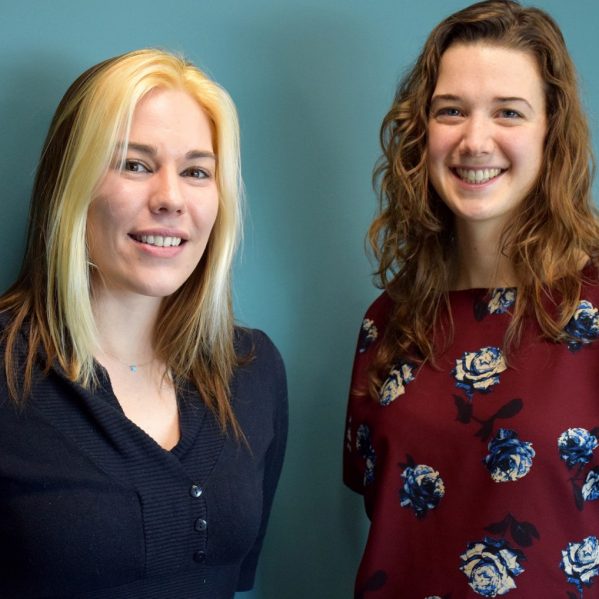 Each year, two $7,500 Environmental Science and Natural Resource Science Fellowships are conferred upon students who have demonstrated a commitment to research and who show potential for future contributions to their field.
Having just wrapped up two field seasons, the 2016 award recipients Stephanie Winton and Brianna Iwabuchi, are back at TRU, compiling research data, and getting ever closer to the completion of their Master of Science in Environmental Science degrees.
Under the supervision of Dr. Karl Larsen, Winton has spent the past two years researching the impact of road mortality on populations of the Northern Pacific Rattlesnake in the South Okanagan. Her study site, south of Penticton in the White Lake Basin, is a near-pristine habitat for rattlesnakes, save for the secondary highway that runs through it. Research suggests that road mortality is one of the greatest threats faced by most reptiles and amphibians, and Winton's research will both contribute to the development of strategies to reduce this human-caused mortality, and be used to enhance management and conservation activities.
"This award allows me to spend some extra time in the field, and to continue to focus on and strengthen my research," she said.
While Winton heads to the semi-arid grasslands of the Southern Interior, Iwabuchi goes farther afield.
"I study marine invertebrates, despite being stationed in the desert," she said, explaining that her project blends field work with lab-based studies.
Under the supervision of Dr. Louis Gosselin, Iwabuchi has spent the past two summers at the Bamfield Marine Sciences Centre on Vancouver Island, determining how well marine invertebrates in the intertidal areas withstand changes in climate conditions. Iwabuchi, who graduated from Dalhousie University with a Bachelor of Science with Honours in Marine Biology, has her sights set on a PhD, allowing her to continue her research into the effects of climate change on marine ecosystems in the Pacific Northwest.