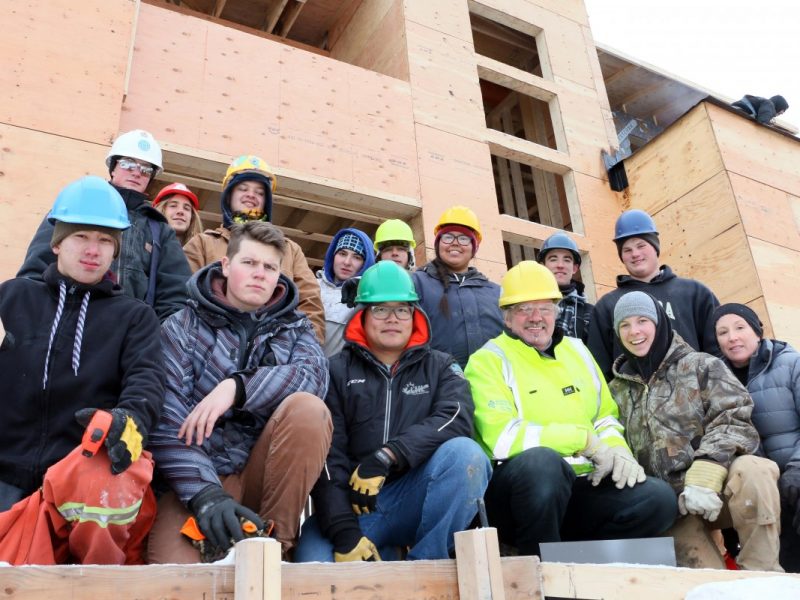 Having lived on a farm for much of her life, Crystal Moore learned some carpentry skills, but not to the extent she is learning them in the first- and second-year carpentry program.
For the past five months Moore and her classmates have been assisting with the construction of a house in east Juniper that will later become the Y Dream Home.
"We're super lucky to be on this project because we get to do all aspects of residential construction," said Moore of the house at 3100 Kicking Horse Drive. "We started with a hole in the ground to where we are today with this big house and a roof on before the snow. On the farm there were many projects that I wished I could build, but didn't know how to. Now I'm getting that experience and can help build a barn, build a cover over our round pen—the possibilities are endless. Eventually, I want to build my own house."
The Y Dream Home is a partnership between TRU and the Canadian Home Builders Association Central Interior (CHBA CI). First- and second-year carpentry students along with students in the electrical and plumbing programs get hands-on building experience on the training house, and sale of the house by the CHBA CI supports community initiatives.
Among other things, the past few months have taught Mark Hebert the importance of preparing the job site each day and planning much of what needs to be done. Habits like setting out the wood, tools, equipment and nails so they are ready and accessible can lead to efficiencies, which over the course of project, could amount to days and thousands of dollars saved.
"It's at the job setting where you really learn what's needed to be successful in the workplace," said Hebert.
For carpentry faculty member Hank Bangma, this was his 18th training house and though many similarities exist each year, he never tires of seeing the learning that takes place.
"It's the tactile learning that they're getting onsite that they don't get sitting in a classroom reading a textbook or listening to me expound," said Bangma. "With the hydration process or curing process of concrete, it generates its own heat. We can talk about that in the classroom, but when we strip the forms onsite and say, 'Now feel the heat. Can you feel the heat coming off that? That's the hydration process continuing.' "
Students are now off for the Christmas break and when they return, will spend their remaining eight weeks in the comfort of the classroom and away from the experience of working outdoors.
"When we started the house it was very, very warm and we were all complaining about the heat," said Moore. "Today it's minus 20 and we're freezing, but you have to expect that when you're working outside doing construction—you're going to come across all these elements. Out here we're experiencing 100 per cent of what it's like outside."