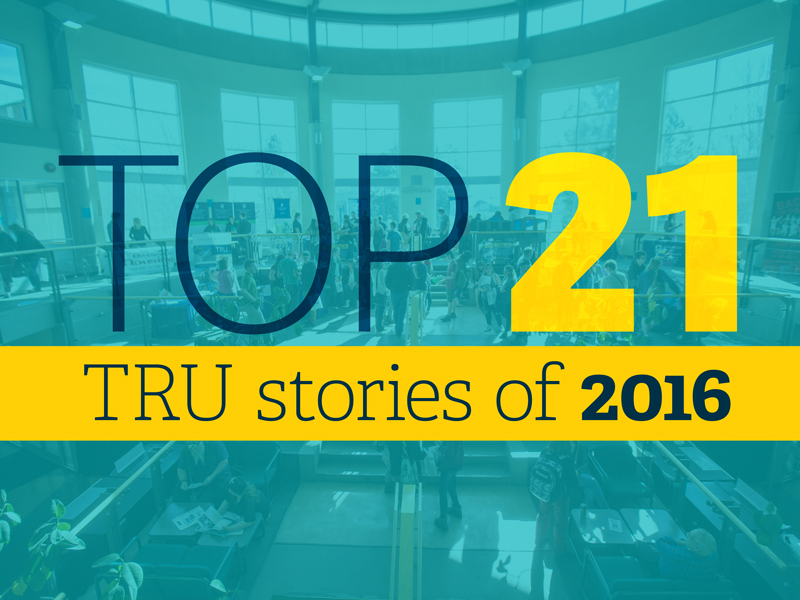 At TRU, 2016 has been a transformative year.
We launched three new master's degrees, our new brand and the TRU Go app. The federal and provincial governments funded a new building, the Industrial Training and Technology Centre, and the TRU Community Trust announced The Reach—both breaking ground next year.
Our research capacity has grown by leaps and bounds, with four new Tier 2 Canada Research Chairs created, and 10 more prestigious federal grants awarded to faculty researchers. Included in our list are just a few examples of the many university-community research partnerships that are making a difference, from drone use in cattle ranching to biosolids for soil reclamation. Innovation thrived, from Indigenous health to apps for law.
Across the disciplines, our students found success in 2016. Master of Business Administration students took first place at the BC MBA Games, and Master of Science student Michelle Walsh won funding for her research into spawning Chinook. Welding apprentice Andrew Christensen won a spot in the Olympics of trades competitions, and tourism and business students took third at #hotelNEXT.
From outstanding achievements to unique firsts, here are the Newsroom editors' picks of the top 21 stories that defined TRU in 2016.
---
New master's programs announced
Three new graduate programs launched in 2016. The Master of Nursing program will begin offering courses as early as January, and two master's degrees within the School of Business and Economics, the MSc in Environmental Economics and Management and the Master of Environmental Economics and Management, begin September 2017.
TRU revealed its new brand, including a brand strategy, campaign, comprehensive visual identity and tagline—Find Your TRU—at an internal launch on Feb. 25 attended by about 500 students, faculty and staff.
TRU Go is a free mobile application for students, faculty and staff that provides easy access to resources for navigating university life—course timetables, grades, myTRU, email, campus news, events and more. The app has been downloaded 5,000 times since the Oct. 19 launch.
Federal and provincial funding for a new Industrial Training and Technology Centre was announced on Sept. 20. Slated to open in fall 2018, the new facility will expand trades and technology programs by 550 full-time equivalent student spaces.
On Sept. 19 the TRU Community Trust announced the launch of The Reach, the first planned community on a university campus in BC's interior, which will transform the campus into a vibrant neighbourhood.
TRU welcomed four new Tier 2 Canada Research Chairs in 2016, representing a $2 million investment by the federal government.
Researchers awarded federal grants
Four researchers in tourism, economics, law and social work were awarded SSHRC Insight Development Grants, and six researchers in math, biology, chemistry and natural resource science received NSERC Discovery Grants this year.
TRU's team of 21 Master of Business Administration students took home the trophy at the second annual BC MBA Games in Nanaimo on Oct. 21-23, defeating UBC, SFU, UVic and VIU.
John Church, BC Regional Innovation Chair in Cattle Industry Sustainability, in collaboration with David Hill, Geography, has partnered with Southern Alberta Institute of Technology and Kingsclere Ranch on an NSERC College-University Idea to Innovation grant of $663,940.
The School of Nursing is excited to announce the birth of baby Florence, born to Victoria—a birthing mannequin purchased with a $120,000 gift from Maureen and Ken Lepin.
Fall convocation was the last of 33 ceremonies for TRU Chancellor Wally Oppal, QC. He was presented with a certificate of appreciation to commemorate his outstanding service.
On Sept. 29, TRU and Maple Leaf Education North America opened the organization's first bilingual high school in Canada on the Kamloops campus.
Work by faculty, Elders, and student members of the Indigenous Health Nursing Committee has put the TRU School of Nursing on the national stage.
Funded by Genome BC, Jonathan Van Hamme is investigating the long-term impacts of biosolids on soil during mine tailings reclamation.
Law faculty member Katie Sykes' new course will teach students to develop apps that will automate the application of legal knowledge for ease of use by anyone.
In less than a year, welding apprenticeship student Andrew Christensen may become TRU's first World Skills medalist, when he competes on the world stage in Abu Dhabi in October 2017.
By studying the habits and patterns of spawning Chinook, Master of Science in Environmental Science student Michelle Walsh may unlock some of the secrets of declining fish populations.
Six TRU Law summer clinical students have served over 100 people at the TRU Community Legal Clinic since it opened its doors in April.
Arts alumni Nic Zdunich turned his co-op position into a full-time communications job with Canada's National Lab for Particle and Nuclear Physics.
A group of law students has developed an app that would improve inefficiencies in the current court scheduling system.
Tourism and business students pitched their "Hotel of All Sorts" concept to investors, hotel developers and a live audience at the first #hotelNEXT competition in Toronto in May.