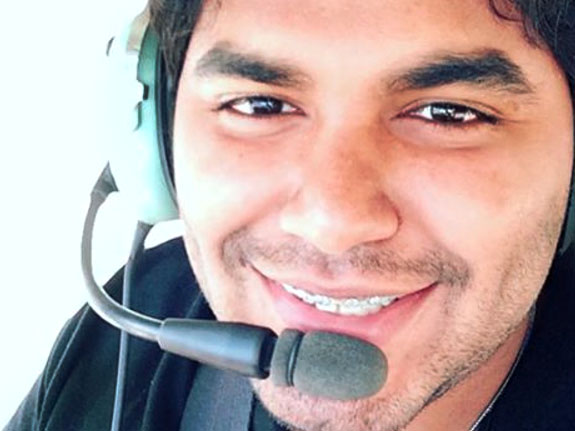 A passion for flying airplanes inspired Damoon Hossin to create a club with events for like-minded enthusiasts.
That's why he started the TRU Flying Club (TFC) in the summer and with the assistance of others, has held two successful events and is looking at a third in January or February. The club is toying with the idea of a group fly of several planes going to a nearby city the likes of Kelowna or Chilliwack.
"I love the freedom you feel when you're in the sky," said Hossin, who juggles his computing science classes with being club president and collecting flight hours towards a commercial pilot's license. He has about 100 hours so far. "When you're up there, you forget about other things and you're focussed on flying and the responsibilities that go with it. The view is incredible from up there and think about it, you get to fly into clouds and above them."
The group's first event in September attracted 30 people and was a tour of Kamloops' air traffic control centre and local flying school TylAir Aviation, which has since come on board as a club sponsor. About the same number attended the second event in October called Three Hours Aboard, which was a series of speakers and featured a tourism student and a pilot with 30 years of experience.
Adopting a collaborative approach, TFC has attracted interest from across campus including TRUSU Film Club and others with an affinity for the sky. Future events could include skydiving and a visit to the radio-controlled-aircraft field located near the Logan Lake turnoff on the Coquihalla Highway.
"We're looking for everyone and their suggestions," said Hossin, who started flying in November 2014 and arrived in Kamloops in 2011 from Jeddah, Saudi Arabia.
Getting the club off the ground has been an adventure and a blessing, giving Hossin the opportunity to expand skills directly and indirectly related to his education and career ambitions. He has assembled an enthusiastic executive, created a strong relationship with TRU Students' Union and honed his public speaking. Starting the club has meant assisting with the planning and carrying out of events and the inevitable advertising campaigns and social media marketing that accompany them.
Flying has also made it into his coursework, including one project that dealt with swarm behaviour of birds. For his degree project, Hosin is considering creating a motion seat for flight simulators.
TFC executive
Nasser Al-Turaiqi, vice-president (Master of Business Administration)
TK Chibaya, event organizer (business)
Mazen Mukhayzin, information technology (computing science)
Inayat UR Rehman, marketing (business)