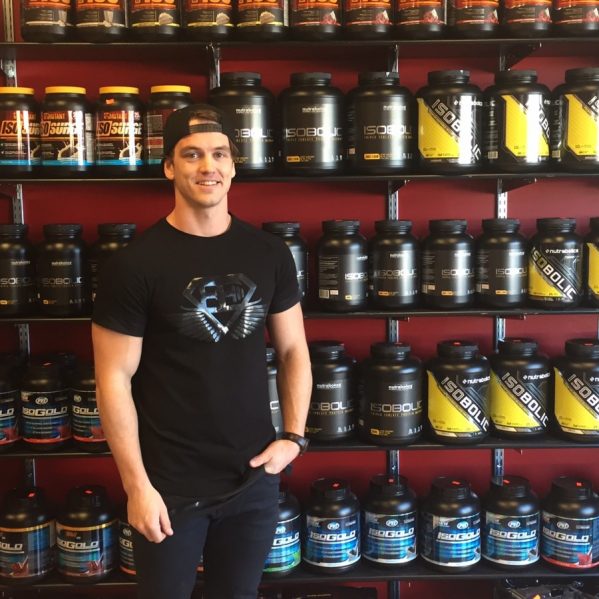 Upon graduating from Barriere Secondary School in 2010, Jake Young had no plans of getting into retail, let alone owning a business before his 25th birthday.
Young, a third-year Bachelor of Business Administration (BBA) student, is soon to be part-owner of Fuel Kamloops, a supplement, vitamin and nutrition retailer in Kamloops, where he has worked for the past few years.
"I've always been really into sports and a few years ago I wanted to learn more about supplements, so I got a job at Fuel and it was a perfect fit," he said. "It's become a huge passion of mine and I wanted to get more involved, so I asked Justin Cuzzetto (owner of Fuel) about possibly opening up shop in Calgary and he offered me the opportunity to get involved here." As of January, Young will become part-owner of Fuel Kamloops with the long-term plan for him to help grow the company and take over full ownership in a few years when he finishes school.
Due to a hectic schedule, Young has had to dial back his course load so that he can work during the day and take classes in the evening, but says he has already put to use much of what he has learned at TRU, especially from a marketing perspective.
"My marketing and entrepreneurship classes have been helpful. We had to create business plans, and I was able to start applying it right away," he said.
Despite getting a jump start on his path to entrepreneurship, he has no plans of slowing down and fully intends to complete his degree. "No matter what, knowledge is important. Whether it's an accounting class to become more financially literate, expanding my creativity with group projects in marketing, or even understanding and managing a business through organization and human resources classes, it's all going to help."
Young has no shortage of work ethic. Aside from working at Fuel and taking business courses at TRU, he also does online fitness coaching, works at Tolko Industries on weekends and finds time to fit in his own training.
Cuzzetto will continue to mentor Young over the next couple of years as he transitions into a larger role. He said the two talk back and forth about how to grow the business at least 30 times a day and he is confident in Young's ability to be successful.
"He's very motivated, never stops working, is good with people and runs this place like a top," said Cuzetto. "He connects with a younger demographic and we have been able to work together creatively to connect with a local audience on a limited budget."
As the duo continue to grow the business, Young hopes to assist in expanding the brand by building up the shop in Kamloops while using his education to help it grow regionally and nationally.
His advice to other students might sound cliché, but it's a common theme among those who are successful in business and life.
"Find something that you are passionate about. I am interested in the fitness industry and because of that I am driven to work 10 times harder than I might otherwise. It requires having the discipline to work 12 to 15 hour days, but because it's my passion I am willing to put that work in."